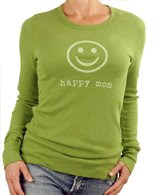 Updated 1/18/09: This giveaway is closed. Come back later today to see who won and for a special surprise for those who didn't win.
One of the wonderful things about the new year is the opportunity to do new things: change old habits, try out new practices, get a life makeover. Out with the old and in with the new.
One place to switch things out is in your wardrobe. And at PeaceLoveMom, they've got great tshirts with even better attitudes, with slogans like "happy mom," "grateful mom," "lucky mom," and, of course, "Peace Love Mom." You can't help but smile when you see one of these. A perfect accessory for your journey to Joyful Motherhood.
The company was created by
Lori, Suzanne and Karen, three very different moms with one common goal –to create "a celebration of motherhood" for all types of mothers. Together, this unique trio of women make up PeaceLoveMom, a lifestyle brand company designed to share life's many moments of motherhood….Creating designs that will both inspire and empower mothers everywhere, PeaceLoveMom represents a collaboration and true celebration of motherhood.
And in honor of celebrating you, this week PLM is offering a free tshirt to one lucky mom. There are a number of different styles, colors, and slogans. Plus, their products are not limited to MOM shirts; they also produce kids' clothing and a new line of stationery.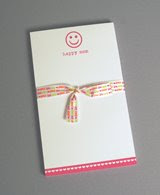 Hop on over there and see what suits your fancy. Personally, I'm partial to the grass green. (Can you tell?)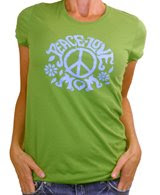 Then, come back here to enter for a chance to win a cute, snazzy tshirt. Winner will be given a choice of two to three different styles to choose from.
There are two ways you can enter:
1. Leave a comment, telling us what your favorite item is over at PeaceLoveMom.
And/ OR
2. Post about this contest on your blog, with a link to LifeasMOM, of course, and leave your post link in another comment here. (Must be separate comments for them to count.)
This contest will be open until Saturday at midnight PST. Winner to be chosen randomly and announced early next week. Good luck!