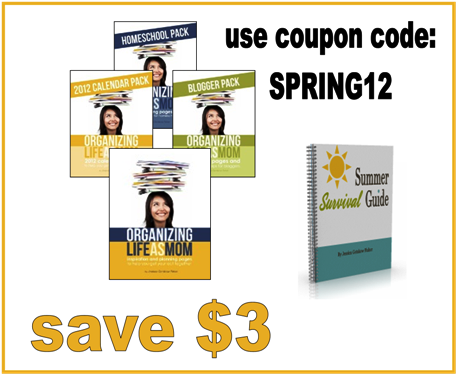 Spring has sprung!
Are you looking for some ways to enjoy your "life as mom" a little more? I wrote a couple ebooks that can help you do just that.
Organizing Life as Mom is a primer for compiling a household notebook, your brain on paper. It includes dozens of printables as well as inspiration for organizing every area of mom life.
Summer Survival Guide holds the keys to a fun and intentional summer with your kids. Full of activities, crafts, and book and film recommendations, it promises to guide you throw a fabulous summer — or spring, if you're looking for afterschool enrichment.
This week, get $3 off any purchase of $8 or more in the Life as MOM estore.
Just use the coupon code: SPRING12 in the shopping cart.
The code will be good until Sunday, March 25th at 8 pm PST.