Have a Plan to Save Money on Thanksgiving
We are a participant in the Amazon Services LLC Associates Program, an affiliate advertising program designed to provide a means for us to earn fees by linking to Amazon.com and affiliated sites. We participate in other affiliate programs as well. For more details, please see our disclosure policy.
Thanksgiving is a mere three weeks away. It can be a costly meal to serve. But, if you plan now, you can save money.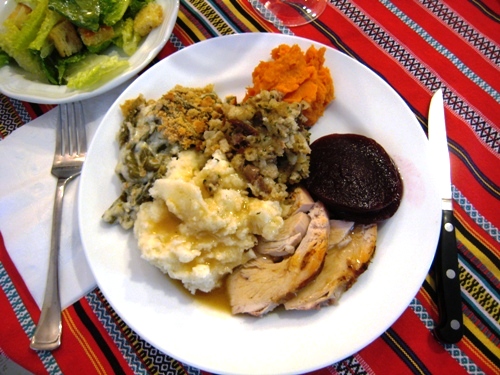 As I mentioned earlier, I'm already thinking about Thanksgiving dinner. How about you? Forget the candy, I say. Bring on the pumpkin pie!
If you're hosting Thanksgiving this year, then it's time to start thinking about what you'll serve and give some thought as well to budgetary constraints. I remember the first year I shopped and cooked the meal for my family. It cost somewhere between $100 and $200! Granted, I did all my shopping in one day and bought whatever I wanted since my dad was paying. But, still…. That's a little excessive.
And it didn't account for decorations and serving ware that I just "had to" purchase.
In order to avoid some costly bills in a few weeks, take steps now. Plan how you will host Thanksgiving on a budget.
Create your menu for the big day.
By determining this now, you benefit in HUGE ways.
You can be on the lookout for ingredients on sale or on clearance.
You'll also know what serving dishes you'll need so you can locate them in your cabinets, borrow from friends and family, or hunt them down on sale or at thrift stores.
When guests offer to bring something, you can scratch something off the list and have less to buy.
You can prep things in advance and freeze them. You'll save energy and time later which may free you up to save in other ways. For instance, maybe you'll have time to bake biscuits from scratch if you've got pans of mashed potatoes already made up in the freezer.
If you've always wanted a potato ricer or an electric knife, you can start shopping for these kitchen tools and hopefully find them on sale. You have time to save up a little cash, too.
Having a plan to save money at Thanksgiving will bless you and your family and give you even more to be thankful for.
Today's Frugal Friday!
Time to swap ideas and inspiration for saving money and getting good values.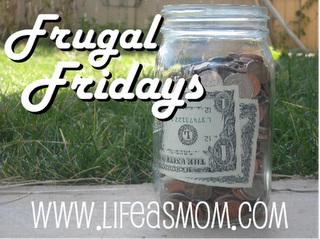 How do YOU save money?
Please remember to follow the Frugal Friday Guidelines or be deleted.
Post a money saving idea and explain how it is helpful in your post.
No giveaways or deals posts.
Recipes are allowed, but you must explain how it saves people money.
Please include a link back to Life as MOM.