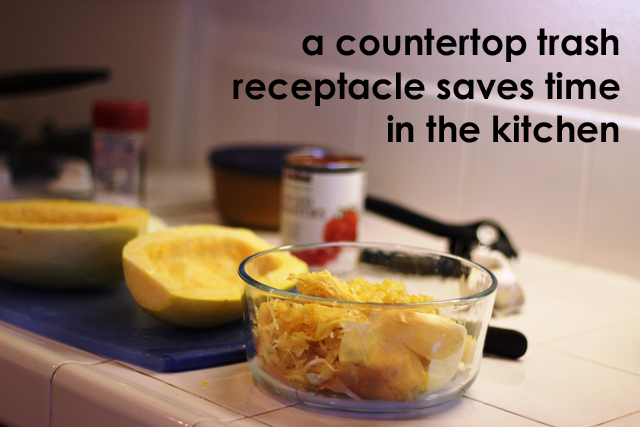 We have a fairly big kitchen these days, at least compared to the 4 by 6 foot kitchen that made up our newlywed home. My kitchen now is pretty big. And while big is great — totally not complaining — traipsing back and forth throughout the kitchen during meal prep time can slow you down. Even in a small kitchen, if you're walking repeatedly toward the trash can, you're wasting precious minutes unnecessarily.
One quick and easy time saver is to keep a trash receptacle on your kitchen counter while you prep your meals. I usually use a bowl. I keep it nearby as a catch-all for vegetable trimmings, package wrapping, and empty cans. Just empty it in the waste basket when you're done prepping.
I've found that an added plus, is that you don't drop things into the regular trash that you don't really mean to chuck.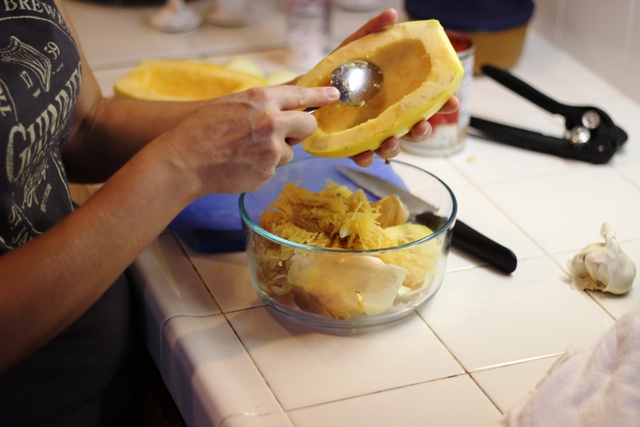 I've been known to drop half a canteloupe right into the garbage while I was holding it overhead, trying to scrape out the seeds. My daughter lost a carrot a few weeks ago. We waste less food, evidently, when we use a counter top trash receptacle.
Don't spend time pacing back and forth from counter to trash can. Keep a bowl next to your cutting board and save yourself some steps.
This post is part of the Kitchen Time Savers series. You can follow along this month as we explore lots of ways to make more efficient use of our time in the kitchen.

Don't want to miss a post in this series? Subscribe to 31 Days of Kitchen Time Savers here. Get updates via email here.