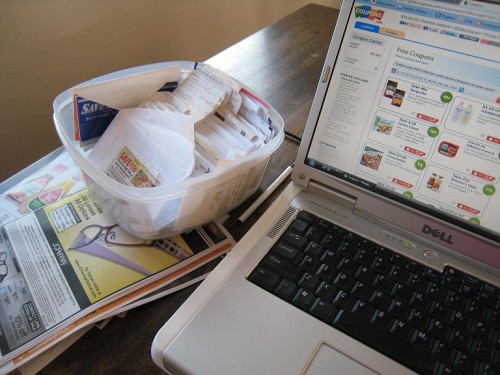 Couponing is not for everyone.
It is one of those things where you need to measure the return on your investment. Is the money you save worth the time you invest? If your family makes a large income that more than covers your monthly necessities, then maybe your time is better spent in other ways. If you have a home business that generates a good income and that you enjoy doing, then maybe putting in a few extra hours a week can help offset the grocery budget crunch at your home.
But, I have found that 2-4 hours a week spent researching deals, clipping coupons, and shopping saves us at least $100/week on food costs. That's gaining us at least $25 for my time. Most weeks it's worth it for us.
On highly stressful weeks when I can hardly see straight, let alone cut a coupon, I'm okay with just buying what I need. A girl's gotta do what a girl's gotta do.
But, most of the time, couponing really works for our family. If you haven't started your couponing adventure, but you're interested in checking it out, you may want to breeze through this series that I did last year:
That's the basics of what I do on a semi-weekly basis. I enjoy it — most of the time — there's a thrill in getting a really good deal. So, you could call it a hobby that benefits us in a number of ways.
Do you coupon? Why or why not?
GIVEAWAY! As a way of encouraging you to start your couponing journey, I'm giving away $20 worth of coupons to five readers. All commenters are entered in this giveaway which will stay open until next Wednesday (St Patrick's Day) at 8 pm PST. Please make sure you leave an email contact for me to find you when you win. Winners will be selected at random.  Winners are posted here.