Enter to win a Rudi's Organic artistic prize pack.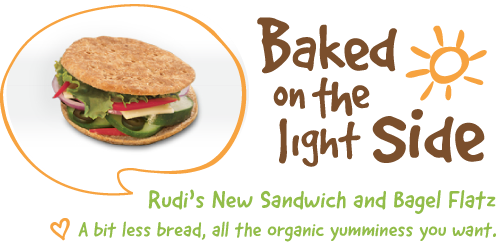 It's not that long that I've given such serious thought to what my kids eat. Believe me, we have eaten plenty of junk food in our time. I'm trying to be balanced. At the same time, I'm on the hunt to eat more whole foods, less processed foods — and not lose my mind.
These three books that have guided my food philosophy struck a chord in me. It's best to eat foods closest to the way God made them. We don't really need to do much to make things taste great. (That doesn't stop me from wanting to eat a whole bag of Doritos at one sitting, but we save those moments for very special occasions.)
The key part to not losing my mind involves convenience.
The days are just packed, are they not? And meal prep for my family could keep me in the kitchen all the live long day. So, I love convenience foods that have a healthier spin on them.
Recently we had the chance to sample some products from Rudi's Organic Bakery. They sent several varieties of their new bagel and sandwich flats. These compact rolls froze well, making for easy lunches and breakfasts. They disappeared in a flash.
Let's Doodle Lunch
One of Rudi's other little projects, besides baking yummy breads, has been to sponsor an art contest to encourage kids to enjoy better lunches. Here are the details:
Rudi's Organic Bakery has partnered with Chef Ann Cooper, the Renegade Lunch Lady, to revolutionize school lunch for kids everywhere through Let's Doodle Lunch. Earlier this summer, Rudi's Organic fans were invited to upload artwork on Facebook to receive a reusable sandwich box featuring that design on the lid. Fans submitted 18,500 delightful designs to the Rudi's Organic sandwich box art contest application, Let's Doodle Lunch, on Facebook.
Hop on over to Facebook to vote for your favorite. Once you do that, you'll be able to print a $0.75 coupon good for any Rudi's Organic product. Rudi's Organic will also donate $1 to Chef Ann's The Lunch Box, showing their support for healthier options in school lunchrooms nationwide.
This week 3 Life as MOM readers will win a prize pack from Rudi's Organic.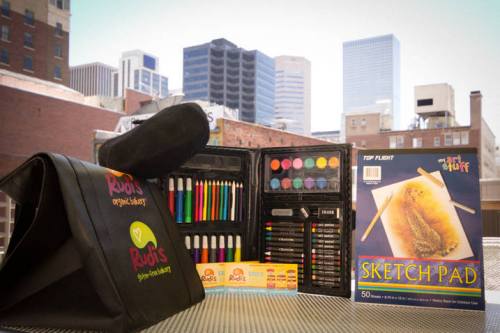 Each prize package will include:  1 art kit complete with paints, crayons, markers, etc., 1 sketch pad for doodling, 1 black beret for creative inspiration, a reusable Rudi's Organic bag and 2 free coupons good for any Rudi's Organic product.
To Enter:
Simply complete the information on this form. Please know that the information is only being gathered for the purposes of mailing you your prize in the event that you are chosen as the winner. This information will not be sold, traded, or given away.
This promotion is open until Sunday, July 15th, at 8 pm PST and is limited to US residents, 18 years or older. Friends and family of Jessica Fisher and Life as MOM are ineligible for entry. The winner will be chosen randomly. The prize for this promotion is provided by and shipped by Rudi's Organic and/or its representatives. This post will be updated with the beginning of the winner's email address. Jessica Fisher and Life as MOM will not be held responsible for unclaimed or undelivered prizes or misuse of product.
THIS GIVEAWAY IS NOW CLOSED. CONGRATS TO THE WINNERS: Dazy0425@,  maryjo@cov, cindyjensen@
Disclosure: I received sample product and an artistic prize pack. All opinions are my own.