There can be a lot of confusing information out there as regards healthy eating and healthy living. What was healthy and hip one year changes the next. And it's so easy to grab hold of some bit of information and yet not have the whole story.
For example, years ago someone told me about how great flaxseed oil was. Since I didn't care for the taste of the oil, I started putting flaxseed meal in practically everything. In a recent discussion with a dietician, I learned that while it does have benefits in its fiber content and for a healthy heart, it doesn't have quite the omega-punch that other foods, like fatty fish, do. Additionally, though it is good as a laxative, your body can become "addicted" to it. I thought it was a "cure-all" that it actually isn't.
Perhaps you have a nutrition question that's been nagging at you. Well, here's your chance to ask it and get a chance to win a new product from
Stremicks Heritage Foods.
Elizabeth Somer, author and registered dietician has agreed to answer nutrition questions that LifeasMOM readers might have. Yeah! Can't wait to see what you ask!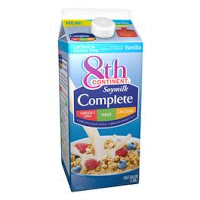 The product is 8th Continent Complete, a soymilk fortified with calcium, fiber and omega-3. A glass of Complete soymilk contains as much calcium as a glass of cow's milk—20 percent of the daily requirement of omega-3 DHA and 13 percent of the daily fiber requirement in each serving, according to the company. Cholesterol-free, Complete is approved by the American Heart Association for helping to reduce the risk of high blood pressure and stroke.
Currently available in Vanilla in a 64-ounce carton, 8th Continent Complete is available at major grocery retailers, independent groceries, select specialty chains and Wal-Mart.
For the next six weeks four winners will win two coupons each to redeem for a carton of Complete. Giveaway is open from now until Saturday night, March 21, midnight PST. Winners will be announced early next week.
In order to win, simply fill out the form below with your name, address, and nutrition question. (If you're reading this through a reader, please click through directly to LifeasMOM.) I'm asking for your mailing address only so that we can get your coupons to you. You can't win without filling out all parts of the form.
I hope you win!