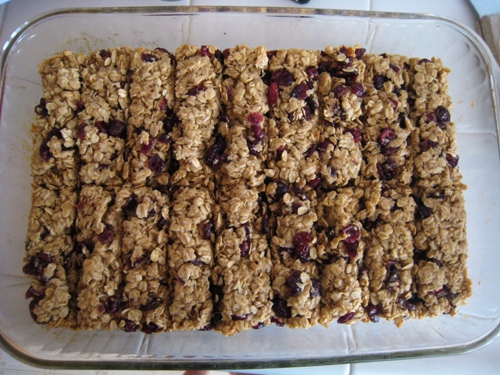 This week's Ultimate Recipe Swap features all kinds of lunchbox inspiration. As I mentioned in recounting our recent switch to packing lunches even though we're home at mealtimes, I splurged a little on some sweet treats and fun snacks to include in the kids' lunches. While shopping with me, FishBoy8 asked if we were going to Disneyland.
That tells you how "fun" those foods really were. Ha!
But at the same time, I realize that any progress we've made in reducing processed foods in our diet could be quickly wiped out on this new lunch packing venture. This month our breakfasts have all been homemade, made easy. So surely, I can do the same with convenient lunches, right?
Well, thankfully, Katie Kimball has helped me out in this area. Katie from Kitchen Stewardship sent me a copy of her eBook, Healthy Snacks to Go.
Katie sums it up well, in saying,
You're starving. The kids are starving. It's way past lunch and you haven't even thought about dinner. You open up the cupboard and…all you see are ingredients. Uh oh.
Ain't that the truth? It's not hard to buy and serve "real food," except that it's, well, real food. It needs some preparation. And that is where a busy mom gets stopped in her tracks. Opening a box of super-hydrogenated, high-something or other is way easier.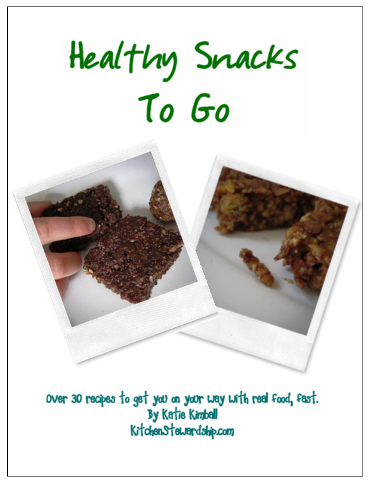 Healthy Snacks to Go presents 30 better-for-you recipes that are easily portable. Several recipes caught my eye:
Kitchen Stewardship Granola Bars
Wheat Thin Style Crackers
Applesauce (& Other) Fruit Rolls
My kids all love the processed versions of these foods, so I'm looking forward to experimenting in the weeks to come. I made a batch of granola bars (those beauties pictures) and am excited to see what kind of mix-ins our family likes best. Yum!
I'm not afraid to buy a box of crackers or a case of granola bars; in fact, I wouldn't survive six hungry children without them. (Just keeping it real.) But, at the same time, I'd like to learn how to many more "convenience items" myself. As one reader put it, sounds like the theme of a freezer cooking day coming soon.
One of the things that I love about this cookbook is that Katie explains so much information about each recipe. I'm a novice when it comes to "real food" so I'm encouraged to learn while I cook. Each recipe is also marked by symbols to denote all sorts of helpful information, like gluten-free, costliness, portability, etc.
This week five LifeasMOM readers will each win a copy of Healthy Snacks to Go.
How to Enter

There are three ways to enter. Choose one or choose them all.

1. Leave a comment on this post, telling us your favorite healthy snack.

2. Visit and "Like" Kitchen Stewardship on Facebook. Leave a second comment here, telling me you did so.

3. Follow @KitchenStew and @FishMama on twitter. Tweet about this giveaway (such as, @FishMama is giving away Healthy Snacks ebook from @KitchenStew. Enter to win here: http://wp.me/pLlgS-2lo) and then leave a third comment here, telling me you did so.
Giveaway will be open until Sunday, August 29th, at 8 pm. PST. Winners to be chosen at random and notified via email. Please respond within 48 hours or risk forfeiting your prize.
THIS GIVEAWAY IS NOW CLOSED. Winners have been announced.
Disclosure: I received a complementary review copy of Healthy Snacks to Go. I was not compensated to publish positive comments. My opinions are my own. Please see my disclosure policy for more information.