Help Big Brothers Big Sisters with your next visit to Chuck E. Cheese's!
This post is sponsored by Chuck E. Cheese's. I have been compensated for my time spent writing. All opinions are my own.
This giveaway is now closed. Congrats to the winner! primabee@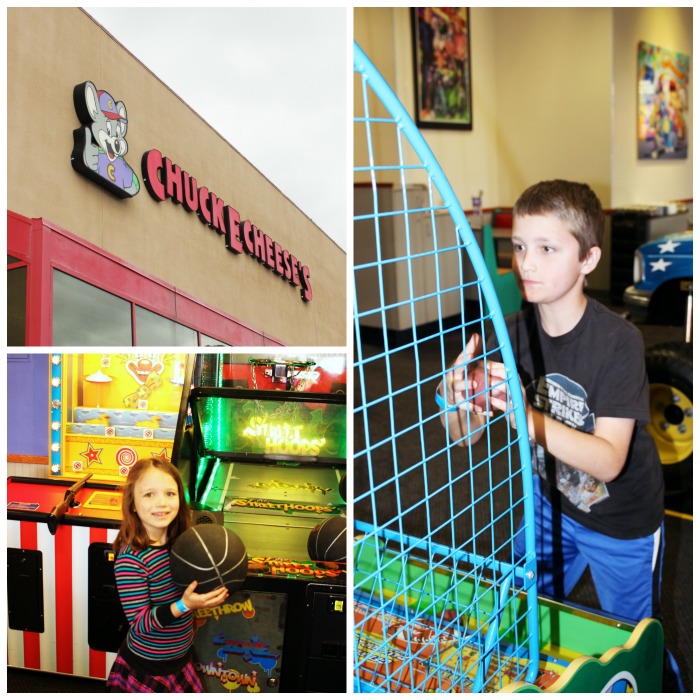 One of the interesting parts about being mom to many children is that activities and experiences that were commonplace for my older children are new and fascinating experiences for my "littles". My littles are currently 7, 9, and 11, but they haven't done everything that their older brothers have done because said older brothers have outgrown some of those books, movies, or experiences. It's up to me and FishPapa to remember the things that "we used to do" and do a rerun with the littles.
Last month I reread The Railway Children with our younger set and this past week I took them to Chuck E. Cheese's.
Now here's something you need to know about me. I went to Chuck E. Cheese's every Tuesday for years when I was a child. Tuesdays was fan club day back in the 80s in Valencia. That meant free food and bonus tokens. My parents, budget parents of many children themselves, were smart to take us every Tuesday after school. We ate an early dinner and played to our hearts content. I loved it!
I have such good memories of Chuck E. Cheese's.
Over the years my older kids have had a chance to experience what for us is a low-key play day with pizza. Note: we go during the off hours. 😉 Last week it was the littles' turn — and they had so much fun!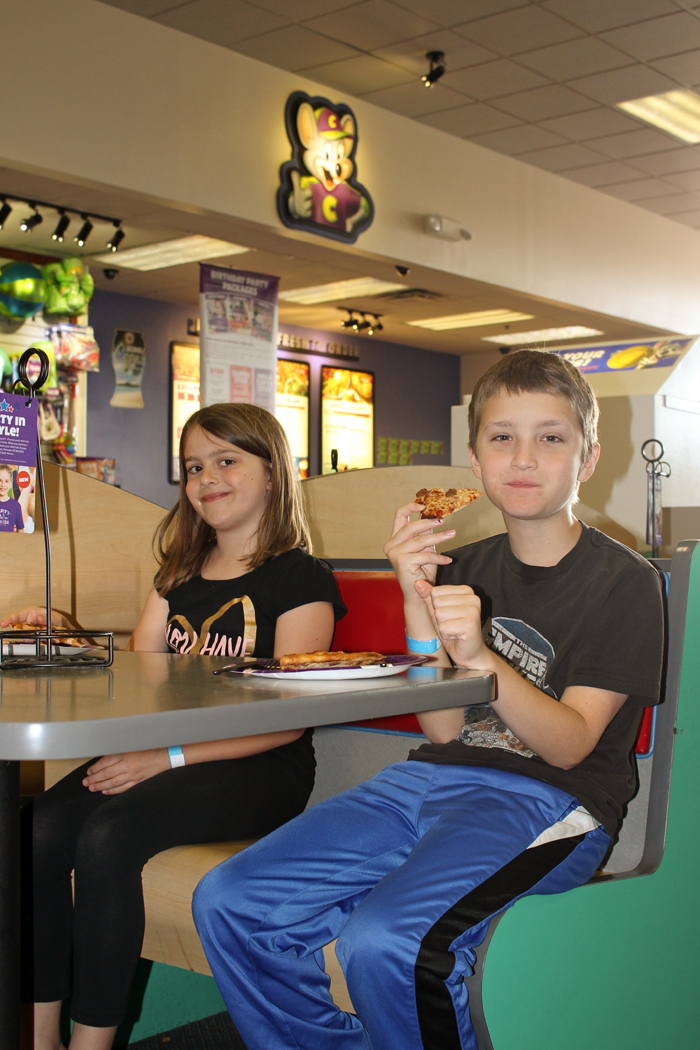 We went right when they opened for lunch and beat the crowds. The lunch buffet at our local Chuck E. Cheese's is $3.99 for kids, about the price of a kid's meal elsewhere. The kids enjoyed eating all the pizza and salad they wanted, and I loved that I didn't have to wait for an order or chase the kids down to come eat. Since they had wrist bands to allow them access to the buffet, they could grab a plate and chow down when they were ready.
The buffet features their new thin and crispy pizza as well as two choices of salad. FishBoy11 loved the pepperoni and sausage pizzas while FishChick7 opted for cheese. FishChick9 enjoyed the Hawaiian pizza. Caesar Salad is a favorite of theirs, so they were set.
Chuck E. Cheese's staff was great when I asked about allergens. The manager promptly pulled out a packet of the allergen and nutritional information for everything they serve.
(I am on a Whole 30, so I ate at home, but man were the smells tempting! I have very fond memories of Chuck E. Cheese's pizza and salad bar.)
While we were there, we made a donation to Big Brothers Big Sisters.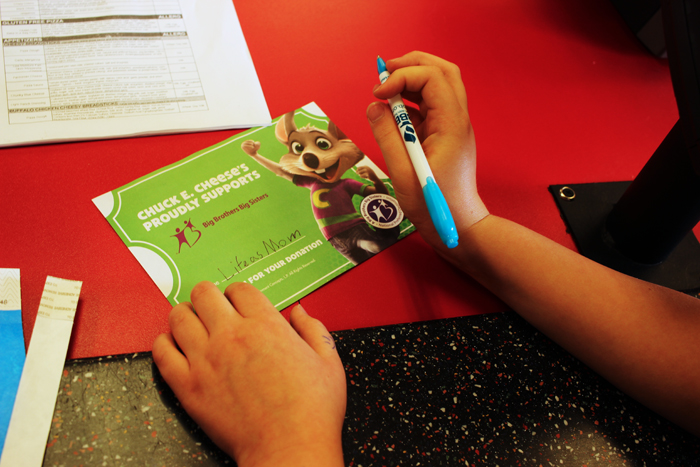 Helping Big Brothers Big Sisters at Chuck E. Cheese's
In honor of April's National Volunteer Month, Chuck E. Cheese's is hosting a month-long, national donation drive, giving you the opportunity to donate any amount of your choice (from $1 and up) to the nonprofit Big Brothers Big Sisters. I mentioned the organization at the register and they had the forms right there.
In celebration of your donation, guests who contribute can pin their name up on their store's wall for everyone to see. Funds raised between March 31 – April 30 will help Big Brothers Big Sisters match adult volunteers ("Bigs") with children facing adversity ("Littles"), so they may develop strong, enduring and professionally supported relationships to change lives for the better.
April is a great month to volunteer, make a donation, and/or eat pizza! Chuck E. Cheese's is putting the FUN in FUNdraising. 😉
Honestly, my kids had a blast and are already scheming to have their Dinners with Dad at Chuck E. Cheese's — and which games they're going to invest their tokens in next time around.
FishChick9 was skeptical that she would enjoy the experience, but then said — and I quote — "The commercials really are right! This is where a kid can be a kid. I love this place!"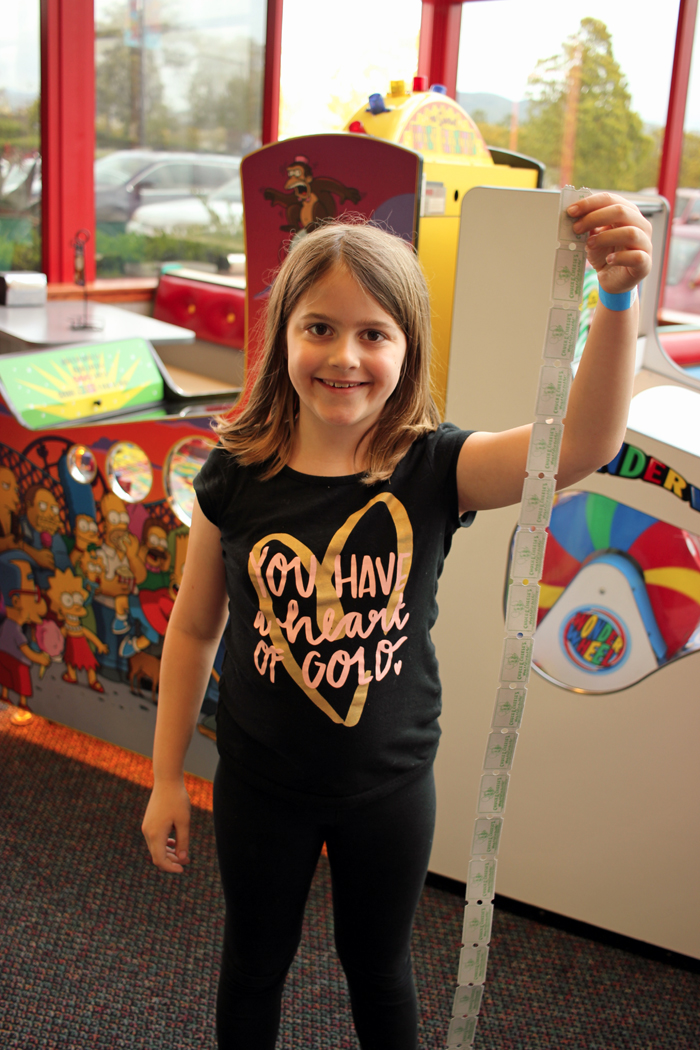 Out of the mouth of babes, right?
A Chuck E. Cheese's Giveaway! CLOSED
This week Chuck E Cheese's is offering one Life as Mom reader a Chuck E Cheese's guest pass (good for 1 large pizza, 4 fountain drinks, and 30 tokens) and 1,000 tickets. This is the perfect opportunity for you to give your littles the Chuck E Cheese's experience!
To Enter
Simply complete the information on this form. Please know that the information is only being gathered for the purposes of mailing you your prize in the event that you are chosen as the winner. This information will not be sold, traded, or given away.
This promotion is open until Sunday, April 17, 2016 at 8 pm PST and is limited to US residents, 18 years or older. One entry per person. Friends and family of Jessica Fisher and Life as MOM are ineligible for entry. The winners will be chosen randomly. This post will be updated with the beginning of the winner's email address. The prize for this promotion is provided by and shipped by Chuck E. Cheese's and/or its representatives. Jessica Fisher and Life as MOM will not be held responsible for unclaimed or undelivered prizes.
This is a sponsored conversation written by me on behalf of Chuck E. Cheese's. The opinions and text are all mine.
What's YOUR favorite way to volunteer and be involved in your community?