Helping Kids Help Each Other
As an Amazon Associate I earn from qualifying purchases. For more details, please see our disclosure policy.
It's our responsibility to teach our kids, but our kids can teach us so much in return. Today new Life as MOM contributor Deanna shares observations from watching and helping her kids help each other.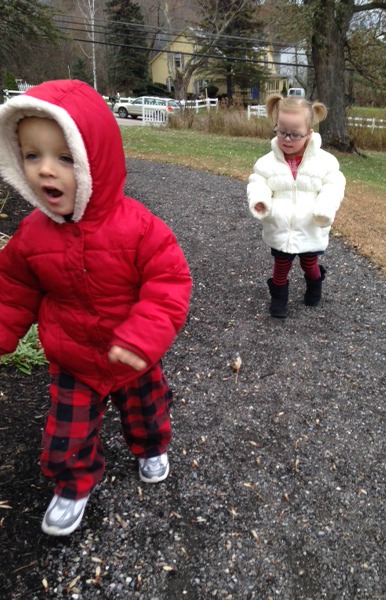 I have two toddlers who both walk at entirely different speeds.
First there's Addison. She has extremely low muscle tone combined with a determination to do it herself. Because of the extra work necessary, her walking speed tends to be on the slower side. If stairs are involved, there are long pauses as she works her way up or down- slowly but surely. Addison has Down syndrome and is 4 years old.
Then, there's Carter. He is all boy and often starts to vibrate if he stands or sits still for too long. His favorite thing to do is run- fast. Or jump, leap over fences, or climb large boulders — all as quickly as possible. Carter is a typically developing 2 1/2 year old.
When we walk into a house or store from our car together, this leaves me with one toddler shooting ahead and one toddler lagging behind.
When this first started happening, I would scoop up Addison into my arms and race ahead to Carter. But now that I am carrying baby brother, this is more difficult.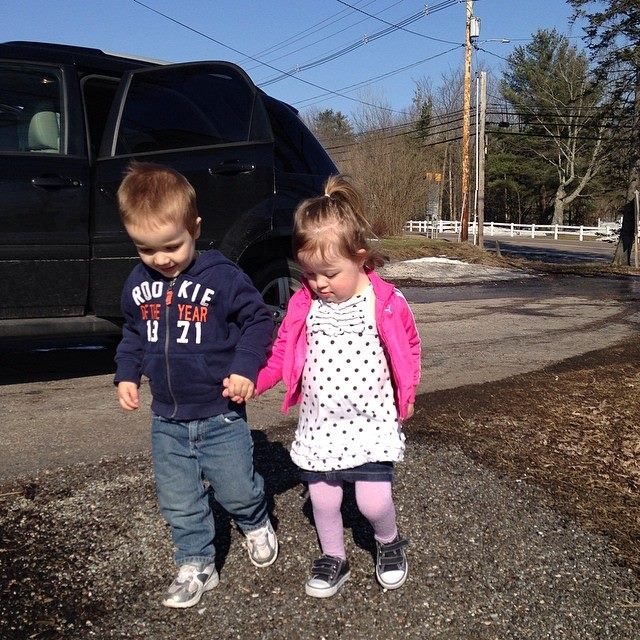 So we have a new rule. Carter must hold Addison's hand the entire time we are walking in from the car together for safety reasons. At first I smiled at the cuteness of them walking together — thankful that they both were staying safe walking beside me and the baby. But the more I got to thinking about it, I started to realize- this is more than about walking speeds.
This is about teaching impressionable children that we all have things that we're good at — and things we're not. And when we're good at something, it isn't necessarily an invitation to run faster and faster while looking over our shoulder to see how many people we're leaving in our dust. No. Yes there are times to run fast and push ourselves. But there are also times that slowing down and using our strength and stability to help someone struggling to walk is the more gracious choice.
Carter is really good at walking. Addison is not. So when she's lagging behind and working overtime to get up those stairs? That is an opportunity for him to help her by holding out his hand, providing her some stability, and patiently waiting as she climbs up the stairs next to him.
Not to mention- when Carter slows down and takes Addison's hand, she teaches him something that she's good at- seeing more details along the way, enjoying the walk for the walk's sake, taking life at a slower pace, appreciating each step as a victory, NOT shooting out into traffic and getting run over. It ends up being a mutually beneficial arrangement.
"But he's only 2! You're over thinking this!" You might argue.
Maybe.
In music we oftentimes teach the music before the concept. By the time we realize we're learning a new concept, we see that we've been playing it that way for weeks now and it's already familiar to us. I'm hoping that it will happen this way with Carter and Addison.
I think about my friend who is really good at keeping a clean, organized house. I struggle with this. But I will never forget a few years ago when she slowed down her awesome running speed, came back to where I was stumbling, took my hand, and walked alongside me — providing stability at the same time showing me the best places to put my feet for that next step.
She didn't just do it for me, or judge me for not being good at something she was. No, she taught me. She taught me the best way to clean my wood floors. She gave me a book that scheduled cleaning chores on certain days of the week and made it a game between us to keep up with the schedule. She helped me clean out the bottom of my chest freezer when I was eight months pregnant. She explained her process for a centralized room of organizational storage. She shared her secret for keeping up with laundry. She gave constant encouragement even when I felt like I was failing.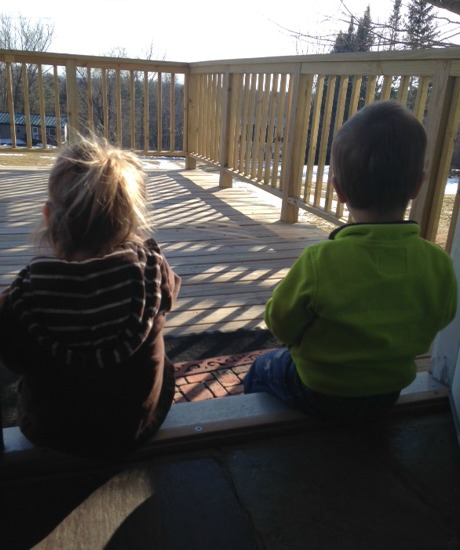 As result, my housecleaning abilities have really picked up pace- because I had a really great teacher. To this day, I still text her with questions. "Do you wash down your walls? What do you use?" And I eagerly await her expert advice. Because she is good at this. And she chose to graciously use her gift to help someone who isn't. I will never forget her kindness to me in this area.
It challenges me to not forget this myself and to teach this principle to my children- starting with short walks in from the car in which I insist they walk side-by-side holding hands.
I think there are times that I should cheer Carter on. Yelling for him to run FASTER and encouraging him to reach his full, running potential. He has a gift, and he should use it!
And I love when I get one-on-one time with Addison where I can step slowly alongside her, relishing the extra time to notice little details along our walk. She shouldn't be rushed to match Carter's slow speed all the times.
But then there are times that we should all meet somewhere in the middle and walk as a family — creating a speed of family unity — where we're all watching out for each other.
The world doesn't need faster runners of more brilliantly gifted people. The world needs more hand holders, encouragers, teachers. I hope to model this for my children- one walk at a time.
Deanna is passionate about special needs advocacy and new motherhood- two things that go hand in hand for her right now. Three kids four and under, the oldest of which has Down syndrome- keeps her quite busy. But there's always enough time left at the end of the day to write all about the insanity at her blog Everything and Nothing from Essex. And to laugh- always, always there is time to laugh. Technically labeled a "special" mother, Deanna really finds nothing special about herself. Truly, special needs parenting is just about taking it one day at a time- enjoying the highs, sloughing through the lows, and stumbling through the mundane while drinking too much coffee. Read all of Deanna's posts here.