A Review of North! Or Be Eaten
We are a participant in the Amazon Services LLC Associates Program, an affiliate advertising program designed to provide a means for us to earn fees by linking to Amazon.com and affiliated sites. We participate in other affiliate programs as well. For more details, please see our disclosure policy.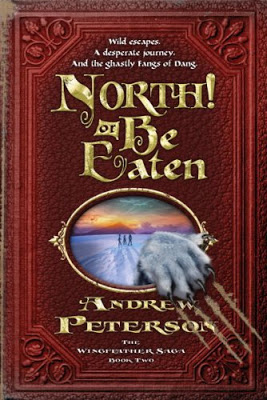 Hilarious. Definitely fun. Kinda feels like it's real. When a scary part happens, you definitely feel scared. I'm jealous that I didn't think of those jokes. — FishBoy 8
Funny and exciting. — FishBoy 12
Yes, my boys are boys. Not too wordy when you ask them a direct question. But, between you and me, they love this book, North! Or Be Eaten, the latest in the Wingfeather Saga by Andrew Peterson. FishBoy12 didn't want to join in our read-aloud time; he kept hiding in the shadows, though, because he really wanted to know the story. On one of the last days of summer vacation, he ended up swiping the book and sequestering himself in his room to read the entire thing — without us!
I know!
Andrew Peterson has done a remarkable job with this book — and the series as a whole. Reminiscent of the fantasy adventures of JRRT and CSL (if you know what I mean), these are family classics in my book. I know that we are creating great memories as a family sharing these stories together.
Newly released just yesterday, North! Or Be Eaten picks up where the first book leaves off. And, well, if you haven't read the first, you need to! There's adventure, there's humor, there's flatulence. What more could you ask for in a family read aloud?
You will laugh and cry and hope for a better tomorrow right along with the characters as the evade the Fangs of Dang and the nameless evil named Gnag the Nameless. My only problem with this book is that I CAN'T WAIT for the third installment to get here! I highly recommend these books for the young boys in your life. And if your girls enjoy Narnia or Middle Earth, I think they'll like this, too. (Great Christmas presents, by the way.)