History & Literature Picks for Home Learning
We are a participant in the Amazon Services LLC Associates Program, an affiliate advertising program designed to provide a means for us to earn fees by linking to Amazon.com and affiliated sites. We participate in other affiliate programs as well. For more details, please see our disclosure policy.
History and literature studies are just plain fun for our homeschool. My kids love to learn about far-off places and people. Here are our picks for home learning.
(This post does include affiliate links. If you make a purchase through those links, I am paid a small amount in way of advertising fees.)
History and literature are the big favorite subjects in our homeschool. There's no shortage of fun and educational reads in this discipline. And it's rare that I have to urge a child to tackle his assignments in history and literature.
Math is a different story, of course.
It makes sense that the thing that you're passionate about becomes the thing that your children enjoy. At least at our house. We didn't force them to be food-loving, hockey-watching, Avenger-admiring folk, they just are. I guess our enjoyment of certain things has been contagious.
History and literature fall into the category of Things We Love.
Our approach to history and literature study is pretty easy. We cycle through the history of the world in a four year time frame, reading about the people, events, and places of a certain time period and reading corresponding literature. History and literature are very much integrated in our school.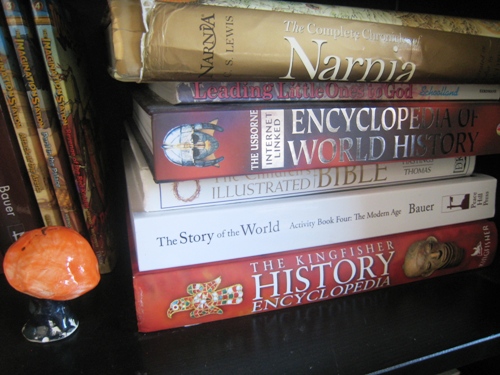 We're currently in our third cycle through. There are several homeschool curricula that follow this approach, Tapestry of Grace and The Well-Trained Mind included.
We've used both of these resources over the course of the last ten years of homeschooling. There are positives of both programs. Tapestry of Grace does a great job of keeping all the kids, regardless of age, in relatively the same time frame. This is a boon for large families. However, I don't love all the activities associated with that program, and I'm not fond of the high school reading recommendations.
I prefer the flexibility that The Well-Trained Mind provides. I like being able to choose from a list of primary resources and Great Books for my high schooler.
The downside is that the history and reading that he does is now a little out of sync (time wise) with the other kids. There may be a way to fine tune this, but I've come to terms with the fact that high school is a different animal.
What history and lit look like at our house.
Our school is a language rich environment. My kids love to read or be read to. This is part of what makes history and literature fun at our house.
This year we're studying The Middle Ages. This is extra fun because of all the exciting stories and events: princesses, knights, dragons, and the whole she-bang. Time to dig out the dress up!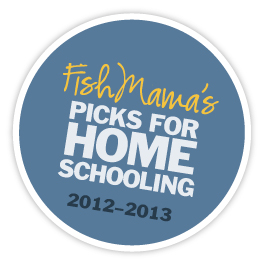 pre-K to 3th grade: With the three younger kids this year, I'll be reading through The Story of the World, Volume 2, doing the activities in the accompanying Activity Book, and reading a variety of books and stories from the time period or people group that we're studying. Thanks to the folks at Peace Hill Press, we also have an audio set of the book to listen to in the car or at bedtime.
The kids will each have a notebook to record what they've learned (either in pictures or in narrations that I write down).
5th and 7th graders: My middlers will be doing the above, plus going more in-depth with the extra books they read. Their extra reading will be on their reading levels.
The Story of the World is for easy listening and they'll be digging deeper with one of two "spine" texts: The Kingfisher History Encyclopedia and The Usborne Internet-Linked Encyclopedia of World History. I'm thankful that The Story of the World Activity Book offers the corresponding pages in both of these texts, so five of my students will be studying the same people and time together.
These guys will be doing more advanced work with the subjects, like outlining, keeping a timeline, and writing more extensive reports.
High school, 10th grade: My oldest will be following a lot of the recs in The Well-Trained Mind, using The Well-Educated Mind as his literature spine and The History of the Medieval World as his history textbook. Yes, we like Susan Wise Bauer over here.
FishBoy15 has already asked to start reading his history book, so I don't think it will be a hassle this year. For FishPapa and I to keep pace with him, I bought us the audio version of his history book. And you can only guess how I'll be booking it this year. Kinda like going back to college.
That's our cut and dried version of how we study history and literature around here. It's not dry at all. We love story — whether real or imagined.
And maybe I'll get to dress up like a princess this year.
How do you teach history and literature at your house?
Disclosure: This post does include affiliate links. If you make a purchase through those links, I am paid a small amount in way of advertising fees. I received complimentary product from Peace Hill Press. However, I was not obligated to post about them. I truly do love these products.