Hit the Road with Great Listening
We are a participant in the Amazon Services LLC Associates Program, an affiliate advertising program designed to provide a means for us to earn fees by linking to Amazon.com and affiliated sites. We participate in other affiliate programs as well. For more details, please see our disclosure policy.
Hit the road with a supply of audio books to listen together as a family. It will be a fun way to spend your time as a "captive audience".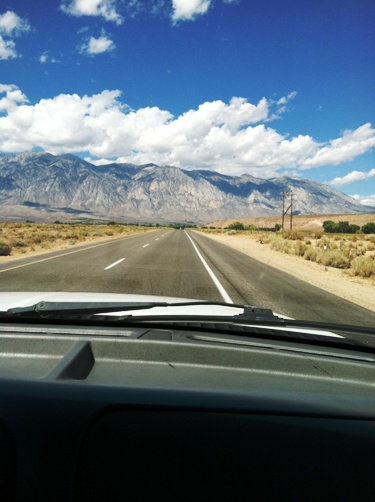 The following content is brought to you, in part, by Greathall Productions:
Are you hitting the road this week? Before you head out of Dodge, I highly suggest picking up some audio books to listen to as a family.
I know, the kids have a DVD player or handheld games, but really? Listening to an audio story is tons of fun! It's a shared experience that doubles as a great way to while away the miles on a long road trip.
Read Listen to a Story Together
This fall the kids and I have done a fair amount of driving during the week. With science classes, piano lessons, swim lessons, and hockey practices and games, I've given my car a workout. Since I didn't want to waste time while on the road, we've begun a practice called "carschooling".
We do school in the car. This might mean that we haul grammar and math books with us to work on during our stops. While I'm driving, we listen to great literature on audio. This has been a fabulous experience for all of us. Every age has been entertained and enlightened as we listen to The Adventures of Robin Hood or follow along with The Story of the World, a set we purchased for our history curriculum.
Many of these CDs we are listening to are narrated by master storyteller Jim Weiss. The kids and I have thoroughly enjoyed listening to  his soothing voice as we drive hither and yon this fall.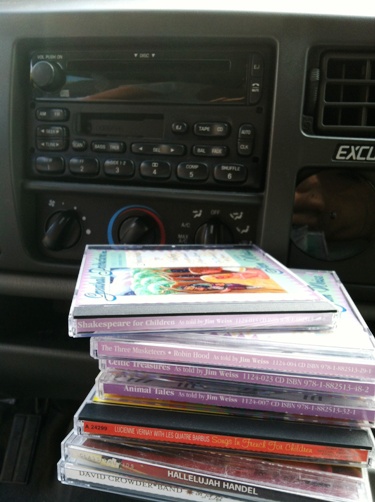 I loaded the files onto our ipods as well as stashed some CDs in the car. Jim's is now a familiar voice to my children — and to me! I hear him telling tales in several bedrooms after lights out. The kids are falling to sleep to these great stories.
Even my twelve year old is fascinated by the tales, going so far as smuggling the CD out of the car and into his room to find out the ending of Shakespeare's Taming of the Shrew. Another favorite has been King Arthur and His Knights. Sir Percival just cracks us up.
My plan is to buy the kids a CD for each of their stockings this Christmas. These CDs are that well-loved at our house!
Introduce your kids to great literature.
As a former English teacher, I love it that even my youngest children are becoming familiar with classic tales. This means that when they encounter the literature at an older age, they will already know the story line and concepts of the plot. They'll be better able to understand more subtle nuances of the piece because they're not trying so hard to "get" the actual story.
Our family has always loved a good family read-aloud. Yet, sometimes the family reader isn't able to read because he's driving, cooking in the kitchen, or doing some other activity to prevent it.
We have often purchased some of our favorite novels, like The Hobbit and The Chronicles of Narnia on audio. It's been a great way to share a story when no adult or advanced reader is able to read to us together. I wasn't familiar with Jim Weiss and Greathall Productions until recently, but they have become fast favorites.
How to Make Audio Books Work at Your House
Here are some quick tips to make audio listening easier for your family:
Keep a few CDs in the car at all times.
If it's a CD we own, we usually burn a copy so that the original doesn't get trashed in the car. Ahem. But, often there isn't time for that, so we take our chances.
Load files onto iPods, iPads and phones.
In the old days, hubby and I invested in Gen 2 iPods. We still have them, though our iPad and iPhone make them a little obsolete. Rather than ditch them, they are ideal to let the kids use. You can even buy these "outdated devices" for less than $40 on eBay.
We have docking stations, including a homemade version, in three rooms and a number of ear buds to enable easy listening.
Check out what your library has.
You'll be amazed at the selection of audio CDs. We've experienced so much variety in listening thanks to our local library.
Play stories and music during breakfast, at naps, or at bedtime.
Audio books are great to play during quieter times of the day. Choosing good stories means you're filling your kids minds with great vocabulary and good thoughts.
Talk about the stories during and after listening.
You'll be amazed at how much your kids absorb from listening to stories and music. Discuss the plot and events with them. Talk about the things that they liked or disliked about the story.
Go get the real books and read them together.
Once your family is familiar with the story in audio form, go get the real book to read together. There are plenty of children's versions of Shakespeare or other classics, so you don't have to read the "real" one to your kindergartner. Find the picture books of the classics or abridged versions for older readers and explore the same literature in another format.
Clearly, I'm a fan of audio books. How about you?
Do YOU have a favorite "book on tape"?
Disclosure: This post is part of a sponsored partnership between myself and Greathall Productions. I have received sample products and have been compensated for my time spent writing but my opinions are my own. These are fabulous CDs.