Holiday Baking Plan – FREE Download for Freezer Cooking
As an Amazon Associate I earn from qualifying purchases. For more details, please see our disclosure policy.
Download a FREE holiday baking plan, complete with grocery lists and step-by-step instructions.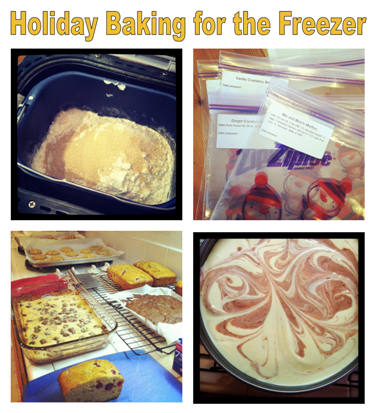 This past month I reaped the benefits of having done that big cooking session in November. Not only did we have meals for November, but my freezer stash is also stretching us almost entirely through December as well.
I love it when a plan comes together.
Since I didn't need to fill my freezer with meals, I decided to do a big holiday baking session instead. I chose some of our favorite recipes to enjoy during the holiday season and compiled them into one mega baking day.
Holiday Baking Plan
We love to have baked goods for breakfast and brunch so I included cinnamon rolls, cranberry bread, and scones. I'm a big fan of having a selection of cookies on hand, so I mixed up nine different varieties. Since Pretzel Berry is such a favorite around here, I baked up its more elegant counterpart, Pretzel Berry Cheesecake, found in my cookbook.
Today I'm sharing the plan with you so you can recreate it yourself!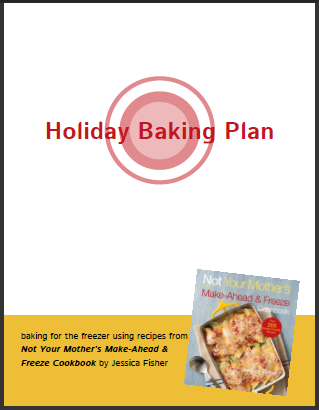 This is a full day of baking that should yield nine types of cookies, three loaves of bread, 18 cinnamon rolls, at least a dozen scones, a cheesecake, two muffin mixes, and a partridge in a pear tree. If you find that you don't have as much time as you thought to tackle the entire plan, simply eliminate some of the cookie recipes. You'll have plenty of baking ingredients on hand to revisit those recipes at a later date.
I took a shortcut and only baked three varieties of cookies. The rest of the dough I packaged for freezing. At a later date in the month, the kids and I will do the forming and baking, the part they like the best anyway.
Well, besides the eating.
Here are the recipes I included in this baking plan. All but two recipes are in my cookbook. Several are linked to one of my sites. One is only available here on Life as MOM. The other is a bonus recipe, pictured here, that's included in the baking plan.
Included in the FREE download are printable labels for the following recipes:
Pretzel Berry Cheesecake, page 342
Vanilla Cranberry Bread, page 291
Mix-and-Match Muffin Mixes, page 294, 2 batches
Ginger-Coconut Scones, page 302
Whole-Grain Cinnamon Rolls, page 311
White Chocolate-Walnut Jumbles, page 325
Lemon Whole-Wheat Spritz Cookies, page 328
Chocolate-Almond Biscotti, page 329
Chocolate-Toffee Cookies, page 330
Chocolate Minty Melts, page 331
Kahlua Brownies, page 336
Double Chocolate Magic Bars, page 337
Sugar Cookies, BONUS RECIPE, included in the download, pictured here
Gingerbread Crinkles, Life as Mom
This plan, while a fair amount of work in the midst of it, is going to save my bacon this month in providing a wealth of tasty treats without a lot of hassle when I'm busy fa-la-la-la-ing.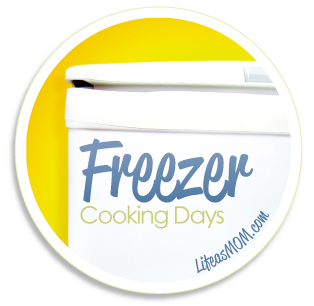 Have you done any freezer cooking this month?
Tell us what you've cooked and report your successes. Share your "fails" too and we'll help you troubleshoot.
Also of note: Next week on the 12th, we'll be chatting about Not Your Mother's Make-Ahead and Freeze Cookbook. If you've reviewed the book or have a great story to tell, I'd love to hear it! Remember you can buy the Kindle edition for only $4.99, so get it while it's hot.