Holiday Snow Days at Legoland
As an Amazon Associate I earn from qualifying purchases. For more details, please see our disclosure policy.
Who says there's never snow in San Diego? Legoland has all the winter fun: snowballs, sledding, and ice skating during this year's Holiday Snow Days.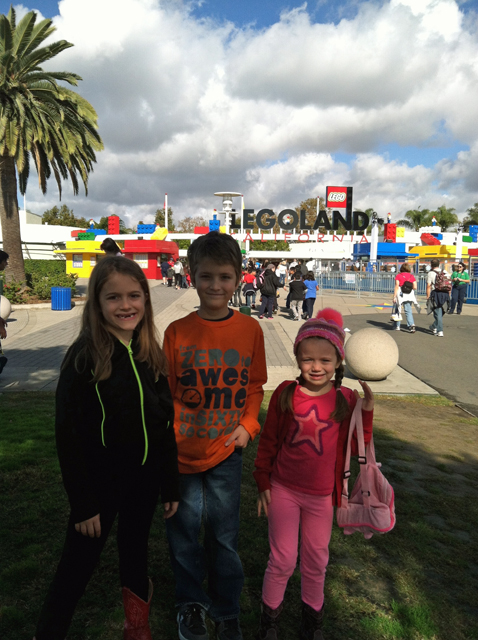 Last week I surprised the littles by taking them to Legoland. They didn't know where we were going until we turned onto Legoland Drive, but they had guessed that maybe that was it. But, why did they need to wear long pants and closed shoes?
The park hosted a media day and invited me and three guests. I decided to take these three: my favorite ten and under set.
The older boys were very gracious about not being included; they know that our littles are really the "target audience" at Legoland. The big boys have great memories of going to Legoland when they were this age and were pretty excited to help me make this day a great surprise.
Needless to say, FishBoy10 and the girls were thrilled to be at the park.
An added twist is that Legoland has snow and skating available as part of their holiday festivities.
Plus, if you visit the park between now and January 4, 2015, you can get a free return ticket good from January 5 to March 1, 2015. That's a pretty sweet 2-for-1.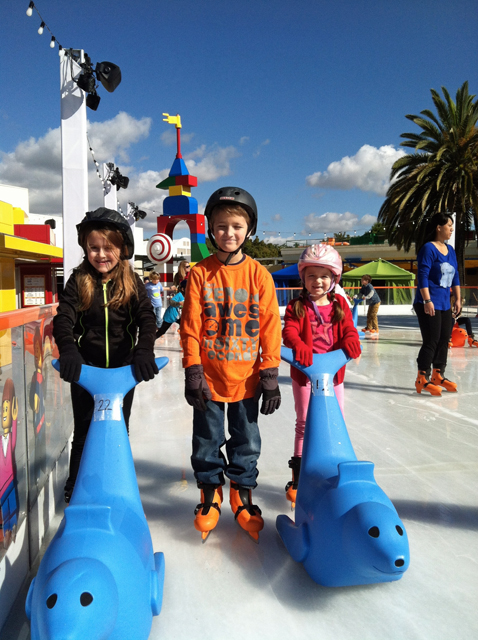 Holiday Snow Days at Legoland
My boys are all pretty excellent skaters, so FishBoy10 took to the ice like a pro. I must say Proud Hockey Mom fluttered to the surface watching him move around the ice.
The girls have had less practice, mainly because they are hesitant to practice their roller blading at home for fear of falling. Legoland provides these cute seals for kids who aren't quite up to speed with their skating. After about an hour of practice, my girls were able to skate seal-free.
(We brought our own helmets to avoid the whole lice issue, but they are also available at the rink. Not that I've heard of lice in the helmets, but I'm not taking any chances.)
I even skated, too. I don't think I've done that in about 20 years! It was quite fun.
(The kids were all sore the next day. I must be in better shape than I thought; it didn't bother me a bit.)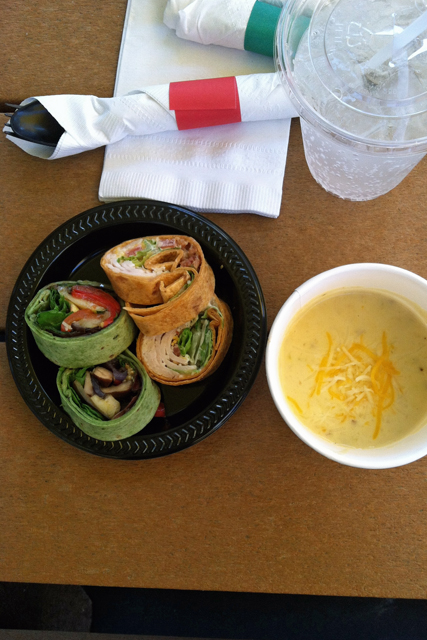 Tasty lunch at Legoland
The skating rink is actually outside the park, located between the entrance and the new Legoland hotel. So if you're visiting San Diego and just want to go skate, you can do that without spending all day at Legoland.
On the ground floor of the hotel is a restaurant where you can order lunch or dinner or snacks after skating. We got to sample a little bit of everything: steak chili, potato soup, hot dogs, grilled vegetable wraps, turkey wraps, and cookies. Everything was very tasty; I was impressed that the used real steak in the chili.
And, yes, I let the kids drink pop. I don't think they've had it since our trip to France, so it was such a fun surprise. What was even better is that since I started tweaking my kids' diet, they really don't expect it. FishChick6 said, "Is this pop?! I thought it was water." Be still, my healthy mama's heart.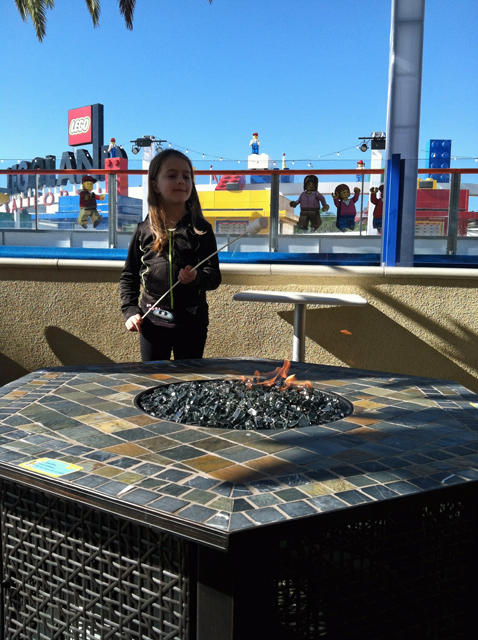 When we left the rink, I wondered why they had lit the fire pits on the hotel patio. It was a 60 degree day, so it wasn't super necessary. But, then they handed us these boxes: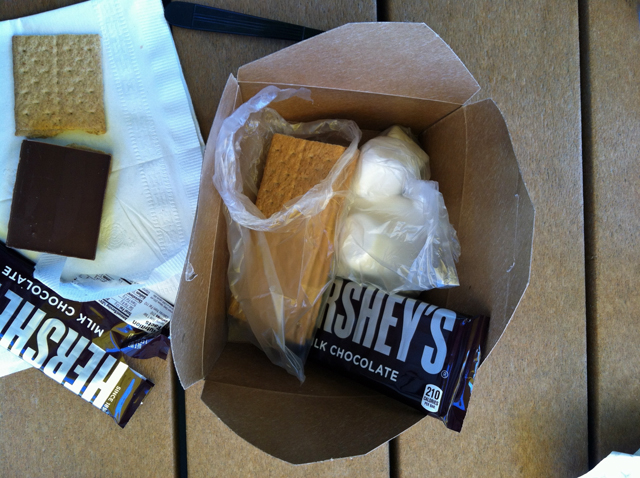 The s'more you know….
S'more kits are also for sale in hotel restaurant; sticks are provided. The kids had great fun toasting their marshmallows and making their desserts. (I think these would make great Christmas gifts for your neighbors!)
And yes, this wasn't the healthiest of lunches, but it was a super fun treat for the kids. Legoland actually does a much better job than other theme parks in sourcing quality food. Last time I was there the cafe in the SeaLife Aquarium features all organic foods. We also had the obligatory Apple Fries later in the afternoon.
Snow fun!
After lunch we were ready for the snow. I had packed winter gloves for each of them. They were so excited! I don't think we've been to the snow since 2011 for our fall vacation in Mammoth.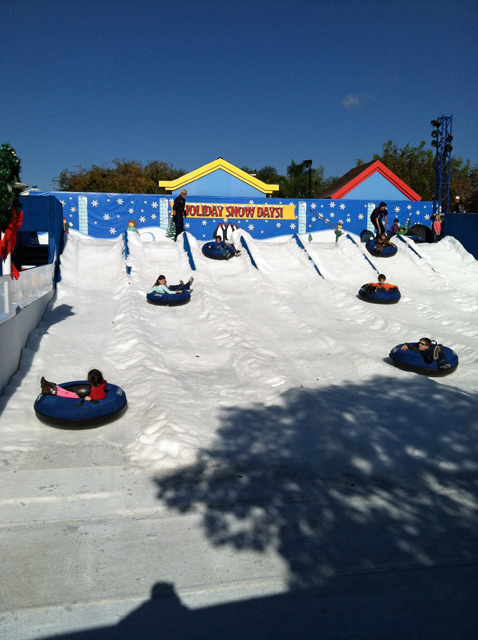 The Fun Town area has been transformed into a winter wonderland, with certain attractions converted to snow activities. The Fun Town Police and Fire Academy has become a sledding hill on one side and a snowball throwing/snoman building area on the other side.
If you head to Legoland this winter, your kids are bound to have a blast. Mine were thrilled. However, just like you need to bring dry clothes in summer, be sure to bring dry clothes now, too.
It's too cold for the splash pad on most days, but your kids will be soaked after playing in the snow. FishChick8 had her cowboy books so she was fine, but the other two (in regular boots and sneakers) had soaked feet. It would have been really nice if I had brought a change of socks for them as well as a plastic bag for wet stuff. Ahem. I didn't follow my own advice about amusement park survival with kids. Lesson learned.
Have a great time, and if you have toddlers, be sure to read this post. Legoland isn't particularly geared for toddlers, but there are ways to make it work.
My kids had a great day at the park. Ours is a 20-minute drive to the park so we've gone for Homeschool Days and field trips over the years. I know that they are making great memories at their hometown amusement park.
Do you have any fun memories of Legoland?
Disclosure: Three of my kids and I received a complimentary day at Legoland. All opinions are my own.