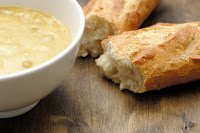 Soup is a wonderfully frugal, potentially delicious meal to serve your family. And it can successfully be made from leftovers. What a great way to exercise the "waste-not-want-not" mentality that will keep us all in the black these days.
Now, don't go thinking you're gonna throw everything in a pot, Pippi Longstocking-style. There's a method here.
Use wisdom when making soup from leftovers. If your family didn't like it the first time, chances are slim that they will like it better in its new form. You can make a good soup from what you have, provided what you have is still fresh and something you liked the first time.
A great starting point is Thursday Night Soup from A Feast of Soups by Jacqueline Heriteau. Read through that recipe and you should get a basic idea of the parts of soup: fat, onion, liquid, seasonings, fillings.
While the possibilities are endless, here are some suggestions:
• Chicken Noodle Soup is a great follow-up after a night of baked chicken. Bake a few extra breasts and save the drippings. Any cooked vegetables leftover can be added as well.
• Chili Bean Soup – only one or two portions of chili left? Add a quart of beef, vegetable, or chicken broth and a can of hominy or corn and simmer together. Serve with tortilla chips, salsa and grated cheese.
• Corn Chowder – leftover gravy, corn, and mashed potatoes? Combine the potatoes and gravy with chicken broth with a whisk. Stir in corn and simmer until hot. Season with dried dill weed and salt and pepper at the end.
• Beef Stroganoff soup – leftover beef stew? Thin with beef broth and bring to almost a boil. Stir in egg noodles. Cook until noodles are tender. Add a little cream or milk at the end.
Got another great soup idea? Share it with us.