Make your own Chocolate Cream Pie from scratch!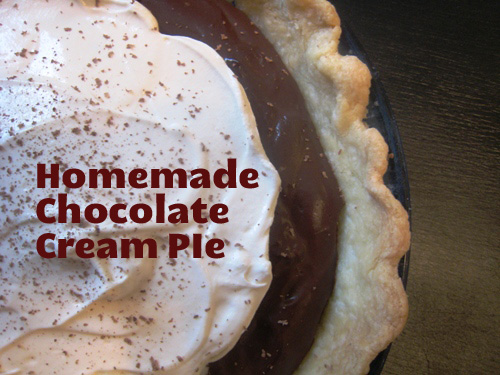 OK, who's ready for dessert? I am a big believer in homemade pies. They are not terribly difficult and they taste SO much better than store bought. Don't even stop in the grocery store bakery when you can make one of these babies at home.
On Good Cheap Eats I shared some of my favorite pies to serve on Thanksgiving. Today, I've got a homemade version of Chocolate Cream Pie. You may be familiar with the refrigerated or frozen pie crust, Jell-O chocolate pudding, and Cool Whip version. And that's fine. But this takes little more work than using those convenience items and it tastes loads better.
Plus, it doesn't have all those funky ingredients that you can't pronounce.
So, ready to make a pie?
First you're going to whip up a batch of Gramma John's Pie Crust. This is practically foolproof since you don't have to roll out the dough. Just pat it in the pan.
You're going to blind bake the crust. This means that you're going to bake it empty. Since the filling is cooked on the stovetop, you won't be baking it.
Line the pie crust with foil or parchment paper and fill it with beans or pie weights. When the crust starts to color around the edges, you'll remove the foil and continue baking until the crust is light brown. Cool it on a rack.
Meanwhile, cook up the filling in a saucepan. It takes less than ten minutes! Let that cool a little and pour it into the cooled pie crust. Cool it to room temp and then chill the whole thing for several hours. Top with whipped cream.
And voila! Your own Homemade Chocolate Cream Pie!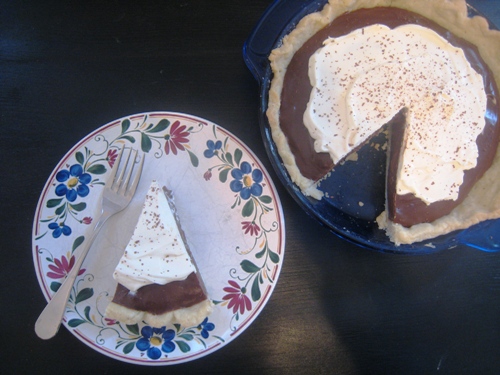 Recipe: Homemade Chocolate Cream Pie
Ingredients
1 batch Gramma John's Pie Crust
2/3 cup sugar plus 1 tablespoon sugar
1/4 cup cornstarch
1/4 cup cocoa powder
1/4 teaspoon salt
2 1/2 cups milk
1/2 cup chocolate chips
1 teaspoon vanilla
1 cup whipping cream
Instructions
Preheat oven to 375 ° Prepare the pie crust according to recipe directions. Pat into pan. Line the crust with parchment paper and fill with beans. Bake until edges begin to color, about 15 minutes. Remove paper and weights and continue cooking until golden brown.
Cool completely on a wire rack.
In a medium saucepan, whisk together the 2/3 cup sugar, cornstarch, cocoa powder, and salt.
Whisk in the milk, stirring well. Cook over medium-high heat, whisking constantly until mixture begins to thicken, about 5 to 7 minutes.
Whisk in chocolate chips and vanilla until well blended. Allow mixture to cool slightly.
Pour cooled mixture into baked and cooled pie shell. Cool to room temperature and then chill for several hours.
Prior to serving, whip the cream and the remaining tablespoon of sugar in a medium bowl until soft peaks are formed. Serve with pie.
Preparation time: 20 minute(s)
Cooking time: 25 minute(s)
Number of servings (yield): 8

URS Guidelines
Remember: Each week at Ultimate Recipe Swap, there is a posted theme. You are welcome to share any recipe that fits the theme and contains a link back to Life as MOM. If you're curious about the upcoming themes, I have a calendar here. This week's theme is Pie!
If you have a recipe that fits the theme, please link it. However, things like Beef Strogonaff will be deleted from Chicken week because it doesn't contain chicken. Please keep this meme as helpful to others as we can.
And don't make me the bad guy! 

What's a favorite pie at YOUR house?