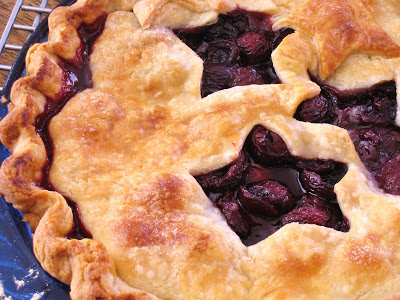 Some members of the FishFam have distinctly different tastes than I do. Many prefer cake to pie. But, me? Mmmm. I'll take pie anyday, savory like Chicken Pot Pie or sweet, like Cherry Pie.
It seemed appropriate to give you the low-down on homemade pie crust, for several reasons:
1. It tastes better than store bought.
2. It's less expensive than store bought.
3. It's more fun and fancier than store bought.
4. I'm all about pie.
But, people can get so intimidated by the idea of homemade pie crust. I was for years, but even though I'm no expert and even though mine isn't always very pretty, I just go for it. So, I think you should, too.
(Taste matters most anyway, so don't worry if it's not gorgeous.)
There are two basic methods — the rolled pastry and the pat-in-pan pie crust (like Gramma John's). The first is more traditional and can hold up to rolling on a board and let's you cut out fancy shapes. The latter, while Blue Ribbon good, doesn't always hold its shape well in those other applications. Since this post demonstrated the Gramma John style, today I'm addressing the roll out method.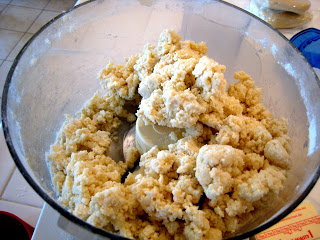 I like to use the food processor but you can use a pastry blender or a fork or two knives to cut in the butter.
Homemade Pie Crust
For a double crust pie, you'll need:
2 cups flour
1/2 teaspoon salt
12 Tablespoons (l 1/2 sticks) butter or margarine
1/4 cup cold water
Combine flour and salt in bowl. Cut in butter until coarse crumbs are formed. Add water a little at a time until dough starts to stick together. Turn out onto plastic wrap and shape into ball. Cut ball in half. Flatten each half into a disk. Between sheets of waxed paper or plastic wrap roll out each disk to a thin circle.
Chill until ready to use or place in a freezer bag and stash in the freezer for up to 2 months.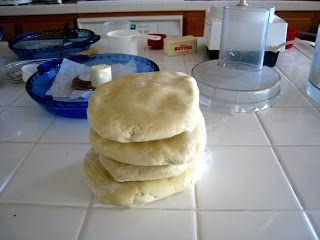 When ready to assemble, flour a large surface and roll out your dough with a floured rolling pin. (If using frozen dough, thaw it completely in the refrigerator and let warm slightly at room temperature before rolling it out.)
They say that to keep a tender crust, to use as little as flour as possible and to work quickly. But, cut yourself some slack if you're just learning. It'd be nice if it turned into a perfect round circle. I prefer elliptical pie crusts myself.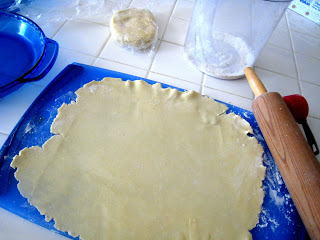 Transfer your crust to a pie plate by gently rolling it around the rolling pin to transfer.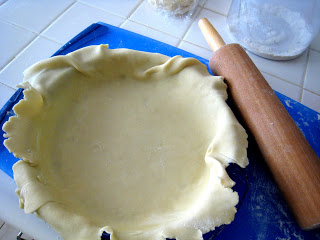 If you feel timid about that dough-sticking-to-the-surface-and-rolling-pin-movement thing, just roll out the dough between two sheets of Saran Wrap. This prevents it from sticking to the board and makes it very easy to move to the pie pan.
If you're going for a single crust, just trim the sides about 1/2 inch from the rim of the pan and crimp the edges. An easy way is to just use a fork. (Yes, that's a pat-in-pan crust in the picture, but use your imagination that it's not.)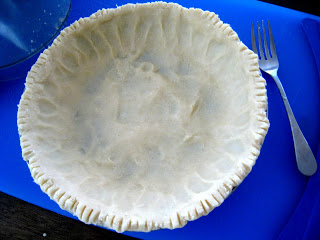 If you're doing a double crust pie, pour in your filling and center your top crust over the filling. Trim the edges of both crusts at the same time as directed above. Then fold the top crust under the bottom and pinch together. You can crimp the edges and add some cutouts made with any extra dough. Brush the cutouts with water to help them stick and take a sharp knife to draw a few fancy details.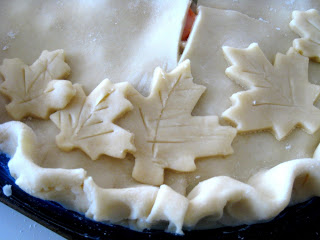 Bake according to pie recipe directions.

What are the Fine Things You enjoy about Fall?
Amy is wrapping up our Fall Festival today, sharing good old enjoyments of the Autumn season. Join her for the "Finer Things of Fall" and enter to win an assortment of Fall-themed scrapbooking supplies.