THIS GIVEAWAY IS NOW CLOSED. CONGRATS TO THE WINNERS: sosborne521@, jessicakaiser@, Kmoore688@, amm2ep@, jillyjoyce1@, Dinovak2350@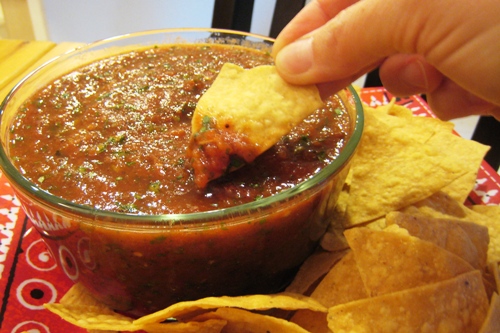 The other day we were driving home from shopping, and FishPapa asked what was for dinner. Upon hearing the answer (which was Rice and Beans), he inquired, "You got the salsa covered?"
Well, you have that jar in the fridge that you bought at Farmer's Market.
"No, no, no. If we're having something simple like Rice and Beans, we have to have fresh salsa."
What ensued was a light-hearted discussion about why I hadn't been making fresh salsa for the last few months, that the last few batches have been dogs, and that I felt like I had lost my salsa mojo.
No offense to dogs out there, but, that jarred salsa was better than what I've been making. However, hubs wasn't buying it. Instead he described the salsa that he had enjoyed recently at Senor Pancho's, "Home of the Best Tacos in the World," so say my three oldest children. He went into great detail about this salsa, actually.
Clearly the deck was stacked against me. Not only did I need to make salsa better than my last few batches and better than the jarred Senora Isabel's that we bought at Farmer's Market, but I also needed to make salsa that rivaled that of Senor Pancho's, "Home of the Best Tacos in the World."
So, we stopped at the store for jalapenos, limes, and cilantro, items I did not already have at home, and I got to work.
My first batch was okay. We ate it up in 24 hours, so I know it was good. But, according to the critics, it needed less heat, less  bitterness and a little something. So, I went back to the kitchen for another try a couple days later.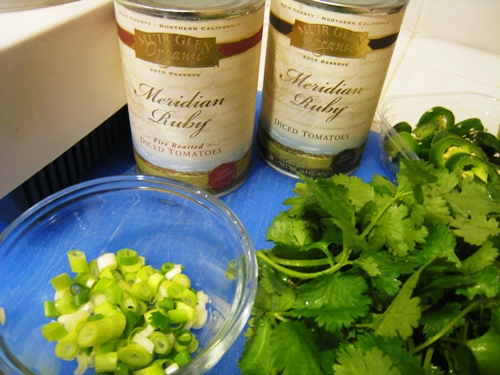 This time I remembered the Muir Glen Reserve tomatoes that were in my pantry. Hmmm….
I also added garlic and some chopped green onion. I used less jalapeno than usual. And with a skeptical look on my brow, I took some to hubs for a tasting. I got a high five on that one.
Just so you know, I have arrived. My salsa is now worthy of being compared to Senor Pancho's, "Home of the Best Tacos in the World."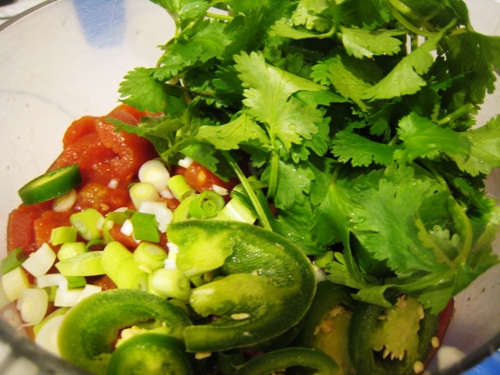 While I can't promise that Muir Glen tomatoes were the trick, I do think that had something to do with it. Not all tomatoes are created equal, especially the canned variety. These had a fresh, sweet taste to them.
I've been using Muir Glen tomatoes on a fairly regular basis for about two to three years. They are always so generous with their coupons and sales are fairly frequent, making them a great thing to keep on hand in the pantry.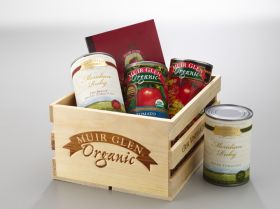 About Muir Glen Reserve
In case you didn't know, Muir Glen produces a specialty product once a year.
Just as many Napa Valley wineries bottle both a house wine and special Reserve line that gets a bit more attention, Muir Glen also harvests and cans a limited run of Reserve Tomatoes each year. The Reserve Kit includes one 14.5 ounce can of Reserve Meridian Ruby™ Fire Roasted Tomatoes; one 14.5 ounce can of Reserve Meridian Ruby™ Diced Tomatoes; one 14.5 ounce can of Muir Glen Organic Chipotle Seasoned Petite Diced Tomatoes; and one 15 ounce can of Muir Glen Organic Tomato Sauce. You can order your 2010 Reserve kit by visiting Muir Glen; the cost is $8.00, which includes a free shipping option.
The Reserve kit is packaged in a wooden crate which makes for a pretty presentation and fun, inexpensive gift for the foodie in your life. It also comes with a small cookbook with inspiration in how to use the tomatoes.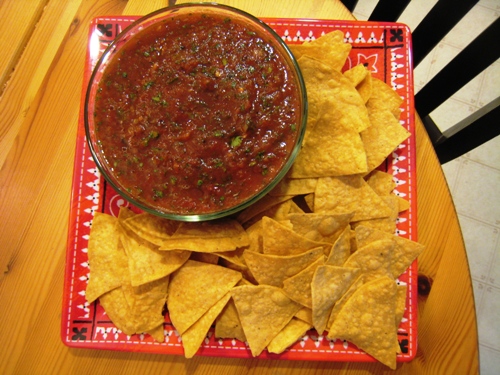 This week six LifeasMOM readers will each win a 2010 Reserve Kit.
To Enter

Leave a comment on this post, telling us about your favorite holiday dish that includes tomatoes.
This giveaway will be open until Sunday, December 19th at 8 pm, PST. Winner will be chosen randomly and notified via email. You must respond within 48 hours to claim your prize.
:: For more holiday inspiration and daily giveaways, check out The Christmas Fun series.
Disclosure: Muir Glen Reserve is an advertising sponsor of The Christmas Fun series. I received a complimentary Reserve Kit for review. My opinions are my own. For more information, read my disclosure policy.