Homeschool Help: Let Kids Know What To Do
As an Amazon Associate I earn from qualifying purchases. For more details, please see our disclosure policy.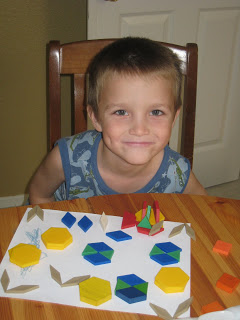 Isn't he cute? Mr. Dimples, age 5, is my kindergartner this year. He comes to me every morning, "Mama, it's time to do my school."
Amen, little man. If only your brothers were as eager.
Yes, truth be told, there are things my older sons would rather be doing than math assignments and key word outlines. And starting back up after summer vacation is always a little challenging. But, slowly we're getting into a groove. This marks our fifth week since we entered the new school year. I like to start early to ensure enough flexibility for sick days, mama's mental health days, and spontaneous fun days — and still get our full year of attendance on the books.
This is our eighth year of homeschooling. The time has gone by so quickly! It's a fair amount of work now that I'm formally teaching four children. We've got students in grades 7, 4, 2, and kindergarten.
Obviously, no one would accuse me of taking the easy way out, now would they?
But, I am enjoying it so much. It's a wonderful privelege to be an everyday-all day fixture in my kids' lives. That doesn't mean it isn't without its sticky points. There are days when it's hard to have a good attitude about my role as mother and teacher. Interestingly enough, those days happen to coincide with how much my children kick against the goads. (Translation: how much they whine and complain about their work.)
Enter the "To Do" List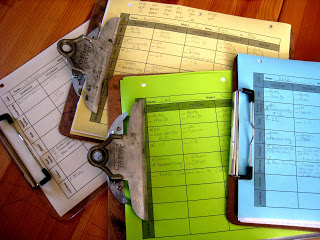 One of the tricks that I learned early on to help keep me and my student on task (or close to) was to make him a "to do" list. Today, my form looks pretty much the same as it did when my oldest was in kindergarten, now with several more subjects added in. I don't think this is anything new under the sun as our history curriculum includes a form (pictured) almost exactly like the one I made years ago. So, in a pinch, I print off theirs when I don't have time to dig out my custom form.
Letting them know what to do before doing it has been immensely helpful over the years. Each child has his own color paper that I print his "to do" list on. And we keep them on clipboards for easy use and portability. I spend an hour or two each week preparing lesson plans for all four boys and writing down their assignments on their charts. In this way, each of my students knows what his day holds and he can get some sense of accomplishment in checking off the items. It helps them see the light at the end of the tunnel. And that is always good for morale.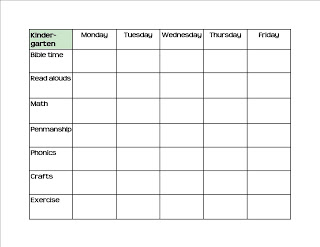 I've prepared basic charts, suitable for preschool, kindergarten, and grade school levels, for your personal use. You can download them for free here. Feel free to tweak them as best fits your home and school.
Each Week Joy at FiveJs hosts a gathering of ways to inspire our children to lifelong learning. Stop by and see what other families do to inspire their kids towards thirsting for knowledge.

Between charts and work boxes, there are all sorts of systems to help students see the light at the end of the tunnel. What has been successful for you?