Homeschool Makeover and Great Homeschool Conventions
We are a participant in the Amazon Services LLC Associates Program, an affiliate advertising program designed to provide a means for us to earn fees by linking to Amazon.com and affiliated sites. We participate in other affiliate programs as well. For more details, please see our disclosure policy.
Head's up! If you make a purchase through the Amazon link in this post, I do receive a small percentage of the sale.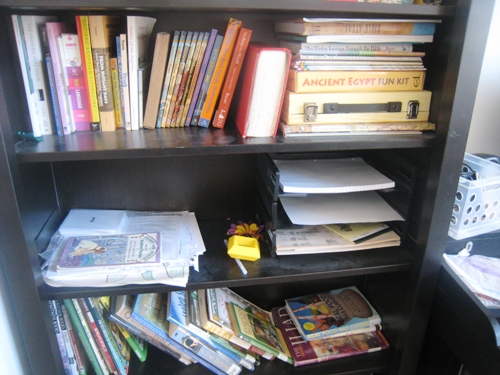 As I mentioned last week, we're undergoing some major home(school) renovations around here. I've had my nose in books and homeschooling blogs and forums for the last week or so. I've also received a handful of book shipments with fresh meat.
Yes, we're going to enjoy the rest of this year — or else.
For the curious, I am rereading The Well-Trained Mind by Susan Wise Bauer and Jessie Wise, a book that I read when it was first released in 1999. My original copy is falling apart at the seams. Since the book has been revised twice since its original release, I splurged on a new, 1oth anniversary edition that has been updated for out-of-print-books as well as new resources that have come on the scene in the last decade.
The world is a very different place than it was ten years ago. Yes, I'm waxing old woman right now. But, seriously. We had dial-up. Very slow, takes-five-minutes-to-load-a-page dial-up. And very few blogs were on the internet, at least for the masses. Homeschooling resources were not as sophisticated as they are now.
Yes, things have changed. I can buy a book and instantly download it to my Kindle, faster than I can can take a breath. I can communicate with folks all over the world in a matter of seconds. In all my research, I found that there's even an ipad app for my 9th grader's Biology curriculum. Go figure.
So, a lot of my research this last week has been to survey the territory and see what our options are.
And one of the things I keep pining for is a place to go hear speakers like Susan Wise Bauer (maybe even stalk her and ask some real life questions) and to flip through these books before I buy them.
You know where I'm going with this, right? A homeschooling convention!
I think I've only been to two homeschooling conferences ever…. 2006 and 2008. I think I'm due for another. While I don't expect it to solve all my problems, I am looking forward to hearing different voices and flipping through a multitude of books. And I'm going in May!
Life as MOM sponsor Great Homeschool Conventions has offered me a complimentary family pass to attend the Long Beach event. I am more than excited. And even though it's a "family pass," I'm actually hoping to leave the family at home. While Long Beach is not too far away from San Diego, I'm hoping for a great little overnighter with my main squeeze.
We aren't big "homeschool movement" type folks. In fact, the FishFam probably doesn't fit in any certain category of homeschoolers. There are folks who are much more conservative than us, as well as those that are more liberal. I don't wear a jumper or tattoos. I cut my hair short. Hubs has a pierced ear.
In short, we just do what we do. But, that doesn't mean we aren't willing to hear what other folks have to say. And that is one of the things that attracted me to GHC. It appears that are presenting a range and a breadth to their convention that is atypical of the other conventions I've been to.
Five Conventions Nationwide
Among their speakers at their five different conventions this year:
Susan Wise Bauer
Andrew Pudewa
Diana Waring
Dr. Jay Wile
Amanda Bennett
David Hazel
Chuck Colson
Dr. Carol Reynolds
Todd Wilson
Sonya Shafer
John Stonestreet
John Rosemond
Dr. Jonathan Sarfati
Carl Kerby
and Money Saving Mom, Crystal Paine
Susan Wise Bauer and Andrew Pudewa have helped our homeschool tremendously, so I'm looking forward to hearing them speak in Long Beach in just a few months. Those of you in the Mid-west can even hear my friend Crystal Paine speak as well. Jealous!
In addition to a great lineup of speakers, there will also be huge Homeschool Curriculum Exhibit Halls and 100′s of Homeschooling Workshops. Great Homeschool Conventions are located all across the country, so there just may be one near you!
Mar. 22–24, 2012
TD Convention Center, Greenville, SC
Apr. 12–14, 2012
Memphis Convention Center, Memphis, TN
April 19–21, 2012
Duke Energy Convention Center, Cincinnati, OH
May 24–26, 2012
Long Beach Convention Center, Long Beach, CA
June 14–6, 2012
Hartford Convention Center, Hartford, CT
I'm looking forward to the California Homeschool Convention as another way to get perspective and to breathe new life into what we do.
How do you reenergize for your homeschool?