Homeschooling? Are You Kidding Me?
As an Amazon Associate I earn from qualifying purchases. For more details, please see our disclosure policy.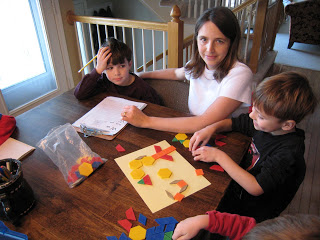 This year marks 19 years since I graduated from high school. If you had told me then that I would have six children and be homeschooling them, I would have laughed and told you, "No. I'm going to be a lawyer (or something equally prestigious) and never get married and dress in skirts and high heels every day."
Oh! the image is quite comical, indeed. Who woulda thought?
Law offices and high heels aside, not to mention the husband and six children, homeschooling was probably the last thing that would ever have entered my mind. I'm sorry, but 20 years ago, it just wasn't done.
At least not by normal people.
Shortly after I graduated from high school, I went off to college and within two years had met the man of my dreams. We married two years later, the same year that I earned my Master's Degree and teaching credential. The following fall I started teaching in a public high school. Another year went by and we were expecting our first child.
And at the age of 25, on the brink of becoming a mother, I entered uncharted territory in deciding not only to quit my job, but to teach my children at home as well.
Yowza!
And, truthfully, though it is a lot of hard work, though it gets snide comments from certain family members, though it is challenging to be teacher and mom rolled into one, I wouldn't change anything about it. I'm having such a good time, and our family enjoys such good relationships as a result.
A reader asked,
Where would you recommend to begin when someone is seriously looking into homeschooling? A specific book? Website? Anything?
For me there were two books that really sealed the deal for me. I haven't followed all that closely to what's hot and new in terms of resources, but these two are still in print and I think their messages are timeless. These books have definitely worked for me.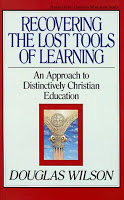 Recovering the Lost Tools of Learning by Douglas Wilson is not even really a book about homeschooling. In fact, at the time of this book's printing, the same year I graduated from high school in fact, Wilson encouraged private schooling as the ideal option and the home school as second choice. I haven't kept up with any of his newer writings to know how his opinions have changed with the times.
However, this book addresses the benefits of a classical education. Since I was a total nerd in school, it's always been important to me that my kids received a solid education. This book convinced me that the classical model was a great way to achieve this. Wilson's arguments inspired me to desire not just a good education for my kids, but a great one.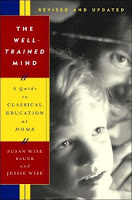 The Well-Trained Mind: A Guide to Classical Education at Home took my thoughts about education one step further and explained how I could achieve, Lord willing, this complete education at home. The authors, a mother and her grown daughter, speak from experience, having treaded homeschooling waters before it was legal, cool, or common. This book is quite inspiring and lays a lot of ground work for the "how the heck do I do this?!" kind of questions. Though obviously addressed to the homeschooler, it can also be used as a supplemental resource for families who are pursuing more traditional means of education but may want to step things up a bit.
At its heart is the idea of teaching children to learn and to love learning. To me that is the important part. I want my kids to want to learn, to be curious about our world, and to be motivated to discover its mysteries.
OK, homeschool moms, if someone asked you for your most compelling resource for investigating homeschooling, what would YOU recommend?