Homeschooling Q&A
We are a participant in the Amazon Services LLC Associates Program, an affiliate advertising program designed to provide a means for us to earn fees by linking to Amazon.com and affiliated sites. We participate in other affiliate programs as well. For more details, please see our disclosure policy.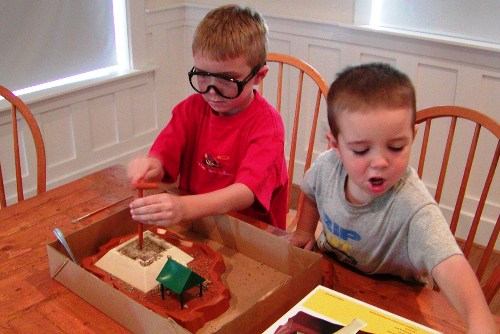 Over the last few months I've been offering a glimpse into our homeschool, my teacher brain, and offering suggestions for those of you interested in homeschooling, either for practical real life application or just plain old curiosity.
While I'll still be sharing bits and pieces of homeschooling throughout the year, this post is officially wrapping up the series: Getting Started in Homeschooling. Below are questions I've received over the last few months about homeschooling, along with my answers. Many of these questions were addressed during the course of the series, but I'm posting them here in case you missed them and am linking back to past posts for further reference.
Please remember that my experience is just that — mine. You have different kids, a different personality, and a different life.
Your mileage may vary.

From Brenda
(my answers are in italics)
I know you are passionate about home schooling, and I would like to know more how you run things. I have a son in first grade and just wonder if he is getting challenged enough in public school. I never thought I would home school, but have been seriously considering it these past few weeks. I taught first grade for 4 years in public school, so I know I could do it. However I wonder if I could do it mentally with 2 younger kids running around and hopefully more to come.
How did you decide what curriculum to use?
Finding the right curriculum for our family has been a very organic process. At first, I used The Well Trained Mind's recommendations. Then over time I realized which books and resources worked best for me and my kids. This has changed a little over time, but my kindergartner this year is doing many of the same activities that her older brother did 10 years ago.
We do a mix of resources, that is, I've never bought a "boxed curriculum" for an entire grade from a specific publisher. I know some families for whom this works really well. It just never appealed to me.
You can check out this post for the current curriculum that we are using.
How much time do you spend preparing every night for the next day?
Typically, I clock out of teacher mode by 4 pm each afternoon. I do most of my planning on the weekends and in the mornings before the kids awake. And sometimes, I just fly by the seat of my pants.
How did you do it with a brand new baby?
The new baby phase is actually the easiest season! Newborns sleep all the time — except at night, of course. We often got back into school when our babies were about 2 weeks old. Things got crazy once the baby was mobile and not satisfied to play with a few toys.
What books did you find were great to get you started or would help me decide if it is what I want to do?
I found two books to be pinnacle to my journey into homeschooling. They are old, as am I. And there may be newer books that are better? But these "sealed the deal" for me. 
How do you get other things done around the house without wanting to pull your hair out everyday?
That is a very good question! No wonder I'm going bald….
My household notebook definitely helps me keep my homeschool a little more organized. Head here to read how. But there are still days, weeks, months, when life is challenging.
As I mentioned last week, I've finally come to the conclusion that I can't do everything every day, or even every week. So, I just try to find balance and hope for the best. The most important part is that I'm loving my kids and husband.
And that we can all read, eat, and wear clean underwear.

From Karrie
This coming school year will be my first full year schooling all of our school aged kids. (Four are school age and three below three.) This semester we are homeschooling our 3rd grader. I love your homeschool records binder, and color-coding each child. The kids have picked their colors, and we are working on plans for next year.
How do you label or divide each childs portfolio? And, have you made a year end "Who Am I?" questionnaire?
Since our state does not require portfolios, mine are not as organized as others might be. I like to keep a pocket folder, like the white, yellow, green, and blue ones pictured above. As we go through the year, I place important papers, essays, and art projects in these folders. In this way, I have a manageable record of the year's studies. I keep samples from different seasons so that we can see the growth over time.
The Who Am I? questionnaires are here and here.
From Stacey
I'm a mom to two small children, but we already know we want to homeschool. In fact, we hope to homeschool from preschool through high school. As this is very new to me, I've been reading and researching, trying to prepare for the next several years. One thing I keep reading about is teaching to our childrens' readiness. However, I'm not sure how to gauge that.
Do you have any tips and tricks to recognizing signs of readiness for reading, for math concepts? Any resources? Or is it trial and error: present a topic and wait to see if they get it? For all the things I've been reading about, this intimidates me the most in my lack of experience: being able to recognize my child's readiness to learn.
Good question! Well, hmmm. I've always started the year with some basic ideas of what we would cover in each grade, based on the curriculum we were using. I also have relied on The Well Trained Mind to kind of guide me as to what I could expect. 
What I've found is that we try at four or five year of age to work on phonograms (letter sounds) and building on that, directed by the kid's interest. Some kids pick it up faster than others. I try to keep at it on a regular schedule, a little each day. Sometimes they are eager beavers and sometimes they are reluctant to.
One of the tricks of parenting, as well as homeschooling, is to figure out if your child is reluctant because he isn't capable, lacks confidence, or just doesn't want to. That's the million dollar question.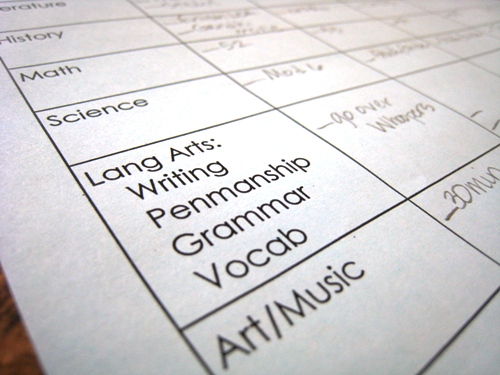 From Michelle
I was looking at the lesson plans you use for each child and wondering if they are handwritten in each week? And is that something you do over the weekend, or at the beginning of each school week? I've been homeschooling for six years now and I'm always looking to be more efficient in my weekly planning. I love learning from organized moms like you!
Some days I wonder how organized I am! I encounter chaos on a fairly regular basis. 
That said, I typically spend an hour or so on the weekend planning out our school for the next week. While the planning pages in my homeschool add-on are fillable, I find it easier to just print them all out at the beginning of the year and then pencil in the blanks. In this way, I can change something at any moment.
I wrote a guest post here that explains more about my homeschooling binder and over here about my kids' assignment sheets and chore charts.
Are you getting started in homeschooling?
If you missed the series, you can always catch up: