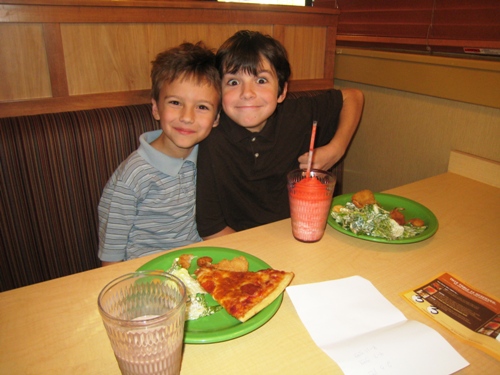 One of my children's favorite memories is a night we spent at a hotel in St Louis several years ago. It wasn't the newly built accomodations, the Gateway Arch, or the tour of Grant's Farm that they loved. It was the buffet at the hotel.
There's something about a buffet that draws kids in and lights up their eyes.
Recently, Hometown Buffet contacted me regarding some new changes they've made in San Diego. We headed out one night for a family dinner at one of the newly-remodeled locations to taste some of the new fresh choices they've added to their menu.
Eat All You Want
The kids were so excited. They'd heard of buffet restaurants and really, really, really wanted to go to one. Really, Mom.
We'd been fighting some kind of flu bug for a few weeks, waiting for everyone to be well at one time in order to go. Two boys and I went on a Hometown Buffet date one night, as a kind of recon mission. Then we went back a few nights later with the whole family.
Oh my! To hear them say, "Well, I usually start with caesar salad and shrimp when I come here." What seasoned buffet diners we had in our midst.
The kids had a fantastic time. They were like kids in a candy store with so many choices for dinner, so many drink options, and no one had to do kitchen jobs!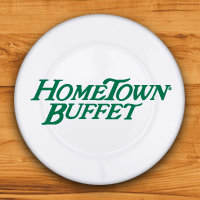 And even though we normally limit sweets, we let them have as many desserts as they wanted. And believe it or not, they didn't go overboard. But they had a great time crafting ice cream sundaes and rootbeer floats.
Some of the things that stood out to me about HomeTown Buffet:
Reasonably priced for children – toddlers cost $1.49 and 4-7 year olds are $3.49 (prices may vary depending on location). Considering the price of kids meals at most restaurants, I think this is an economical option for families.
Low risk opportunities to try new foods – normally when we go out to eat, we want to order something that we know we will like. Dining out is such a splurge, that we don't want to be wasteful ordering something we don't like. With a buffet such as this, kids can try a small portion of something to see if they like it, then go back for seconds. Or thirds.
Mild flavors that appeal to kids – While this isn't gourmet, date-night fare, it is very kid-friendly. I felt that with so many options, I didn't need to worry about my kids not finding something they would like. They got to try things that we don't normally make at home. And adults could doctor things up a bit more with condiments and spices from their extensive spice rack.
Wide range of tastes – Not only was there prime rib and horseradish (my favorites) but there were pastas, Asian food, a taco bar, a salad bar, and a wealth of "down home flavors." The boys and I even tried some corn stuffing casserole of which I had never seen the likes of — Southern, maybe? Different, but not bad.
Friendly service and a clean atmosphere – Since I went on two different nights, I was able to get a better feel for the restaurant. While some things differed between the occasions, like fresh green beans one night and chopped, possibly canned green beans a second night, the staff was very friendly on both occasions and the place looked well-kept.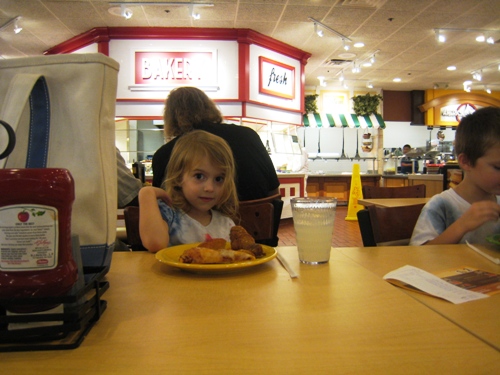 Obviously, with a large chain, you may see variation between locations, but overall, our experience was a positive one. The kids enjoyed a night out of food and fun.
This week three LifeasMOM winners will each receive four dinner passes to Hometown Buffet. (If you live outside of the Hometown Buffet market, the passes are also good at Country Buffet, Ryan's, and Fire Mountain.)
To Enter
Pick one, pick 'em all. You choose.
1. Leave a comment, telling us what new food you've tried recently.

2. Hop on Facebook and "like" LifeasMOM and Hometown Buffet. Then, leave a second comment, telling us you did so.
3. Subscribe to LifeasMOM in a reader or via email. (Don't forget to verify it when Feedburner sends you the confirmation.) Then leave a third comment, telling us you subscribe.
Giveaway will be open until Sunday, September 26 at 8 pm PST. Winners to be chosen at random and announced via email. Please respond within 48 hours of announcement email in order to claim your prize. This giveaway is now closed. Winners have been announced and emailed.
Disclosure: Hometown Buffet is an advertising sponsor of the Falling for Fun series. I was not compensated to publish positive comments. My opinions are my own. Please see my disclosure policy for more information.