The kitchen is clean; the weather is warm.I'm fighting off a headache and working on The Cookbook. The kids just want to play outside with the neighborhood children, and I'm just not up for cooking, serving, and cleaning.
And sometimes a girl's gotta do what a girl's gotta do.
As I type, my family is munching on burgers and fries from In-N-Out. Outside. Talking with their friends and having a good time.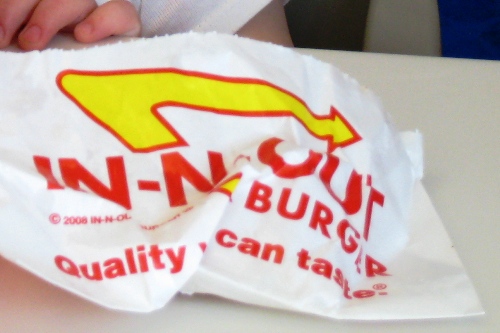 I took the receipt from our last visit to INO and had them duplicate the order. We're complicated, you see, so everybody has a different thing on their burger. Some have pickles, some have lettuce. Most have "mustard instead of the spread."
Is it the most creative of meals? The most frugal? The healthiest? No, no, and no.
But it's a meal that everyone likes. It fits our budget. It keeps the kitchen clean. And since we don't have a steady diet of it, I don't think it'll kill us. It works for those nights when I want or need to stay out of the kitchen — entirely.
What do you cook up (or not) for hot nights?