Household Notebook: Getting My Game On
We are a participant in the Amazon Services LLC Associates Program, an affiliate advertising program designed to provide a means for us to earn fees by linking to Amazon.com and affiliated sites. We participate in other affiliate programs as well. For more details, please see our disclosure policy.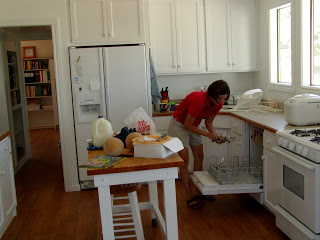 Dishes, laundry, errands, grocery shopping. There are lots of plays in this game of motherhood. Some days the action on the court goes well. You know that "she-shoots, she-scores," kind of day when you feel like you're an all star mom or at least on the starting string. And other days? Well, you wonder why the Coach didn't just let you sit this one out. Know that feeling?
Personally, I feel like a bench-warmer most days.
Now that my sixth baby has turned one, I'm starting to see a pattern in my life. The first 12-18 months of a new baby's life seem to send me out of orbit for awhile. I don't know if it's hormones, mommy brain, or what. But, I'm in la-la-land for a time. My routines are all out of whack. My sleep is at a minimum. I'm completely out of my groove. And I always feel guilty because I haven't cleaned enough or played with my kids enough or read enough stories to the littles.
As if adding a new member to the family wasn't enough, this past year has been rife with change. So you can image the disorder in my brain. My husband and my brother both say I'm too hard on myself. But, people, I'm really ready to get. my. act. together. Even if I die trying.
(And I just might.)
A few weeks ago my friend Jessika came to visit for a few days. We talked and ate lots of hummus and potato chips and talked and ate more hummus and potato chips and did lots of problem-solving. Jessika always has a "grounding" effect on me. She's a fantastic sounding board for my "issues" and how to solve them. While she was here, our talks produced more than just talk (and a few extra pounds from the hummus and potato chips). I actually put feet to some of the ideas we generated. One of those was getting together a new household notebook.
Household Notebook
I first learned about such things back in the days before the word blog had ever been coined. (Yes, I'm that old.) I stumbled upon this website and forum called Organized Home. It was amazing. What I learned there was so helpful to my early homemaking days. One of the tools that all good OHers used was a Household Notebook. It contains whatever you need to make life go more smoothly at your house. This isn't much different than a DayTimer or other planner, it's just more geared specifically toward the workings of your home.
I've always had one, but they often fall into disuse. So, time for a do-over.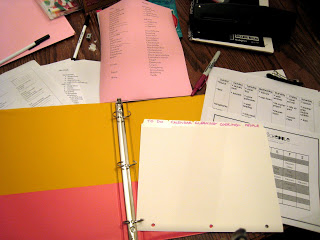 Supplies
3-ring binder
dividers
marking pen
calendar
forms – I have a load of forms available in my ebook Organizing Life as MOM
hole puncher
Forms
These are the kids of forms that I use and that are available in my ebook.
monthly calendar
daily to-do list
weekly to-do list
meal planning grid
grocery check list
address book
cleaning calendar
priorities list
record of accounts
Dividers
You can add more dividers as you need them. I wanted things as simple as possible, so I only used five sections.
to do – include priorities as well as daily, weekly, and longterm project lists
calendars – include game schedules and school calendars
cooking – include meal plans and take out menus
cleaning – include cleaning schedules and kids' chore charts
contacts – include your personal address book as well as team rosters, school lists, and church directories
Right now you can purchase my latest ebook, Organizing Life as MOM, which includes 125 pages of inspiration and planning ideas. 80+ pages are fillable planning sheets, meaning you can customize them to fit your life, your family, and YOU.
Elsewhere in the Blogosphere: