How Could I Forget – Compassion
We are a participant in the Amazon Services LLC Associates Program, an affiliate advertising program designed to provide a means for us to earn fees by linking to Amazon.com and affiliated sites. We participate in other affiliate programs as well. For more details, please see our disclosure policy.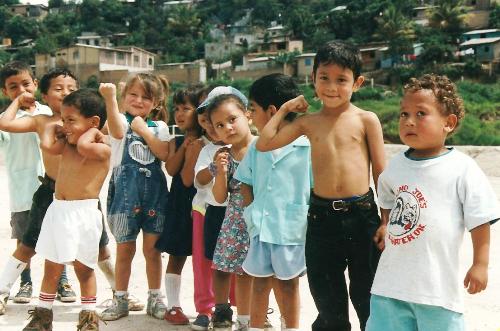 Fifteen years ago FishPapa and I traveled to a little village called La Pradera in Honduras, outside the capital city of Tegucigalpa. Part of a team sent from our church, we were there to offer support to a local church there. We were not connected by denominational lines, but rather a heart to serve people, needy people, people who lived an entirely different life than ours.
We stayed in a Honduran home, nice and clean, but nonetheless overrun with cockroaches and limited in running water. My comfort zone was stretched. Conscientious germaphobe that I am, I was, of course, one of the few members of our team to get food poisoning.
The local church provided free childcare and meals so that the neighborhood children would not be left home alone or run the streets unattended. I spent the days playing with little people, while hubs helped do some repairs to the facilities.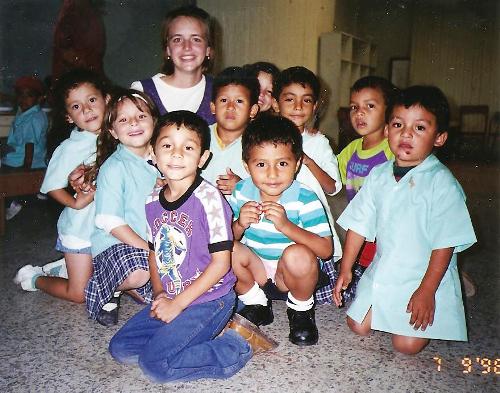 I particularly remember two children at the daycare, Yessica and her brother Obed. Their mother was gone; they lived with their grandmother. On our last day there, their grandmother told them they were going home with the Americans. My heart wrenched. Taking two children home from Honduras is not something you do on the spur of the moment.
Fast forward fifteen years and I had forgotten that faraway life, stored it on the shelf like the scrapbook containing our photos of the trip — until this week.
This week I went to the Philippines. Well, virtually, anyways. Kat, Tsh, Emily, Stephanie, and Lindsay have been blogging on behalf of Compassion International, sharing their experiences as they visit the people that Compassion serves so many miles away.
Quite honestly, this is the first Compassion trip that I've followed this closely, in part because I have actually met a few of these ladies in real life and/or regularly read their blogs, anyway.
And I've been moved. Not just by the images of poverty and want that I've seen. No, I've been moved by the gentleness by which they've communicated their experiences. I haven't felt guilt-tripped. I haven't felt shamed. I haven't felt overwhelmed.
But as a mom, reminded of the life of poverty that I witnessed in Honduras, I am moved.
I can only credit the Holy Spirit working through these ladies. In their honesty and gentleness, I am moved. Tsh worded it so well,
The thing I've realized this week, though, is that there's a difference between guilt and conviction. The guilt is what causes that lump in your throat, where you can't decide whether to swallow down your apathy or puke it all up in anger.

But conviction is that stirring deep inside you, when you acknowledge that guilt-like feeling, and instead of letting it fester, you mold and shape it into something productive.

Conviction causes action. Conviction leads to hope.
Even though we have sponsored our friend Joseph for over a year now, I don't know that my heart was stirred as much as it is now.
:: Reading the accounts of how much the letters mean to the children prompted me to send off an email to Peru, even though there was no recent letter to respond to. And if you aren't in a place to sponsor a child right now, did you know you could write to one?
:: Realizing that it's rare for a family to have more than one child sponsored helped me realize that our gifts to the family matter more than I thought.
:: Remembering how little $38 a month really is moved me to sponsor a second child. Certainly we can trim our expenses another buck twenty five a day on behalf of someone who needs it more than we do. FishBoy8-almost-9 and I scrolled through the children with hearts next to their pictures, those who've waited for more than 6 months for a sponsor. We chose a boy his same age.
I couldn't bring Yessica and Obed home with me, but I can help other kids pretty simply.
I hope this time I won't forget.