How Do You Do It? What Do You Let Slide?
We are a participant in the Amazon Services LLC Associates Program, an affiliate advertising program designed to provide a means for us to earn fees by linking to Amazon.com and affiliated sites. We participate in other affiliate programs as well. For more details, please see our disclosure policy.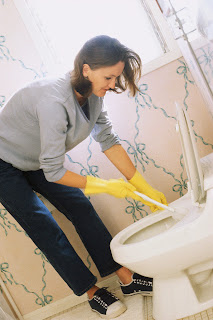 It can be so tempting after we read a blog or magazine article or talk to an aquaintance to compare ourselves and think that somehow we are lacking. Some other mom has a cleaner house, a bigger budget, is a better cook, or seemingly "has it all together."
This just isn't true!
Every mom has her weaknesses. We just can't always see them. Often, we're comparing our insides to her outsides. Definitely not an "apples to apples" comparison.
A few weeks ago I mentioned that I would share a few tricks to how we survive around here. But, here are some true confessions first.
In case you had any false allusions, I don't get everything done that I should or want to do. I am the ultimate "sidetracked home executive". If I don't stay focused, everything falls in a shambles. And I do mean, everything.
I am passive-aggressive about house cleaning. It comes in spurts and bursts. For a few weeks this summer our home looked pretty put together. And I got on a roll, rallied the troops, and we were pretty good at upkeep. It helped that we didn't have school.
Once I get out of a hole, it's easier to keep it up — until a major illness, stressful situation or lifechange comes my way. Then, I seem to become immobile and fall into a hole. (Can you guess where I am now?)
And then I have to dig myself out again. The last weeks are a perfect example. We started school and I had a couple days of major contractions and subsequent lying around. The house is not as pristine as I wish it were.
But, I'm coming to terms with it. This is one of the rhythyms of my life. I would like it to be spic and span all the time. But, I'll probably take the next 20 years to get there. And I don't want to miss out on my family along the way.
My motto is becoming: Do what you can when you can. But, don't freak out if you can't. Relationships take priority. Then food and clothing.
The other stuff?
Well, do it when you can.
For me, I can let some of the housework slide if we're fed and clothed and relatively peaceful. How about you?
What's top on your priority list? What's an area that you let fall when things get rough? And why? Share it in the comments. It will probably be a great reality check for the rest of us.