– A Guest Post from Melissa –
A year ago, when I thought of meals from the freezer, I either thought of frozen food from the grocery store or bad tasting meals that had sat in the freezer too long because when I originally cooked them, my family had not cared for them and had not finished the leftovers so I threw them in the freezer. Yuck.
However, inspired by Jessica here at Life as Mom and Crystal at Money Saving Mom, I decided to give intentional freezer cooking a try. That meant using recipes for meals that were meant to be frozen and eaten later. I started small with muffins and moved up to meals. Now I routinely make 15-25 freezer meals a month.  Although the days when I do my once a month cooking are busy and tiring, I am rewarded every day when I can pull a meal out of the freezer and put dinner on the table with virtually no effort. That is especially important with my 3 kids (2 under 2!) who seem to go wild right around the dinner hour.
There are many other benefits to freezer cooking:
Preparing meals for less money.
Each week when I go to the grocery store, I stock up on bargains. For instance, I have a nearby grocery store that routinely marks meat near the expiration date down to .99 a pound. I stock up on this meat and store it in the freezer until my cooking day. I also recently found 1 lb. boxes of pasta for .65/each. As I stock up on food at rock bottom prices, I begin to tailor what I will cook at the beginning of the month around these foods. Then I can look for other ingredients I will need at lower prices.
Photo Source: kaex0r
Eating out less.
We have all had those crazy days when there is simply no time to cook. I used to go out to eat on those days; now I can pull a meal from the freezer. I like to prepare a few meals that are quick such as freezer burritos to have on hand. In less than 10 minutes I can have a meal on the table for my family.
Eating healthier foods.
Because there is not a scramble to put food on the table, I don't have to rely on convenience food. I have my own convenience foods in the freezer! Because they are homemade, they have fewer preservatives, salt, etc.
There are also some strategies I have learned along the way:
Rotate freezer meals.
My family likes variety at mealtime. If I cook four of the same meal one month, they would be bored if I served that meal once each week for a month. So, I save some for later. Last night for dinner we ate Monterey Chicken that I made on March 1st. It had been quite awhile since we had eaten that meal, so it tasted like a new meal to us. My family never eats all of the meals I make in a particular month; I save some for later.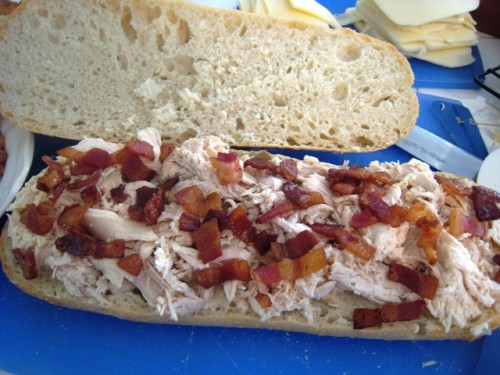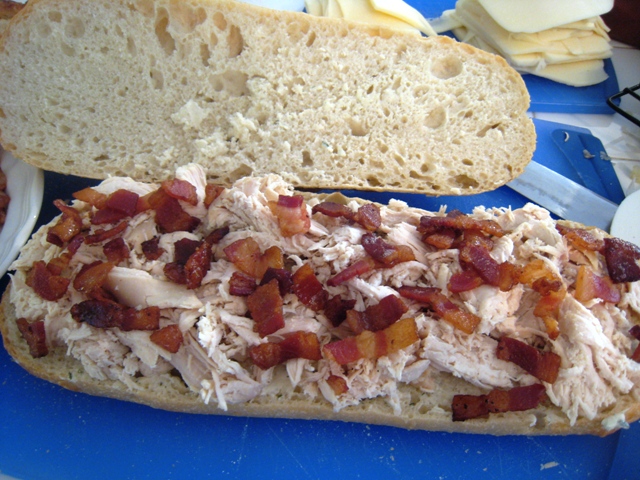 Prepare meals from recipes designed for freezer cooking.
I like to go to food.com and type in OAMC to find hundreds of freezer cooking recipes. I also have a list of favorite cookbooks. One of my favorite recipes comes from Jessica—Chicken Bacon Sub Sandwiches. Why go out to a sub restaurant when you can have this tasty meal at home?
Freezer cooking does take some effort, but it is worth it in the time saved all month and the tasty meals you will serve your family. If you are new to freezer cooking, start small just to experiment. I promise you'll like the rewards!
— Melissa is a mom to three little ones–6, 21 months and 3 months. She writes a blog about trying to learn to live frugally and to eat healthy foods at Mom's Plans. She also has another blog, The Dining Out Challenge, documenting her family's attempt to eat out four times a month for less than $100. She takes part in Freezer Cooking Days every month.