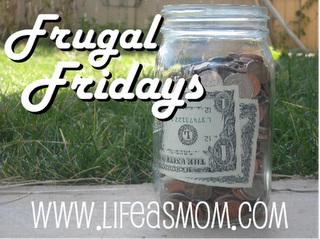 Freezer cooking has been a way to save me time and energy over the last 13 years. Not only do I spend less time in the kitchen each night, but I also don't have to think too hard to find something for dinner. Usually.
(That's my disclaimer because there are plenty of nights when I've forgotten to thaw anything and then I have to get very creative.)
Consistency Proves It.
It's been quite some time since I've been as consistent in keeping a full freezer as I have over the last year. Since I was 8 months pregnant with our first child, I've done freezer cooking in fits and spurts. A few months at a time and then a rest for a few months.
However, over the last year, I've regularly cooked like a crazy woman at the beginning of each month and reaped the reward later.
Since I've been consistent over a longer period, I've been able to see a more consistent savings in our grocery budget. This year's average hovers between $550 and $600 per month to feed a family of 8. While I've certainly fed our family for less during some months over the last ten years, never has our family been as big as it is now, especially with four boys, ages 6-12, nor have we eaten as much whole foods as we have. It's quite rare nowadays that I buy packaged or processed stuff.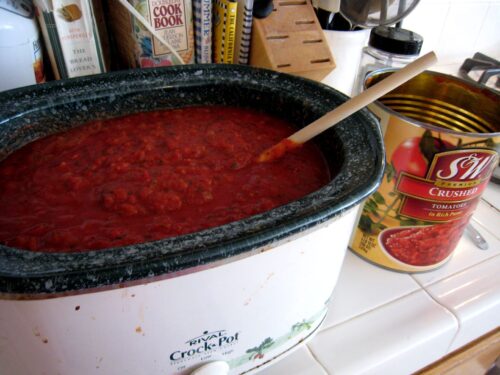 Freezer Cooking Can Save You Money
There is a whole host of good reasons to give freezer cooking a try. One of the most tangible reasons is that it can save you money. Here's how:
1. You can buy in bulk – Some families, like ours, can quickly go through a bulk pack of chicken breasts or a 5 pound bag of grated cheese, items that can often be a terrific bargain. But smaller families may have a harder time using up bulk packages. With freezer cooking, you can easily use that bulk package and  reap the cost savings. Just read pricing carefully as not all bulk packages are the better deal.
2. You can avoid processed foods – While processed foods are often inexpensive to buy with coupons and sales, their regular prices are actually quite high. And they aren't always the best tasting or the healthiest. By putting a few hours of work into cooking and freezing foods prepared from scratch, you can avoid processed foods.
3. You can limit your takeout – I love to have someone else do the cooking. But, too much takeout eventually makes us sick – to the stomach or the pocketbook. Keep a stash of freezer meals on hand and avoid the drive thru.
4. You go grocery shopping less often – Since I do big shopping trips to do big cooking, I go grocery shopping less frequently. Staying out of the store helps me avoid those impulsive purchases that we don't really need.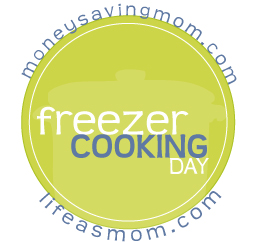 Freezer cooking is one way that I can keep our grocery budget lean and trim. If you're looking to see how it's done, don't forget to come back through the weekend as I make up a mess of breakfasts to freeze and enjoy later in the month.You can also be inspired by this great round up of freezer friendly recipes, too.
And be sure to visit Money Saving Mom on Friday and read what others are doing to keep dinners in the freezer. If you've got a freezer cooking plan to share, you can link it there, too.

Curious about freezer cooking? Consider purchasing my cookbook, Not Your Mother's Make-Ahead and Freeze Cookbook from Amazon, Barnes and Noble, or your local bookstore. It's chock full with over 200 freezer-friendly recipes, planning pages, shopping lists, cooking plans, and basic and advanced how-to's to making freezer cooking work for any home, family, and lifestyle.
What do YOU do to save money?
Share your favorite money-saving ideas today. Leave a link to a post that shares some frugal wisdom. (Please no giveaways or deals posts. Teach us how to fish!)