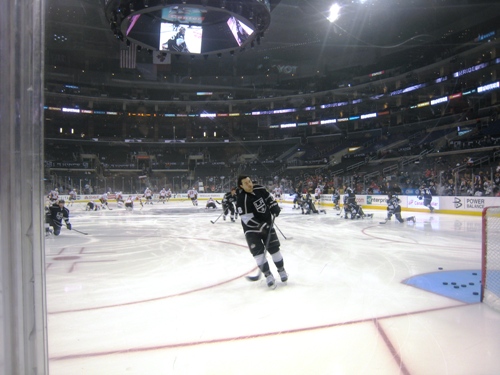 When I was in junior high, I was in love with the movie Hockey Night. Starring Megan Follows, a very young Rick Moranis, and Yannick Bisson, the movie tells the story of a young girl who moves to a small Canadian town and wants to play hockey. Since there isn't a girls team, she tries out for the boys. And makes it.
Of course, there's all kinds of tension, a little junior high bad language, and a community in uproar of a girl playing a boys' sport. I was not athletic, so I didn't really care about that part. But, I watched the movie over and over.
Not only did I love the heroine's spunk to play the game she loved, but I was also infatuated with Yannick Bisson's character (I was 12, okay?). I vowed to one day name my son after that character. His name?
Speare.
We still laugh over how I married a Fisher, and was not able to fulfill my lifelong dream of mothering a Speare.
Definitely not naming a baby Speare Fisher.
Yeah.
However, I find it the ultimate irony, that despite all that, I am now a hockey mom.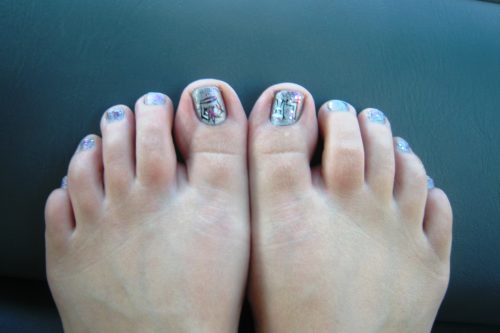 With the pedicure to prove it!
As I mentioned before, I knew FishPapa's love for the game when I said yes. But that interest lay dormant for all the years that we lived without a TV and all the years that we had no cable and even for the years that we had DirecTV. But, once we got Cox? Well, our life was changed.
Our cable package (the bargain one) included all the NHL stations. So, last winter/spring my men became reacquainted and/or infatuated with hockey. All five Fisher men have since learned inline skating, acquired all the necessary equipment, created all kinds of net/screens to protect the neighborhood from flying pucks, and have otherwise become fully immersed in the sport.
Granted, some are more "into" it than others. But, it's become a family interest and how we spend at least three days of our week now that two boys are playing in a hockey league.
The funny thing is that we've downsized our cable. We only get the basic channels now for like $10 and are diverting that savings to treat hubs and the boys to the occasional Kings game at the Staples Center. It's a couple hours' drive but such an exciting time for a father-son event. FishPapa has taken one boy at a time and they make an evening of it.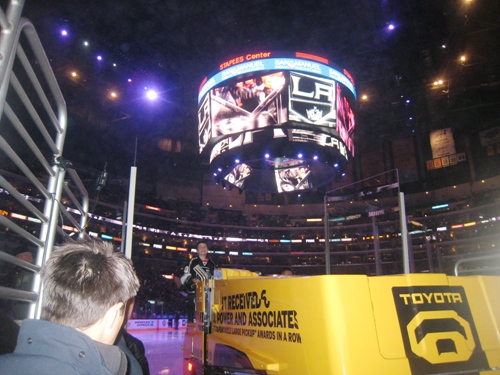 Last week the FishBoy11 even got to ride the Zamboni! It was very cool, even if I only saw it in pictures later.
We've talked about going for a date night. I laugh that it's a little like throwing pearls to swine since I might not enjoy a hockey game as much as someone else. But, I'm happy to embrace my husband's hobbies with the same enthusiasm that he's embraced mine.
(It's an adventure being married to a lady writing a cookbook, I'm sure.)
This weekend I watched my 7-year old skate back and forth across the rink, sometimes "into it," sometimes not. At least he wasn't chasing butterflies.
I laughed with the other moms trying to figure out who's who, just two weeks into the season. It was a really fun experience. And even though I'm not athletic, and really don't understand the game much, it's been good to embrace something outside of my own interests and experience.
Hockey is quickly becoming another rich, unifying tie among our family as well as our community.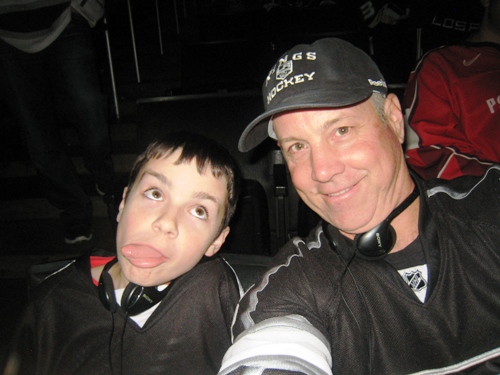 And hubs got that new Kings hat, after all.