Money matters. Particularly when you've got a family. Wondering how other families handle the finances?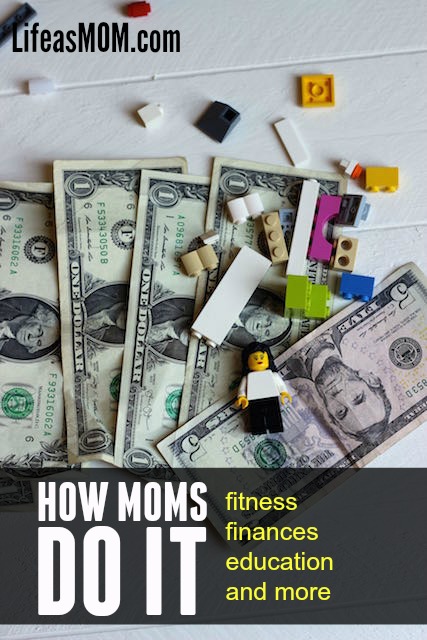 Money, money, money.
When I was growing up, I thought that money would solve all my problems. As I've matured, I've realized that bad money management certainly causes a lot of problems, but I've met plenty of rich, unhappy people, so I'm guessing money doesn't always solve the problems.
Nowadays, we've got enough money, though I do find myself wanting more. I loved our trip to Europe and can't wait to go back. However, plane tickets aren't going down in price and our savings account isn't growing as quickly as I would like. Our return trip to Europe will take some time to save up for.
I suppose we could charge it, but that's not how we roll — anymore. We finally got burned by credit and debt bad enough that we did some major surgery. We cut up the cards and only pay cash for things nowadays.
(Full disclosure: we did get a BofA travel card for Europe to avoid fees in drawing cash, but since it's been hacked twice in 2015, we'll be closing that account soon.)
We could be more "gazelle-intense" about saving, but right now we're doing okay. We pay the bills and there's money leftover. That's exciting. It wasn't always that way. I'm a firm believer in paying off debt and keeping it that way. I learned the hard way and hope you can learn from my mistakes.
Wondering how other families manage money?
Here's how moms do it:

From JessieLeigh:
My husband and I are both geeky finance types. Honestly, we took this big test as part of our pre-marriage counseling that was designed to uncover potential problem areas. We scored so identically and well on the finance section that the leaders asked us to teach that week's class.
Budgeting is not hard for us– we talk often about money and we're both good at keeping track of it. That said, it's not always fun to tighten the pursestrings, that's for sure. There have been seasons when we had very strict grocery budgets and no room for excess purchases.
During those times, it is so important to keep talking. Don't be afraid to say, "This is hard. I feel sad. I didn't realize how frustrating this would get."
I remember one time when I said something along those lines and my husband scavenged change out of his car to go buy me a blueberry coffee from Dunkin Donuts– a small indulgence I'd denied myself for months. That might seem silly to some, but it was enough to keep me going. I realized we were truly on a team and he was committed to both keeping us in the black and keeping me happy. That renewed my spirit to do the same.
– A mother of three, including a 24 week preemie, JessieLeigh is a determined advocate for even the tiniest of babies.

From Connie:
Since I am a stay at home mom of 8 children, we must manage our budget carefully. We never charge on credit cards unless we have the cash to pay it off immediately. (Sometimes there are cash incentives for using a credit card, and we sometimes take those offers, only to pay it off on the spot.)
Our vacations consist of cabin stays, exploring rivers or mountains, and swimming in state parks. We encourage our teens to have jobs and start their own savings accounts so they can pay for their own gas and extra activities. A smart family can make it on only one income if they watch the budget carefully.
– Connie is a former public school teacher turned homeschool mom of 8, ages 4-20 who blogs about parenting, large family living, homeschooling, and more, all with a touch of humor.

From Prerna:
Saving money and leading an intentionally frugal life is what we thrive on. Our budgeting is very simple. Half of what we earn every month goes into savings. It's taken us a while to get here and it may not be ideal but right now that is what it is. The other half then is used for expenses, etc.
My BIG and SINGLE piece of advice will be to start saving right away. Whatever you can save, save it.
– You can find Prerna Malik cheering moms on at The Mom Writes and serving up good-for-your-business content at Social Media Direct.

From Linsey:
I have 6 kids, so saving money is imperative. I feel like most of the advice out there is really commonplace, as more and more people struggle in this economy. We don't cut corners on things like education, food, or travel, as we seek quality in these areas. But planning ahead in these categories usually saves 30% or more by looking for sales on that nice hotel or price matching the expensive organic salad mix. Lack of planning will ruin our budget every time.
– Linsey Knerl is a Nebraska Mom of 6, a freelance writer, and the passion behind 1099Mom.com, (the FAQ for work-at-home moms.)

From Amy:
When we had three young children ages 4, 2, and newborn, we flat out didn't spend money. No need! Hand me down clothes, simple foods made at home, one vehicle that rarely left the garage, a small home with one bathroom, no cable… small children are easy to please. Keep it simple!
Now that they're growing and the family is growing, we have more expenses. Our early miserly years gave us a great foundation for knowing what conveniences are worth spending on now.
Dear Young Families: Be tight-fisted. You can get along with MUCH less than you think!
– Amy is a mom of six, embracing the extraordinary in every day and sharing the crazy at Amy's Finer Things.
From Deanna:
My latest 2 saving tricks are: 1. Don't hook up a credit card to the Amazon account. It is WAY too easy to overspend using the one click method. 2. I cut down on the number of times I go to the grocery store. If I go every week or several times a week? The budget is blown. For a while I started going only once every 3 weeks, just to stretch myself that last week, forcing me to get creative and use ingredients in a more efficient way.
– Parenting three kids five and under keeps Deanna quite busy, but there's always enough time left at the end of the day to write all about the insanity in her award-winning blog Everything and Nothing from Essex.

From Amy:
My husband and I make a point to pay ourselves (save), pay our taxes, pay our fixed bills and then use the rest for other expenses, then fun in that order. If you can save in a way that you never 'see' it by direct deposit or such, it's a whole lot easier.
— Amy is mom to three, founding blogger at Mom's Toolbox where she blogs about travel, lifestyle issues and reading the Bible and helps people find wines they enjoy as the Co-Founder and CEO of tech startup VineSleuth, Inc./ Wine4.Me.

From Rachel:
All of our budget goes on a spreadsheet where we keep it updated regularly. I also check our banking accounts every morning to ensure that all is good and transfers were made according to budget.
– Rachel Brenke is an author, photographer, lawyer and business consultant for photographers and bloggers.

From Jo-Lynne:
In this day and age, it is easy to feel like you have to "keep up with the Joneses." My best advice is to live within your means, and if that means saying no to eating out or activities that are expensive, then so be it.
– Jo-Lynne Shane is founder and editor of the award-winning lifestyle blog which bears her name (formerly Musings of a Housewife), where she shares her love of style and her passion for healthy living and family travel with a highly engaged female audience.
How do YOU do it?
I'd love for you to share your experiences with us. Mine is the right way for ME, not the right way for every mom. Let us know how finances work for you!