How can a mom add an exercise plan into her days? How can you make fitness routine? Here are a few ways moms address the need for physical fitness.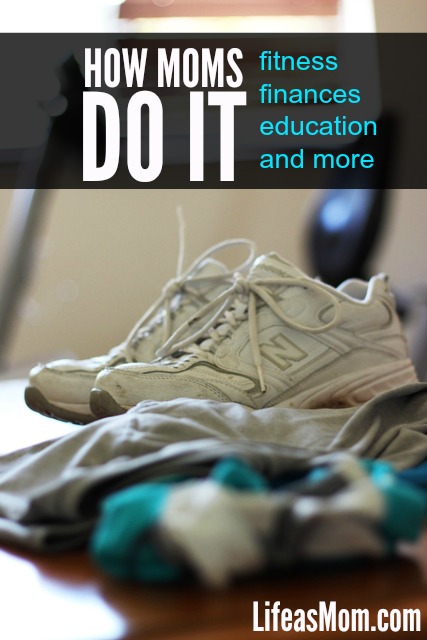 I've talked about fitness extensively. Or what feels like "extensively" to a normally sedentary person like myself. I was one of those people who during my 20's and 30's didn't really "need" to work out. I had a naturally high metabolism and an affinity for salads over desserts.
However, I never had good strength, good posture, or stamina.
All this has come back to bite me in my 40s. My hip and back have issues. My posture is not what it should be. My metabolism has slowed down, but my tastes for lots of yummy food has not.
I feel like a mess many days because I didn't develop good habits when I was younger.
About this time of year in 2013, I started going to the local Y to workout: mainly some weight machines and the treadmill. Last summer I started yoga. I learned one thing: I might not lose weight, but my body feels better when I exercise regularly.
The other days, my muscles and joints feel like I'm 70 years old.
So, while I can tell you all the benefits of exercise for weight loss, heart health, and stress relief, my biggest argument is this: your body will revolt on you if you don't stretch and keep it limber.
As the 70-year old woman at the workout center tells me, "Use it or lose it."
This can be hard if you're waking several times a night with babies and toddlers, chasing around all day, and not naturally inclined to exercise.
Get some exercise!
Don't be like me! It has been so hard to teach my body and my brain something different. If there were two things I could go back and change about 20-year old me, 30-year old me it would be these:
2. Start exercising and stretching.
I've learned that it is really important to keep moving — and to model better habits to our kids so that they enjoy their bodies and good health more.
My current fitness plan is yoga twice a week and the pool twice a week. I am recovering from a back injury, so I'm trying to take it easy, but definitely want to ramp up my exercise routine in the next few weeks. (My back injury totally dashed my hopes of running in Luke's 5K, but I'll be walking it with the kids.)
Want to know how other moms are making it happen, despite busy lives?
Here's how moms do it:

From Linsey:
Fitness is hard when you're already busy, or if you live far away from a gym, like us. My days are hard, so fitting in extra hard work doesn't always seem to make sense. I try to do one very vigorous activity in our yard, garden, or farm to help push us along in our goals AND stay fit.
If it's rainy outside, however, I love the Daily Burn memberships that stream from my Roku onto my TV, and they have lots of options for those just starting a workout plan or recovering from surgery (like all those c-sections!)
– Linsey Knerl is a Nebraska Mom of 6, a freelance writer, and the passion behind 1099Mom.com, (the FAQ for work-at-home moms.)

From Amy:
I chase my children frequently, and pop in the 30 Day Shred for about 5 days in a row about every 3 months. I am an exercise fail right now! I do try to head out on a walk when I can, but really, I need to make fitness more of a priority.
– Amy is a mom of six, embracing the extraordinary in every day and sharing the crazy at Amy's Finer Things.
From Deanna:
I exercise to feel good, not to lose weight. My husband works long hours, and I do not have a gym membership or a home gym. This means that I walk. A lot. I load up the kids in the triple wagon and we go walk circles at the mall before the stores open (especially in the winter when outside walking is not an option).
Now that it is warmer out, I also go for a run during naptime on the weekends when Daddy is home. And family bike rides are a favorite! I think as young moms we need to take the pressure off of exercising to look a certain way and acknowledge that some movement will help us feel better and therefore do our jobs better.
– Parenting three kids five and under keeps Deanna quite busy, but there's always enough time left at the end of the day to write all about the insanity in her award-winning blog Everything and Nothing from Essex.

From Amy:
This one is so so hard. I try to exercise in the A.M. before anyone else gets up. When I do, it is fantastic!
Also, when my son took swim lessons at the YMCA, I used to put the baby in childcare and then swim laps during his lesson. That was a PERFECT set up!
— Amy is mom to three, founding blogger at Mom's Toolbox where she blogs about travel, lifestyle issues and reading the Bible and helps people find wines they enjoy as the Co-Founder and CEO of tech startup VineSleuth, Inc./ Wine4.Me.

From Rachel:
I work out 3-5 times a week – depending on my family and work schedule. My biggest recommendation is to try and walk to/from activities with kids. Also always carve out time on your schedule for at least 30-60 minutes of working out. I like to do 25-35 minute videos at home from BeachBody that get me moving and I can do during naptime.
– Rachel Brenke is an author, photographer, lawyer and business consultant for photographers and bloggers.

From Jo-Lynne:
In recent years, I have taken up running and I hired a trainer so I could stay in shape. But when my kids were younger, it was really hard to find the energy for exercise. My best advice is, give yourself a break. There is a season for exercise, and it may not be with the kids are young and you're up at night and chasing toddlers. As they get older, incorporate the kids into your activities so they can see you being active. I think that is important.
– Jo-Lynne Shane is founder and editor of the award-winning lifestyle blog which bears her name (formerly Musings of a Housewife), where she shares her love of style and her passion for healthy living and family travel with a highly engaged female audience.

From JessieLeigh:
I'm not a gym kind of girl. I walk. And hike. A lot. I try to get out and do about three miles five or six days a week. It doesn't always happen, but that's my ideal.
I'm a mom and my kids are too young to be home alone, so that means I need to get all that done before my husband leaves for work in the morning. Is it always FUN to rise at 5-something and head outside? Nope. But I've found it helps keep me fit and happy, so it's worth the effort.
Please note that I did not do this with any regularity when my babies were waking up during the night. During those seasons? I just took them for a stroll when I could and called it good. Don't beat yourself up about not having a regular workout when you're yawning through your days.
– A mother of three, including a 24 week preemie, JessieLeigh is a determined advocate for even the tiniest of babies.

From Connie:
Since we live in the country on acreage with our 8 children and a myriad of ducks, chickens, and goats, there is plenty of opportunity for me to sweat and flex my muscles. I feel no need to have a gym membership when on any given day I am rounding up goats that have escaped their pen, weed eating our extensive lot, or chasing chickens out of the garden.
– Connie is a former public school teacher turned homeschool mom of 8, ages 4-20 who blogs about parenting, large family living, homeschooling, and more, all with a touch of humor.
How do YOU do it?
I'd love for you to share your experiences with us. Mine is the right way for ME, not the right way for every mom. Let us know how baby care worked/works for you!