How do moms do school? Here are a few ways moms decided on a style of education for their families.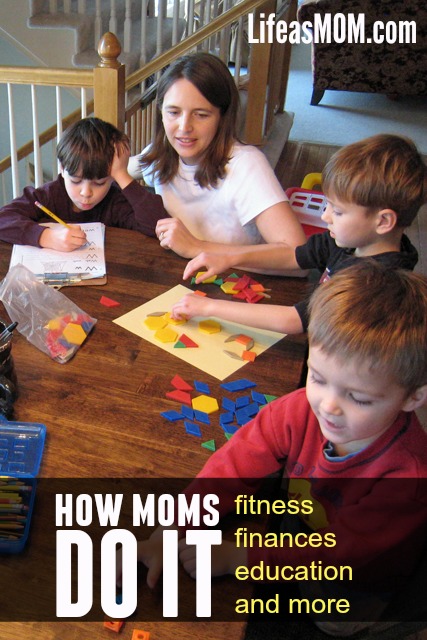 Ever since we went to the Great Homeschool Convention a few weeks ago, my head has been immersed in school planning for next year. I just completed my 15th year of teaching, my 13th in the private sector. 😉
I earned a Master's Degree of Education in 1995 and taught for two years in a Santa Barbara City School before having my first child. It was during my public teaching stint that my husband and I decided we would homeschool our children. (You can read more about that decision here.)
Fifteen years later, that decision has stuck. We graduated our first student last month. As I type, he is at orientation for his freshman year of college in the CSU system.
The experiment is working.
Teaching my children at home has been one of the hardest as well as one of the most rewarding experiences of my life. I love to teach, but after two years in the public sector, I knew I didn't love the drama and politics that comes with government-run schools. I have the honor to teach my favorite people in the world. So fun!
I know that our way isn't the only way. I have friends whose children have really thrived in both public and private schools. Our way is the right way for us.
Here's how moms do it:

From Jo-Lynne:
We decided to send our children to public school. Both my husband and I are products of the public school systems, and we were happy with our experiences.
Things are different now, though, so I advise parents to weigh all of their options. We looked into charter schools and private schools and definitely considered homeschooling. In the end, we moved to a school district that we felt was a good fit for our family and put our kids in public school.
My best advice is to be open to other options IF need be. Not one school is right for every child. You can always change your mind.
– Jo-Lynne Shane is founder and editor of the award-winning lifestyle blog which bears her name (formerly Musings of a Housewife), where she shares her love of style and her passion for healthy living and family travel with a highly engaged female audience.

From JessieLeigh:
My children all attend our local public schools. We are very fortunate to live in a state and district with abundant funding and top-ranking programs. I am a firm believer in open and ongoing conversation with teachers and administrators. I go into it assuming we're all on the same team and I do think that really helps– I've never had trouble getting support when it was needed.
When making this decision, my number one piece of advice is simply this– know you have options. There is no one "perfect" choice. I'd go so far as to say that anyone who tries to convince you there is? Isn't all that secure in their own choice.
Really evaluate the schools around you, your individual child's needs, and your family's preferences and desires. Realize that nothing in life is totally perfect. Seek the best fit and work hard to make it even better.
– A mother of three, including a 24 week preemie, JessieLeigh is a determined advocate for even the tiniest of babies.

From Connie:
After teaching in public schools for 8 years, I decided that homeschooling was the way to go for my family. Even though I have a degree in education, I believe ANYONE who has their child's best interest at heart can homeschool. It doesn't take a degree to teach your child to use the potty or tie his shoes. The same is true for teaching long division and punctuation.
If you are interested in homeschooling, but there is an area you feel unprepared to teach, there are lots of resources online to help you.
– Connie is a former public school teacher turned homeschool mom of 8, ages 4-20 who blogs about parenting, large family living, homeschooling, and more, all with a touch of humor.

From Prerna:
Our daughter goes to a private school. The decision came about since homeschooling isn't very common in India or even widely recognised. Plus, being an only child and very sociable, going to school helps her meet and interact with other kids, form friendships while enjoying learning as well.
My only advice when it comes to education for your kids is to do what YOU feel is right and what aligns with your values and your child's personality. Everything else is secondary. It usually is 😉
– You can find Prerna Malik cheering moms on at The Mom Writes and serving up good-for-your-business content at Social Media Direct.

From Linsey:
My husband and I both went to college to become teachers, and we both felt uneasy about the current education system and how it seemed to limit creative expression and learning at the child's own pace. We also treasure our political and personal liberties, as well as keep faith at the center of our daily lives. Homeschooling was the only option in our area that allowed us to continue raising our kids with those values in mind.
– Linsey Knerl is a Nebraska Mom of 6, a freelance writer, and the passion behind 1099Mom.com, (the FAQ for work-at-home moms.)

From Amy:
Our children attend a PreK-12 public school of 140 total students a block away from our home. Their daddy, a high school teacher and coach, often sees them throughout the day.
Our school is great. We feel safe and loved, but in any other circumstance (husband not being a teacher, living in a different/larger town) we may have chosen otherwise. Go with your gut and your situation. I don't fight about schooling.
– Amy is a mom of six, embracing the extraordinary in every day and sharing the crazy at Amy's Finer Things.
From Deanna:
My daughter is finishing up her 2nd year of public preschool and is headed into public kindergarten in the fall. My son is beginning his first year of preschool in the fall.
Since my daughter has special needs and our school district is nationally known for how fabulous they are teaching children with special needs, this decision really was a no-brainer for us. My husband and I both attended private Christian schools, and we both acknowledge that these smaller private schools can't give Addison the same one-on-one, specialized education path.
I don't know what I would choose if we weren't in the district that we are, but thankfully at this point I don't have to make that decision. My advice would be to remember that there is no "one size fits all" education path for every family. There are many factors that go into this decision, and you can't compare your choices to that of another family.
– Parenting three kids five and under keeps Deanna quite busy, but there's always enough time left at the end of the day to write all about the insanity in her award-winning blog Everything and Nothing from Essex.

From Amy:
I went to public school and always expected my children would do the same. However, we ended up sending all three to a church school nearby and firmly believe this was the best decision for our children and our family.
I have learned that every family is different and has different needs and circumstances and, as a result, different options are right for different people. My best advice here: Keep your mind open to the possibilities and don't pre-judge a school or method of schooling until you really see it for yourself through your own "parent" eyes. Then pray, weigh the options, pray some more and follow His leading.
— Amy is mom to three, founding blogger at Mom's Toolbox where she blogs about travel, lifestyle issues and reading the Bible and helps people find wines they enjoy as the Co-Founder and CEO of tech startup VineSleuth, Inc./ Wine4.Me.

From Rachel:
My oldest goes to public elementary school to receive school services. My other children go to a private christian pre-school attached to our church. My recommendation is to get kids into MOPS or preschool to allow for interaction and socialization AND to give you a break!
– Rachel Brenke is an author, photographer, lawyer and business consultant for photographers and bloggers.
How do YOU do it?
I'd love for you to share your experiences with us. Mine is the right way for ME, not the right way for every mom. Let us know how baby care worked/works for you!