Over the last years our eating — and shopping — habits have evolved. Despite an economic downturn and a desire to source better foods, we're still eating well and spending less.
As you may know, I am a total grocery geek. I love to shop for food — and cook and eat. And I love to do it all the while staying in the black.
Many years ago, when our budget really couldn't stomach it, I tried to "go all healthy," purchasing only organic products without any real knowledge — or financial backing — to guide my purchases. Not only did that end in miserable failure, but I also added to our family's debt by spending money we didn't have.
That was 2007. Later that same year, we realized just how much debt we were in (16K, to be exact) and made some drastic shifts in our spending. Yeah, eating organic foods was the least of my worries. Having food was priority #1.
In that journey toward paying down our debt, establishing an emergency fund, and learning to live without credit cards and consumer debt, I also trimmed our grocery budget to an all-time low: $400/month to feed 7 of us. Couponing and learning to build a stockpile played a huge part in that. We ate well; the bills got paid; and we even saved some money.
It's hard to prepare for tough economic times, but so worth it.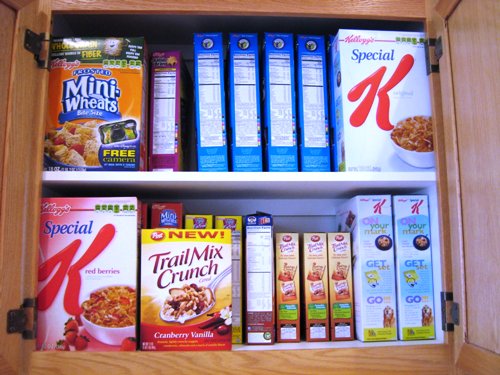 My children ate more boxed cereal in that 18 months than they ever did in their lives. This was in the "couponing heyday" of 2008 and 2009 when I could pick up 30 boxes a week for less than fifty cents each!
While we ate more processed foods than I ever dreamed possible, I was hoping that it would be a means to an end. Perhaps someday, Lord willing, we'd be able to afford more of those healthier foods that I wanted to serve my kids.
Today our debts our gone, our emergency fund is fully funded, and we no longer spend money we don't have. Praise God! Our family has grown in number and in size. We have since moved back to our home state of California.
While my grocery budget is higher than $400/month and couponing has taken a back seat in how I shop, we're dedicated more than ever to eating well and spending less.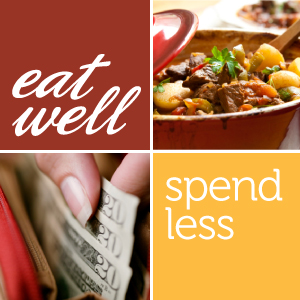 Earlier this week, I shared my journey over the last year and how the Eat Well Spend Less series got its beginning. Here's a round-up of how other families' shopping and eating habits have changed over the last 12 months:
Hop around and check out these ladies' wise tips for eating well and spending less. They are each making it work where they live with the budgets they have. You will, no doubt, be inspired.
Today's Frugal Friday! Time to swap ideas and inspiration for saving money.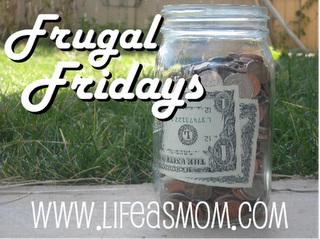 How do YOU save money?
Please remember to follow the Frugal Friday Guidelines or be deleted.
Post a money saving idea and explain how it is helpful in your post.
No giveaways or deals posts.
Recipes are allowed, but you must explain how it saves people money.
Please include a link back to Life as MOM.