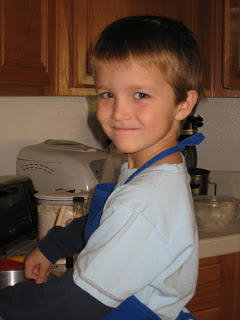 Those who know us well know that the FishFam loves to eat. Everyone in the family loves good food and all enjoy cooking. My home is full of little chefs.
Case in point: Saturday afternoon FishBoy7 surprised us all with a HUGE platter of PB&J — on sourdough — about an hour before dinner. At first I was panicked, "There goes dinner." But, as it turns out, it was a nice little appetizer for my family of hobbits.
I love to stash meals in the freezer so that I don't have to cook every night unless I want to. And though I have lots of helpers, cooking with children underfoot can compromise a mother's efforts at efficiency. The first time I did "once-a-month cooking" my eldest child was still in utero. He didn't get in between me and a speed cooking session. However, times change and so do kids — and family size. When you have lots of little ones, making a piece of toast can seem to take hours. Forget about 30 meals!
Over the years, I've developed a number of approaches to pulling off big batch cooking with kids and sometimes, in spite of them. These same techniques will also come in handy when you're preparing special holiday dinners as well, like Thanksgiving, Hanukah, or Christmas.
Get a Babysitter. Often this has been my mom coming to spend the day or weekend with us with the express purpose of watching the kids so that I can fill the freezer. Enlist the aid of a teenage "mother's helper." It's rare that I've paid for babysitting, but I would if I knew that it would buy me time – both on cooking day and in later weeks when we were reaping the benefits of a big cooking day.
Make Use of Videos, Audio Resources, and Computer Games. Call this "free babysitting" if you will. It may not be the same as a human babysitter, but if my kids are entertained and NOT up to mischief, I'm okay with them using electronic devices while I work toward better dinners and family nights. I have often let them use these resources for the half hour prior to dinnertime. In this case, that time would just be spent all at one time. I do divide up the activities with playdough sessions, snacks and lunches, and other independent play.
Have Snacks and Meals Pre-prepped. It's hard to stop a big cooking session to prep another meal, so it's helpful if you have kid food at the ready. It doesn't take long to do it before you start. You could even pack a little sack lunch for each child. That will give them something to look forward to and save you unneccessary interruptions.
Cook During Naps and After Bed. There have been many nights when I've been "burning the midnight oil" in the kitchen. I know the kids are safe and snoozy and I can work more quickly without needing to stop for something they might need. It's also a great time for FishPapa and I to visit. And I've been known to put him to work, too.
Plan Daddy's Day Out with the Kiddos. Get your hubby on board. Explain the benefits of a big freezer cooking day and ask that he take the kids away for the day. This will buy you the peace and quiet to get a lot accomplished in a short amount of time.
Include Them! I'm a firm believer in teaching kids to cook at a young age. And after my initial PB&J shock, I was so pleased that my boy took the initiative to prepare a meal on his own. My littles love to be in on the action. And for my homeschool-age kids, I work it into their lessons. Math, science, and history textbooks regularly include cooking in their lessons, so we do, too. Measuring, food chemistry, and historical dishes are a regular part of our curriculum and our menus. See my book, FishMama's Guide to Cooking with Children for suggestions on how to make the cooking process more fun for you and the kids!
What do you to when you have cooking to do and kids nearby? How do you blend your roles as caregiver and cook?