How To Encourage Your Kids To Document Their Own Life
We are a participant in the Amazon Services LLC Associates Program, an affiliate advertising program designed to provide a means for us to earn fees by linking to Amazon.com and affiliated sites. We participate in other affiliate programs as well. For more details, please see our disclosure policy.
Let your kids be the photographers! Check out these great tips from Life as MOM contributor and professional photographer, Alex Maldonado.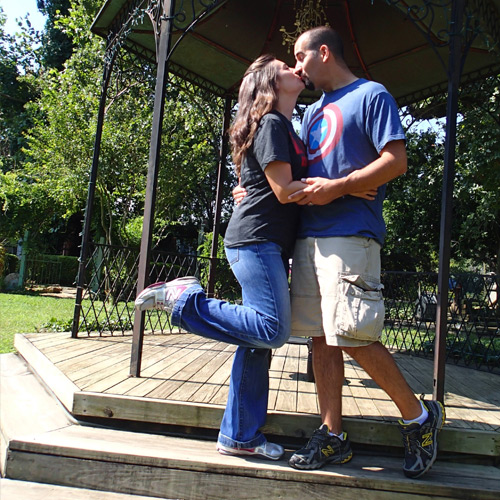 If you are anything like me when it comes to photographing your kids, you often feel like you can never do enough of it. Sure we nail the big moments like birthday parties, dance recitals and Christmas morning, but it's all the in-between things that seem to slip by. The reality is that those small moments, those day to day normal things, are part of what we will look back on and miss the most. Those moments are the ones we need to make sure and document.
Part of the reason we don't capture them is because life is busy. Things move fast and we often don't have time to grab a camera and snap away. I mean really, who has time to take pictures of a cute 3 year old helping empty the grocery sacks?
If we don't get this milk put away right now then it will spoil and we all know we can't afford to let that 5 dollar gallon of milk go bad at the sake of a priceless memory.
Seriously though, a little trick that we have found at our house is to let the little people document themselves. That's right. We just hand over the camera and let them go to town. Granted, you'll get mixed results and a lot of photos of Mickey Mouse Clubhouse on the the TV. But over time, they will develop a useful skill and will have helped tell the story of your family all along the way.
So, if the goal is to let the kids shoot, the obvious question is what do they shoot with? Here are three great cameras that you can put in your kids hands right away. The prices range from $400 dollars to free so there is pretty much something for everyone.
Also, with some of these, keep in mind you don't' need to get the latest and greatest model. Amazon does a great job keeping 2-3 year old cameras around and they often sell for a couple hundred dollar less than the current model.
1. A "Shock Proof" Camera
These are built super tough. They can withstand being dropped from 6-15 ft, going under water, and getting tossed in a freezer. Most of them are built to withstand mountain climbing type sports so it should be able to handle your 4 yr. old.
Well, most 4 year olds.
Anyway, these cameras are great for when your kids are younger, but still want to take pictures and "play" . I love some of the photos our 3 year old took with ours and I love even more that we were not stressed out while he was shooting.
There is nothing worse than giving a child a camera and spending the next 10 minutes freaking out over IF they will drop it, WHEN they will drop it, and WHERE they will drop it.
(I'll give you two buying options here, both from Olympus.)
Olympus TG-1iHS: We have owned this one for a few months now and absolutely LOVE it. Great images, super tough, and bonus points because the lens is in the center of the camera, so little fingers are less likely to cover it up while they are learning to shoot.
Olympus Stylus Tough 8010: This one is a little bit older and the photo/video quality is not as good, but it's just as "tough".
GoPro | Jedi Training Hollywood Studios from Alex Maldonado on Vimeo.
2. GoPro
These are a bit pricier, but totally worth every penny. This camera is also pretty rugged and can go underwater, but the coolest thing is that they are wearable. Yep, your kid can just toss it on their head and walk around filming and photographing what they "see".
It's like having a full time photographer without having to think about it. The best part is that they soon forget that they are filming and the interactions and moments become that much more real. They also give a super great first person feel to whatever is going on.
We took the GoPro Hero2 on our last trip to DisneyWorld and I LOVE the video our son got while he fought Darth Vader.

3. Your Old Camera.
Look. Let's be honest. We all love a new toy. So go ahead and upgrade your camera. Get a new one with more megapixels than you know what to do with, but just make sure you pass the old one down to your kid.
This is also a great chance to instill a bit of responsibility in them. Because they know that this is a "big person" camera, they will try to prove that they are up to the task of keeping up with it and treating it right. You'll end up with some great photos and this will be a much better use for it than sitting in your drawer collecting dust.
Amazon does not sell your old camera. (It's collecting dust in your closet.)
These are just a few of the ways we have involved our kids in telling the story of their life. I'd love to hear what ideas and things you have tried. Sound off in the comments and give your best tip for getting a camera out of your hands and into your kids.
What's your best tip for getting kids and cameras together?
– AlexM is a Texas-based wedding photographer. He specializes in buying lots of expensive gear for his "clients" and then using it at home to take better photos of his kids. Visit his website or shoot the breeze with him on twitter. 
Disclosure: This post may contain affiliate links.