Everybody knows that breakfast is the most important meal of the day. (Didn't you watch those nutrition cartons in elementary school?) After a night of "fasting," breakfast is the opportunity to refuel your body for the morning ahead. This is important for everyone, but particularly for children. Studies have indicated that kids perform better in school and in life if they've got a good meal in their bellies.
However, no matter where your family "does school," at home or away, mornings can be crazy. And it's hard to find time to cook up something yummy. Or maybe your breakfast repertoire is limited to cold cereal and toast. There are sooooooo many more options than that. Today, readers are sharing their favorite breakfasts. You're sure to find a do-able option for your morning meal.
We love breakfast — even if it's not the morning meal. It's often one of my go-to meals for the nights when my meal plan tanks.
One of my family's favorites is Fried Eggs. So, I thought I'd offer up a tutorial on how to Fry an Egg. I'm sure there is more than a handful of people out there who aren't sure how to do it. And fried eggs are just the ticket to avoiding the McRipoff in the morning rush.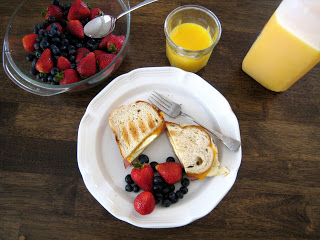 (Now, this may garner a few "eeewww gross pictures" comments. Last week my roast chicken photos generated an interesting response on Facebook. Unfortunately, food isn't always photogenic. But, if you prepare it well, it will taste good. And taste trumps appearance anyday.)
How to Fry an Egg
Heat a large pan over medium high heat. Melt 1 Tablespoon butter in pan (or bacon drippings, if you like to live dangerously). Crack eggs into pan. Season with salt and pepper.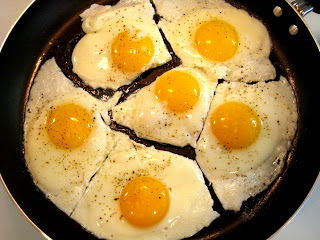 When eggs start to set, separate them, cutting through with the edge of a spatula. Gently flip eggs so that the other side can cook. (Kids don't generally like slimy eggs.) Cook until yolk has cooked to desired consistency. We like it just a little soft in the center. Serve over toast or in this sandwich or this sandwich.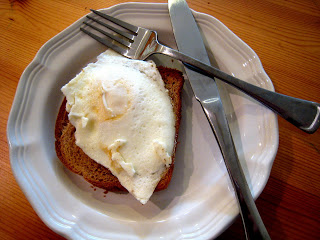 Got a great breakfast recipe you want to tell the world about? We want to know!
1. Post your recipe on your blog. Please mention www.LifeasMOM.com in your post. Then, come back here to add your link to Mr. Linky below. (Find instructions for Mr. Linky here.)
OR
2. If you don't have a blog, simply tell us about your recipe in the comments section.
Everyone who participates in today's URS (through comment or link) will be entered in a giveaway for a copy of Bach for Breakfast: The Leisurely Way to Start Your Day.
Next week: Make Ahead Recipes – MoneySavingMom and I will be live-blogging and tweeting a #BakingDay next Wednesday. Please join us if you'd like and bring your favorite recipe to URS on Thursday.