The new year is a time for everyone to think about good habits, including how we can help kids get fit!
The following post is sponsored by Blue Goji. I have received complimentary product as well as compensation for my time spent writing. All opinions are my own.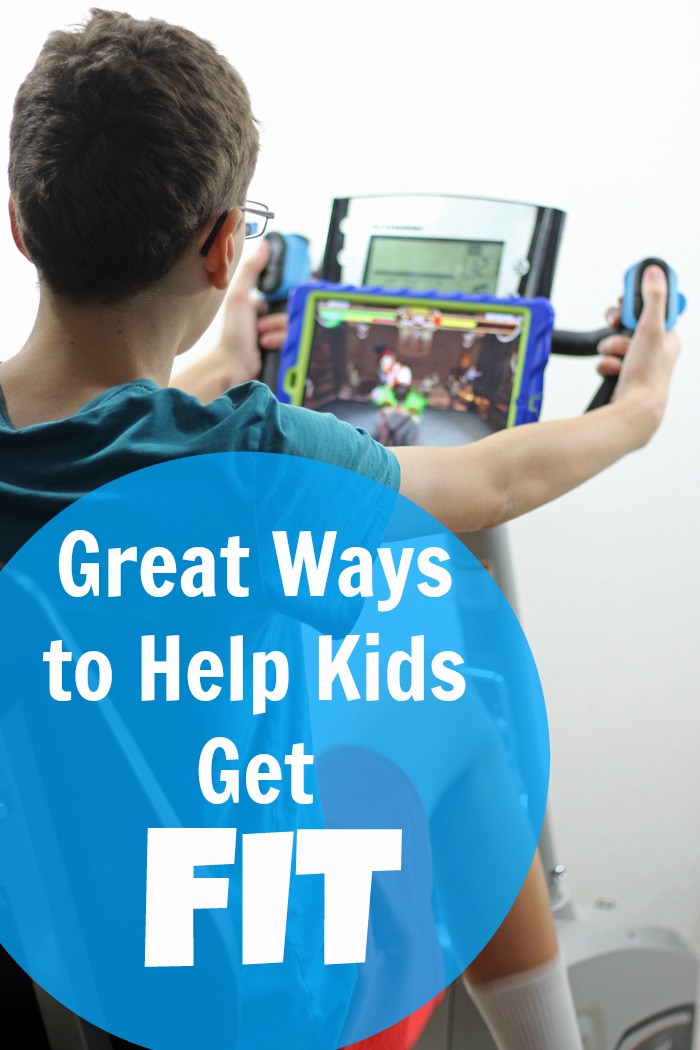 It's that time of year when everyone is thinking more about how they can be more physically fit. The excesses of the holidays and the new slate of a fresh year work in concert to help us think positively about the future and make physical health more of a priority.
As I mentioned on Saturday, that's one of my goals for the month: to get back into a routine of regular exercise.
Not just me, though. The whole family is on board, or they will be. Ahem. FishPapa and I went to the gym together the other day which was a new and fun thing to do together! We are not the "working out couple", but we both want to get back on the wagon. His knee injury/surgery last year and my thyroid set us both back so we are both motivated to regain some strength and energy.
Help Kids Get Fit
More than that, we know that our kids are in need of more regular physical activity. As home educators, our responsibilities don't lie just in reading, writing, and 'rithmetic. We need to make sure that, in the absence of daily school recess and organized PE, our kids are moving their bodies and achieving fitness.
After several months of physical therapy for one child, I've learned that fitness isn't just about how fast you run or how many pounds you can lift. It concerns body awareness, understanding where our bodies are in space and where and how we move, and functional fitness, being able to do every day activities safely and efficiently.
I want my kids to feel good about their bodies and be able to use them their whole lives long! So how do I help my kids get fit?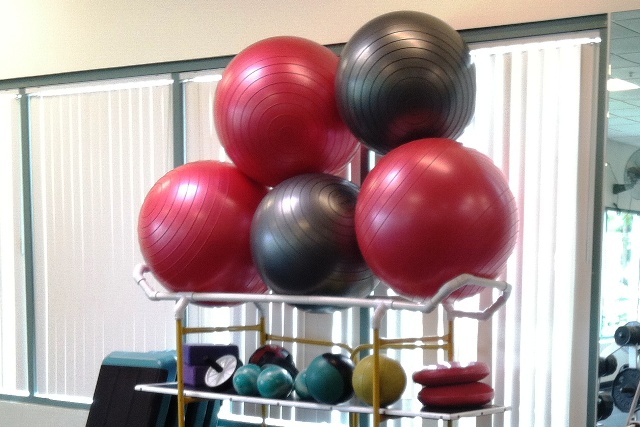 1. Be a good example.
My PE teachers in junior high and high school were not great examples of human prowess and physical fitness. Men and women alike, they were all overweight. The irony. They were coaches and PE teachers!
And they never ran with us. They stood on the sidelines, blowing their whistles. No wonder I wasn't inspired to greatness! I didn't have great examples.
We as parents have a responsibility to take care of our own bodies but also to be a good example for our kids. If we're not walking (or running) the walk, how can we begin to talk the talk?
I know that I need to be putting in time on my own fitness in order to have credibility with my kids.
2. Find classes and programs that they're interested in.
Over the years we've dabbled in a variety of athletic programs from t-ball, soccer, and swimming to hockey, ballet, and karate. The most recent selection was a couple months' dabble in gymnastics for the girls. We've never been "lifers" when it comes to a particular youth sport, instead letting our kids' interests, our budget, and our season of life lead our choices.
None of our kids is going to be an Olympian, but that's okay. We'd rather that they've followed their interests, tried a variety of things, and above all, learned how to enjoy physical exercise.
Honestly, my kids got a very mixed gene pool is this area. My husband has the Midas touch when it comes to sports; everything he tries he's good at. I, on the other hand, have a little too much perfectionist in me and never wanted to fail. So, I never really tried. Until my body said, "Move it or lose it!" After several years of having to work really hard at exercising, I'm slowly getting to a place where I'm comfortable moving my body and working out. The kids are all a mishmash in terms of skills and interests.
I really want to help my kids have better exercise habits and increased comfort in physical exercise. Exploring classes and programs they enjoy is part of that.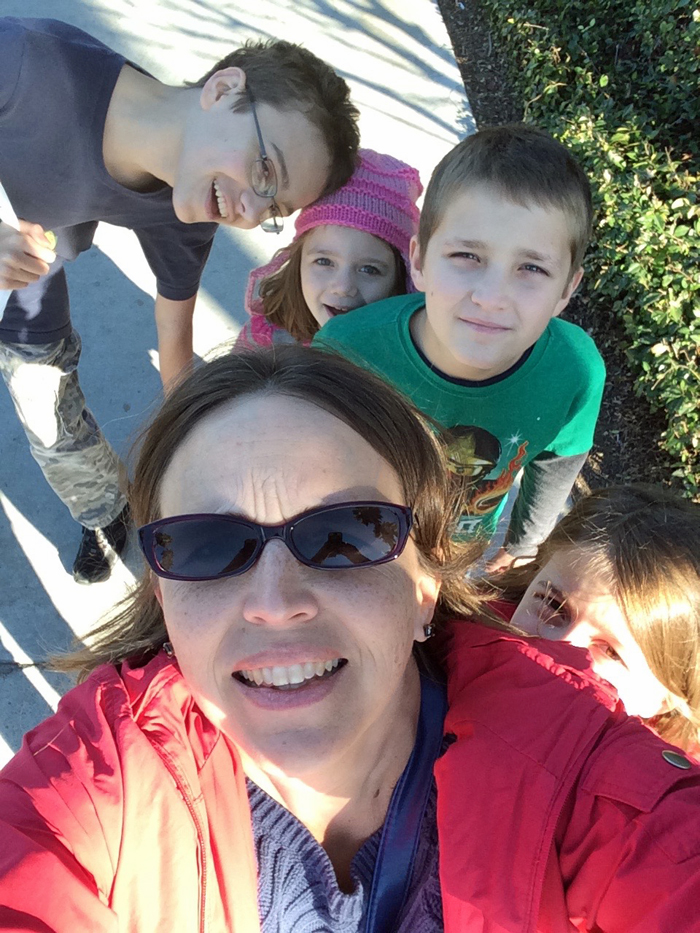 3. Exercise together.
The gym we belong to is very family-focused; our family membership covers all of us to swim and exercise as well as provides discounts for classes. This month I signed two of the boys up with an athletic trainer to get them going on the athletic equipment and to give them accountability with some goals. (It was free!)
This creates a whole new family dynamic: going to the gym together. The boys have watched their eldest brother bulk up and learn how to take better care of himself, so I think they are eager to show their stuff. Both made a point of going this weekend.
The littles can't use the exercise equipment just yet, but I've been including all the kids in my walks. The first day there was all kinds of crying and gnashing of teeth. By day four even my girls were able to run sprints and beat their mom to the halfway point.
We've found that exercising together is so much fun and gives us a chance to talk about all kinds of things.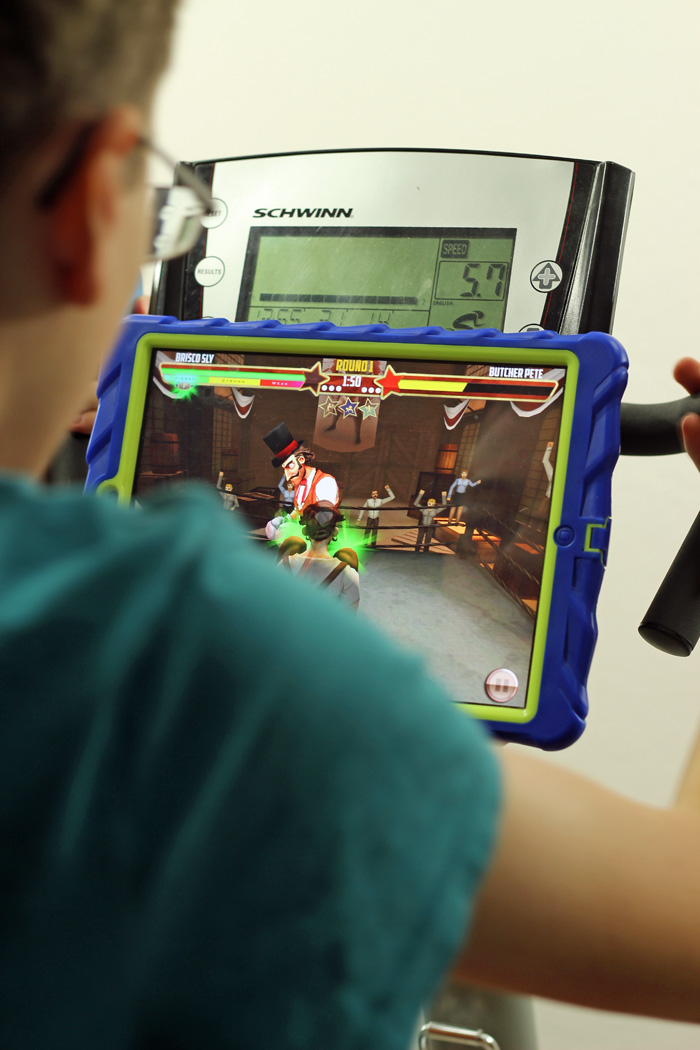 4. Make exercise fun!
Kids will do anything that appears to be fun and not work, right? There are all kinds of fun things to do that also double as exercise. There are even video games that require you to exercise!
Remember when I told you about the Goji Play 2?
Goji Play 2 is a fun, creative way to get the family off the couch and exercising. Combining video games with motion sensing technology, the Goji Play 2 can turn a 30-minute workout into what feels like 5 minutes of non-stop fun.
There are a variety of games that you play while you exercise on your stationary bike, treadmill, elliptical, or other cardio exercise machine. FishBoys13 and 15 use it on our recumbent bike and have really enjoyed it. Read their reviews here.
Goji Play 2 fuses exercise with video games and transforms cardio machines into fun game-playing equipment for all fitness levels. It is suitable for a variety of fitness and gaming levels – with games for everyone in your family (6 years and up) and varying workout levels. No need to be a gamer or a fitness expert — anyone can enjoy Goji Play, making it a great resource for making exercise FUN!
You can follow the folks at Blue Goji and track their new products and fun via the #GetUpAndGojiPlay hashtag on social media. Find them on Facebook and Twitter.
Don't forget! Get a special discount on the Goji Play 2! You can get $10 off the Goji Play 2 PLUS free shipping when you use the code: JESSICAF10
Exercise doesn't have to be ho-hum or boring, but it's a super important part of life that we need to include our kids in. And it's always more fun when you do it together and have fun!
How do YOU help your kids get fit?
This post is sponsored by Blue Goji. I have received complimentary product as well as compensation for my time spent writing. All opinions are my own.