How to Improve Your Family Photos
We are a participant in the Amazon Services LLC Associates Program, an affiliate advertising program designed to provide a means for us to earn fees by linking to Amazon.com and affiliated sites. We participate in other affiliate programs as well. For more details, please see our disclosure policy.
With spring vacations, Easter, and Passover quickly approaching, you may be reaching for your camera a little bit more. Heed these tips from Life as MOM contributor and professional photographer, Alex Maldonado.
If your family photo collection is anything like ours, it's 90% pictures of your kids. 9% pictures of your kids and the parent who is not good at taking pictures and 1% photos that include everyone.
When I first started documenting our family, I was super sure I should be the one taking the pictures all the time. After all, being a professional photographer means I should always be the one shooting. The thing we quickly realized is that when I'm shooting a wedding, it's OK if I'm not in any of the photos. (My clients kinda prefer it that way.)
But, when it comes to telling the story of my family, I kinda should be in the photos. I'm part of the story. So little by little we have found ways to get me in front of the camera.
Here are a few little tips that have worked for us:
1. Teach your kids.
The sooner you teach your kids to use a camera, the sooner you will start ending up in more photos.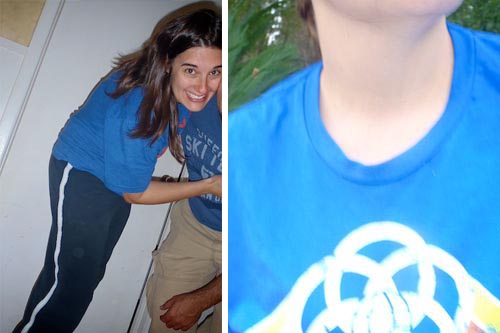 At first, you'll be blurry and out of focus. Then you'll be in focus, but half your face will be out of the frame. Finally you'll be in focus, your whole body will be in the shot, but I'm 99% sure they won't capture you at a "flattering" angle. Guess what? It's ok. No one is saying you have to frame it and hang it up in your living room. At least you made it into a photo.
Not only does this technique get you into some family photos, it's a HUGE confidence builder for your kids and may unleash a passion for photography in them. Over time they will get better and one day you'll wake up and your kids will be better photographers than you are.
2. Let the "non-professional" spouse take a few.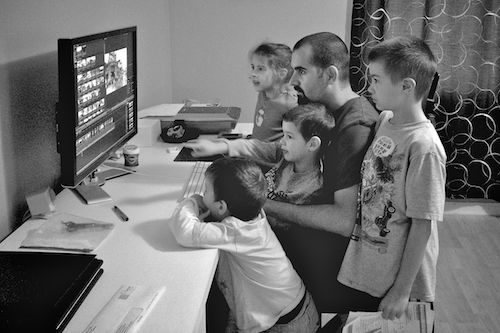 I know it's easy to always let the spouse who is good at taking photos to be the one snapping away. I know this because I'm super guilty of this in our own family. I know how to take the best picture so I should be the one taking it right?
The reality is that we usually don't need the "best picture". We usually just need a picture of what's happening. AND, the more I let my wife shoot WITHOUT my critiquing her work, like I"m the photo editor for the Washington Post, the better she becomes.
Little by little I've starting appearing in more family photos. (And I kinda like it.) That photo above is one my wife took and it may be my most favorite picture ever of my kids and I.
3. Talk to strangers.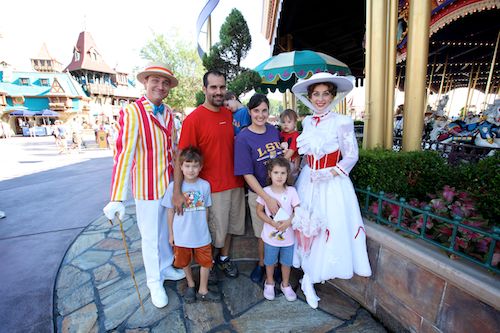 This may be the easiest one, but it's the one we are most scared to do. Anytime you are somewhere unique, don't just shoot a photo of your kids there. Hop into the frame yourself. I know all cameras have little self timers, but let's be realistic; those things are impossible to nail. This may be the best skill you can master when taking a family photo. "Excuse me, would you mind taking a quick picture of all of us?" Did you see how hard that was? I mean really. It's like one sentence. I'll wait while you practice saying it out loud. Ready…
"Excuse me, would you mind taking a quick picture of all of us?"
OK, I seriously think only 4 of you did it. I'll give you one last try. For real. Say it out loud.
"Excuse me, would you mind taking a quick picture of all of us?"
There see. That was not that bad.
What's funny, is your kids may end up looking at the camera and taking a better photo if someone other than you is shooting.
The main thing to remember is why we are shooting. We are not photographing our family to win a contest or create art. We are taking these frames to tell a story. To document their lives. How sad would it be for our kids to look back on thousands and thousands of photos and only find us in 2-3 of them. So let's all promise to get better at handing the camera over.
Want more ideas? Grab the Ultimate Photography Bundle, available only through June 29, to get all kinds of professional tips and tricks.
Whaddya think?
Those of you who are already doing this, how about a little encouragement?! Tell us about your favorite picture your kids have ever taken of you.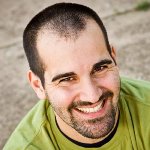 — AlexM is a Texas-based wedding photographer. He specializes in buying lots of expensive gear for his "clients" and then using it at home to take better photos of his kids. Visit his website or shoot the breeze with him on twitter.