I love the tradition of Christmas Cookies. There are so many memories attached to cookies. Whether it was baking them with your gramma or mom or decorating them with your siblings, my guess is that most of us have some sweet recollection of cookies, especially at the holidays.
And I bet you can't stop at just one.
I mean, really, think of all the cookies that are special to Christmas that you rarely enjoy the other 11 months out of the year. Wouldn't it be fun to have them all congregated in one place?
I think so. Watch!
I love the idea of serving a wide variety of Christmas cookies at one time. This can be a tricky feat. Who wants to spend three days baking? Or worse, who has the willpower to resist eating said "wide variety of Christmas cookies at one time?"
This is where your freezer comes in to make things a little easier for you at the holidays!
There are several techniques to making cookies and freezing them that can help you this month. And you can have 12 different kinds of cookies and not go insane.
Here's how: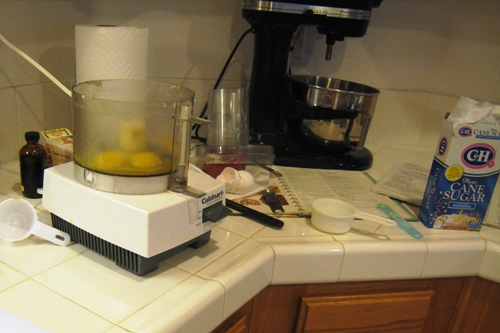 Use a food processor or stand mixer.
By using a small kitchen appliance like a food processor or stand mixer, you can quickly prepare many batches of dough in quick succession. In fact, start with the plainest cookie dough (like sugar) and work your way up to the chocolate and then the peppermint. Since these cookies most likely all start with butter, sugar, and flour, you don't need to wash the bowl between each batch.
Yes, really. Provided that you're mixing things in a short amount of time, this should not be a problem. If you'd rather wash the bowl in between batches, feel free to do so. You'll still save time by using a machine and by mixing many batches of dough in quick succession.
As each batch of dough is prepared, wrap it in plastic wrap or place it in an airtight container and stash it in the refrigerator. By performing all your like tasks together, mixing, forming, and baking, you'll save time and energy.
Make and freeze bulk cookie dough.
Once you have your doughs prepared, you can just freeze them as is until a day that you want fresh baked cookies. Just thaw the dough overnight and it should be ready to roll and bake the next day.
If you freeze the dough in round logs, you won't have to wait more than an hour. You can have slice and bake cookies in a jiffy.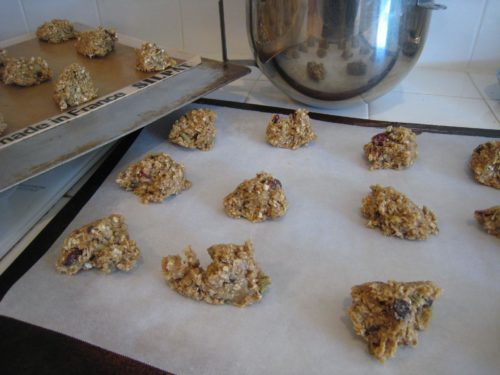 Make and freeze individual cookie dough balls.
Another option is to freeze the dough in "ready to bake" dough balls. Check out Katie's tutorial for detailed instructions.
Bake and freeze the cookies.
This is probably the easiest and my favorite way. I prepare the doughs and then roll and bake in quick succession. I don't do all 12 at once, more like 3 or 4 kinds at a session. I layer cooled cookies between layers of waxed paper in large, airtight containers. Baked cookies should be good in the freezer for at least a month if wrapped properly.
When I want to assemble cookie trays, I pull my boxes out of the freezer and place a few cookies on each tray. They thaw in a matter of minutes, and I have a great gift or dessert without a lot of last minute prep work. This also gives you a breather and a chance to spend some time making your presentation a little prettier.

Tackle your baking in stages.
Unless you want to bake all day, consider three or four baking sessions. One year, I just made a plan to do a batch of cookies every day for a couple weeks. It didn't take more than an hour each day, and since I was stashing it all in the fridge right away, I built a sweet little stockpile.
Include the family.
It goes without saying that kids love to help bake cookies. But, you can also get their input about which cookies to bake. I quizzed my kids over the last couple weeks before we tackled our cookie baking over this long holiday weekend.
They had so much fun. And while things were a mess — and I had some hilarious flops (more on that later) — it was a great time. And our freezer is full of cookies to last us at least a week or two a month.
12 Days of Christmas Cookies
Wondering what's going on our cookie platters this year? I'll be sharing our favorite recipes and some new tweaks in the coming weeks on both LifeasMOM and GoodCheapEats. So grab your cup of coffee or tea and let's eat some cookies!
What are YOUR favorite cookie recipes?
Share them with us for today's Christmas cookie exchange.

Curious about freezer cooking? Consider purchasing my cookbook, Not Your Mother's Make-Ahead and Freeze Cookbook from Amazon, Barnes and Noble, or your local bookstore. It's chock full with over 200 freezer-friendly recipes, planning pages, shopping lists, cooking plans, and basic and advanced how-to's to making freezer cooking work for any home, family, and lifestyle.