You can make s'mores in rain or shine with this easy recipe. It's so quick, you'll have chocolate on your face in about five minutes.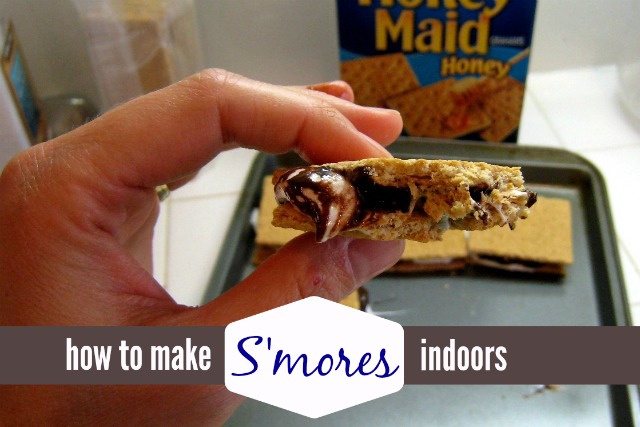 Today was a cool rainy day – a perfect day for something hot and chocolatey. FishChick was sitting at the table at lunch, looking at the box of graham crackers. And through crumbs, mumbled, Look Mama, they make this thing with chocolate and marshmellows. She's only three and she is still hard to understand sometimes, especially through crumbs. But, whatever words she used, I knew what she meant. And it just so happened that we had….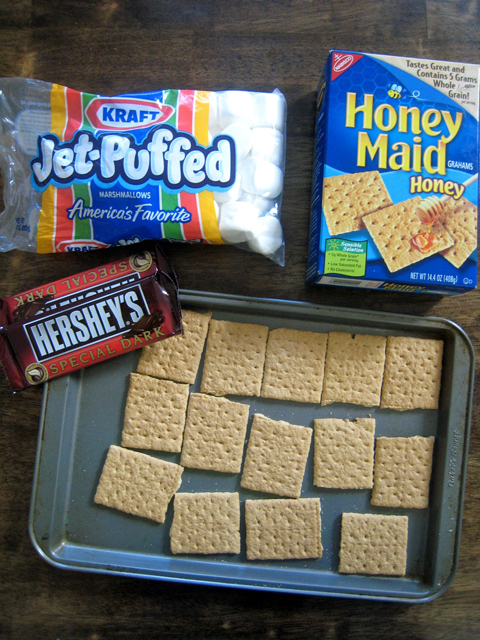 Methinks this is the makings of some indoor s'mores.
If I were an Adventure Mama, I might have swaggered outside and started a fire in a pit or at least in the BBQ. Or I might have lit a fire in the fireplace that we never use and let the kids stab each other with skewers. Instead, I used the broiler, saved my home and children from injury, and enjoyed a sweet treat all at the same time.
You can do this, too!
On a baking sheet lay out graham cracker halves. Place marshmellows and two chocolate sections on crackers. Place in broiler for 2-3 minutes, depending on your oven and how toasty you like them.
Place one chocolate half on top of each marshmellow half. If you want to be tricky with the baby, give her one without the chocolate. Not as much fun — for her– but a little cleaner for you!
Enjoy! And then make s'more.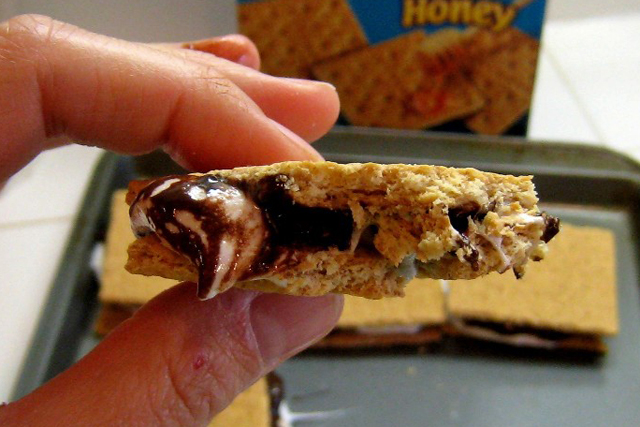 Recipe: How to Make S'mores Indoors
Ingredients
graham crackers
chocolate bars
marshmallows
Instructions
Preheat the broiler.
Lay out a layer of graham crackers on a baking sheet. Place a square of chocolate on half the crackers. Place a marshmallow on each of the remaining crackers.
Place the pan under the broiler and broil until the marshmallows are golden and melty inside.
Top each marshmallow cracker with a chocolate-topped cracker and smoosh together.
Preparation time: 5 minute(s)
Cooking time:2-3 minute(s)
Number of servings: 8
An Indoors S'mores Kit is a great gift to give. Package one up today.
Looking for more yummy things to do in the kitchen with kids? Try these: