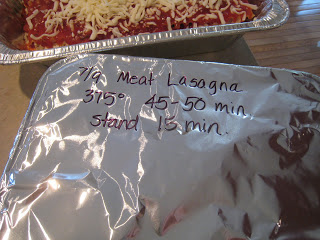 No doubt about it – having a few meals stashed in your freezer is extrememly helpful on busy nights when you're too tired to cook or your meal plan has flown the coop. How can you swing that? You could stock up on Hungry Man and Stouffer's or you could do some "bulk cooking" and make your own. It's really not that difficult.
I promise.
Last week I talked about some basics to freezer meals. Here is a more in-depth example of how I go about it. I am, by no means, the expert on this. Someone else probably has a better way. But, this is what works for me.
I have a chart that I fill out when I'm ready to throw an all-day cooking bash. It helps me think through the process of what to make and how to tackle all the tasks involved. You can see a modified version of it here. Today I'm going to walk you through it.
Here's how I go about my freezer meal planning:
1. Choose what I'm going to make. On the chart I have listed meals that I know freeze well, divided into three categories: beef, chicken, and vegetarian/other. If I were going to cook for a month, I would choose 10-12 different items and spread them out over the categories so that we weren't stuck eating all ground beef dishes all month long.
I circle the items that I want to make/eat for the coming month. In this walk through, I'm going to talk about recipes that use only one kind of protein: ground beef. So the meals I'll choose are Quick Tomato Sauce, Boules de Picolat, Lasagna, Meatballs, and Meatloaf.
2. Adjust recipes. Since I'm going to make triple batches of each item, I'll pencil over the amounts in the recipes so that I'm sure to have enough of everything.
3. Prepare my grocery list. I go through each recipe and write down all the ingredients that will be involved. I start with the first recipe and add anything to my list that I don't already have. I make sure to pencil in the amounts. Then, when I get to the second recipe, I'll add those ingredients, increasing the amounts of common ingredients accordingly. If I need two pounds of ground beef for boules de picolat and 3 pounds for lasagna, my tally increases to five pounds. And so on until all the recipes' ingredients have been tallied.
4. Read through each recipe and see what recipe items could be prepped ahead of time. This would include chopping onions, grating cheese, and browning meat. I write these on the chart and keep a running tally of amounts that need to be prepped for each ingredient. For instance, chopped onions is called for in several recipes, so I'm going to do ALL my crying onion chopping at one time: 2 cups for the boules and 2 cups for the meatloaves means that I'll need a total of 4 cups chopped onion.
5. Plan the best order in which to assemble my dishes. Since I need the pasta sauce to make the lasagna, that has to be first. Then, since the lasagna may have hot, cooked meat and sauce in it, I'll make that next so that it has time to cool before freezing it. I'll mix all the meatballs and meatloaves at the same time. But, I'll do the meatballs before the meat loaves, again, so that they have extra time to cool after baking.
6. Lastly, I get cooking!
Hopefully, this gives you an idea how you can go beyond the double batch and make a ton of food to squirrel away for winter — or next week.
Any questions? Fire away in the comments section.
Related: For more kitchen tips, visit Tammy's Recipes every Tuesday.