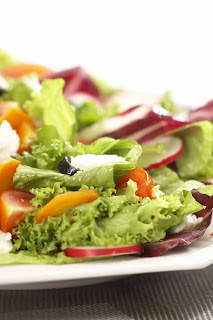 I like to think of myself as a happy-go-lucky, spontaneous kind of MOM. I have never been one to schedule naps or stick to rigid time frames. I like to go with the flow. However, as our family has grown, I've had to learn to embrace structure. The children do better. I do better if at least some things are planned or predictable.
As my husband says, "You can't turn an aircraft carrier on a dime." And as large as our crew has become, it's become necessary to look ahead and plan.
One area that I see success is in meal planning. I don't always make what I plan. But, I know from experience that actually having a plan helps me be focused and gets dinner on the table at a reasonable time.
You've probably read all the ladies magazines that tout the importance of planning your meals. Sometimes they even provide you with a plan to follow. But, if Lentil Salsa Soup and Fried Green Tomatoes aren't your bag, their plan might not exactly suit you. You need to know how to plan.
You know the saying, "Give a girl a meal plan, she can cook for a night. But teach her to meal plan and she can cook for a lifetime."
So, here's my quick and dirty guide to planning a meal. Each week I sit down with a piece of paper and I ask myself a series of questions:
1. What do we have? I know after a quick glance in cupboard, frig and freezer, that I have mozzarella cheese, pepperoni, a couple frozen lasagnas, pasta sauce, spaghetti, and pork country strips. So, I know I can serve pizza, lasagna, and pasta without having to add anything to my grocery list. (3 dinners down, 4 to go.)
2. Is there a special event this week? We like to commemorate St Patrick's Day with a simple Irish stew, soda bread, and Dubliner cheese. So that's my 4th meal. I check the storehouses and see that I have stew meat, potatoes, carrots, and flour. So I just need to add the cheese to my list.
3. What's on sale? Looking through the ads, I see that sauerkraut is on sale. That goes well with the pork. So, Sauerkraut and Pork go on my list. Five meals down.
4. What's a no-brainer meal? Beans and Rice and Grilled Chicken with Rice Pilaf are both easy ones at our house. I check my cupboards again and see that we're good to go, just need to get some salsa fixins' and some lettuce to make a salad to go with the chicken.
5. What sounds good? I know that FishPapa is not crazy about the sauerkraut meal, but the kids and I are. So, I'll bump that to lunchtime and throw in an easy crockpot dinner that I know everyone enjoys: Chicken Chili and Cornbread.
Easy peasy. Here's my plan for the week:
Lunches
soup and toast
chinese chicken salad (cabbage is on sale for $.09/#)
tuna sandwiches and fruit
pasta salad and veggies
sauerkraut and pork and fruit salad
snacky lunch
salmon, rice, and steamed veggies
Dinners
grilled chicken, rice pilaf, grilled veggies, and salad
beans and rice and chips
pasta with meatballs, salad, and broccoli
Irish stew, soda bread, and Irish Vanilla Sponge Cake
Chicken Chili and Cornbread
Lasagna
Pizza
Got a trick to make meal planning successful? Share it in the comments.
For more meal-planning ideas, visit $5 Dinners this week for Menu Planning Monday.