Getting a produce box each week throughout the summer is a great way to eat healthy and local. But, it can be challenge to use it all up. This new series is here to help.
A few years ago, I signed up for a local CSA. I had heard for years that participating in community-supported agriculture was a great way to eat better and vote with your dollars. By purchasing from a local farmer, preferably an organic one, I was feeding my family better as well as communicating to the world that eating healthier was important.
Like most things in my life that prove challenging, it sounded good at the time.
In reality, I was shocked and overwhelmed: What in the world am I going to do with all these weird vegetables, some I've never even heard of, let alone purchased?!
I let the idea of a weekly produce delivery fall by the wayside until a year later when a friend and reader told me about Abundant Harvest Organics. We gave it a shot, and now 20 months later, we are committed. I pay $36 each week for a huge box of produce that keeps us well fed for over a week. I can't imagine not getting a produce box each month. It's like Christmas every week.
Sort of. When the persimmons and turnips and collards are in abundance, it feels like your great-aunt Myrtle came to visit at Christmas with many macrame sweaters for you.
Anyway, if you're new to that whole idea of using what produce is in season instead of what you feel like buying this week, know that you're not alone. It's hard to adjust to a wealth of fruits and vegetables, especially if they are new to you. And even if they aren't new, it takes some getting used to using things that are in bulk.
With a CSA or produce subscription, what you receive will depend on how well the crops are doing. Often it can be feast or famine. But, this is what it is to partner with your local farmers.
Nowadays, my kids LOVE the arrival of the produce box. It's a super big highlight of the week. The chard that was foreign to us years ago is now a welcome sight at the dinner table. I recently watched FishBoy12 pile on the chard. I was shocked. One small piece used to be his limit.
We're eating more organic fruits and vegetables than ever before and learning more about the world of flavors God created.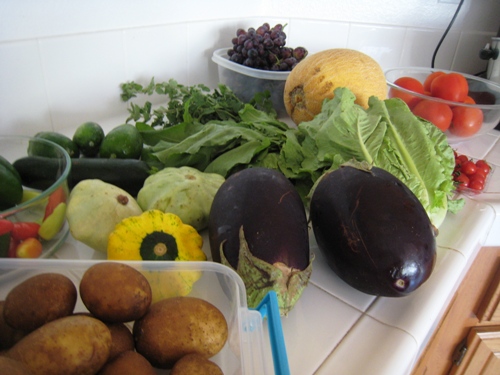 Using your produce box.
Learning to use the bounty that arrives in your produce box can be challenging. I know. Been there, done that. I take a multi-step approach to using it all up before it spoils.
Sort and store.
The kids usually help me sort the items in the box, gathering those that are stored in the pantry or on the counter in baskets and placing other items in plastic bags or boxes for the refrigerator.
Use up the perishables.
I make a mental note to use up those things with a short shelf-life. If something is particularly ripe, I move it higher up the list. If it's under ripe, it might sit lower. Since these foods are straight from the farm they have a longer shelf-life than things that you might buy at the grocery store, so you have a little time, unless it's very, very ripe when it gets to you. Stone fruit seems to ripen before my very eyes, sometime.
Freeze it.
If I know we have more than we can use in the week, I blanch it for freezing. I've done this with corn, beans, broccoli, and cauliflower. Basically, I'm creating my own frozen vegetables to use when I want to, not when I have to. I make squash or apple purees or slice stonefruit for freezing so that I can stretch the season a little longer.
Can it.
My canning repertoire is fairly limited to pickles and jams. But, that's good enough for me. If I have enough of something (or if I buy extra) I set up some preserves, just like my Gramma John once did.
Juice it.
Now that we own a juicer, I often make homemade juices, especially with the carrots, beets, and parsnips that I can't quite keep up with. A friend tells me she juices whatever doesn't get used up in the week so that they are ready for the next produce delivery. Brilliant!
Share it.
We have given almost every fruit and vegetable a fair hearing. A few did not pass go. We share our persimmons, turnips, collards, daikon, and fava beans with friends and neighbors. They are thrilled. We get to be generous. And nothing goes to waste.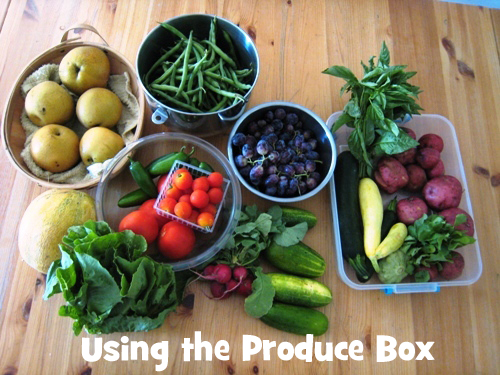 A New Summer Series
This summer I'll be sharing storage ideas and recipes for all the fruits and veg that might come your way this summer. Whether you get a weekly box or just grab what's on sale at the store, I've got you covered for what to do with seasonal produce.
Look for great ways with the following:
Peppers
Fresh Herbs
Cucumbers
Melons
Corn
Also, check out these whole box tips:
I'll be sharing storage tips, preservation ideas, and a host of recipes, too. In the meantime, check out these past posts to help you use up your produce box:
Do you get a produce box?
Tell us about your challenges and solutions.