How We Do School: A Guest Post from Abbi
As an Amazon Associate I earn from qualifying purchases. For more details, please see our disclosure policy.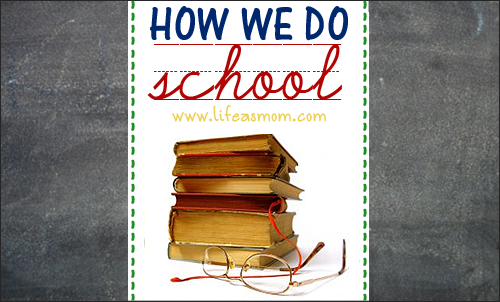 This marks the final installment of the How We Do School series. I appreciate all those who sent in their stories. Many of these women were strangers to me prior to the start of the series. I am so thankful for their willingness to share their families with me, with you.
We've seen such a beautiful mix*. Families who've only just begun their public or homeschool journeys, families who've tried public and gone home, families who've been home and are now entering the public school realm, families who have found a compromise by choosing charter schools.
Today, Abbi shares their experience with a little of it all: public, home, private, and charter.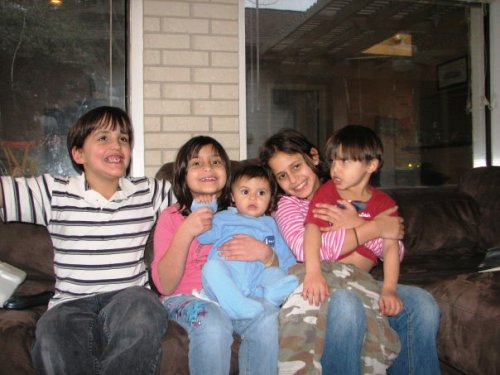 — Describe your family (# of children, boys, girls, ages, grades)
My husband and I have five beautiful children. Our daughters are 11 and 9, and our sons are 6, 4, and 1. Our 6 year old has special needs — he has a rare overgrowth syndrome called Sotos syndrome which causes, among other things, advanced physical growth and developmental delay.
— What state do you live in?
We have lived in Texas for almost five years now. Prior to that, we lived in California — and we were married and lived in Israel for several years.
— What's your educational background?
My husband has a degree in computer science. I don't actually have a degree — after completing two years at Brandeis University, I moved to Israel and joined the Israeli army. After the army I enrolled at an Israeli university, and I was three credits shy of my combined BA/MA program when I got irritated and bailed, so I have no degree in anything.
— What were "must haves" for your children's education?
Like all of you, I have children who are unique and wonderful. It is critical to us that our children receive a strong Jewish education, as well as excellent general studies. We are not willing to compromise on either.
When we lived in California, our daughters were 4 and 2, and they attended a local Orthodox Jewish preschool program. When it came time for kindergarten, I wasn't sure the school could educate my daughter as well as I could, so I enrolled her in the California Virtual Academy (CAVA), a public charter school that allowed me to homeschool her using a curriculum and materials provided by the state, for free. CAVA uses the K12 curriculum, which I love. We had an amazing year, and we continued on that path for first grade. But a few months into the school year, our family moved to Texas.
By then, we were are of our young son's special needs, and I was very pregnant with baby number four. My husband begged me to enroll the girls in the Orthodox Jewish day school in Texas, and I did. Our special needs son started there when he was 3 years old, as well.
Fast forward a few years. The school had already told us they couldn't handle our son's special needs, so he was in the public school system getting the help and support he needed. My daughters were in fourth and fifth grade, and while their Judaic and Hebrew education were stellar, I felt their general studies were lacking — especially considering the school charges over $10,000 per year to educate them.
My younger daughter, in particular, was really struggling. I felt that there were a lot of obstacles getting in the way of her learning — she forgot homework at school, got distracted in class, didn't write things down. No matter how often I met with her teachers and administrators, the problem didn't get fixed.
— How did you research your decision?
A few minutes online showed me that Texas has Texas Virtual Academy (TXVA), using the same wonderful K12 curriculum we loved a few years ago. I went back to the books I'd looked at several years earlier — the wonderful "What you nth-grader needs to know" series. I had conversations with other Jewish parents in person and online, and I read nearly every book in the local public library on education. My husband and I talked and talked and talked some more. We met with friends. We talked to our parents. The decision was months in the making.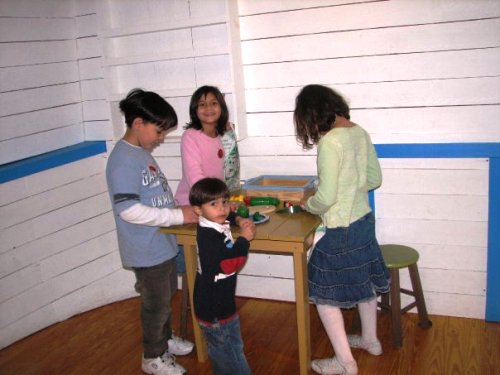 — How did you come to that conclusion?
We thought about our long-term goals for our family and looked carefully at each of our children. Ultimately, we decided that our younger daughter absolutely needed to be at home for the coming school year, where I could help her learn better study skills — and eliminate all the things that were preventing her from learning in school. My older daughter immediately let us know that she wanted to be homeschooled as well.
Our special needs son, for the time being, will stay in his program in the public school — although if we decide that they aren't meeting his needs, we won't hesitate to change things there. Our 4-year-old son will attend preschool from 8 to 2 at a different Orthodox day school, because he's at an age where he needs more hands-on attention than I would be able to give him while working with my girls. It's not fun to say "No" all the time, and my son deserves to hear "Yes!" This way, I can work with my girls and focus on them, then spend "Yes!" time with my 4-year-old when he comes home. My older son will come home a little after 3, and we have a good schedule worked out that will give everyone some time with Mom and some time with siblings.
— What benefits are you now reaping from your decision?
First of all, it helps me a lot to know that I'm doing my best to give each of my children what he or she needs right now. I'm sure I'll make some mistakes, but I'm taking responsibility for my decisions and actively working to ensure my children get the education they deserve.
I'm also very excited about getting to spend this time with my daughters. Even if we don't keep homeschooling for years, this foundation will make the teen years (just a breath away) so much easier.
We're also saving a significant amount of money. We will still pay some tuition — my girls will actually attend 2 hours of daily religious instruction at the school my 4-year-old attends — but significantly less than we were paying.
— What advice would you give to families considering or reconsidering this decision?
I'd say that if you're thinking about homeschooling at all, try it. You have nothing to lose. In the absolute worst case, you won't like it, and you can always enroll your kids in school. Many people tell me that I'm "so brave" to homeschool. They say, "I could never do that." I believe that you can adapt to anything. If you had told me that I could survive having a child in the NICU, that my heart would continue to beat while parenting a child with special needs, I wouldn't have believed it. You have no idea what you're capable of doing until you try.
People say, "Do you know enough to teach them?" Well, working with one or two children is not the same as teaching in front of a class. I have a full curriculum, books, worksheets, manipulatives, and more, and the support of a teacher I can call or email for help. I'm fairly confident that I can handle teaching a 6th-grade student.
My other piece of advice is, don't be afraid to go against the grain. People think we are NUTS. One kid in public school, one kid in religious school, one baby at home, two girls being homeschooled — clearly something must be wrong with us. Who cares what they say or think? My kids are happy, my family is thriving — and that's all I care about.
— Abbi Perets writes about parenting, technology, health and business for many print and online publications. She also blogs (as WriterGrrl) about her special needs son and anything else on her mind at You Get What You Get. You can follow her on Twitter @AbbiPerets .
* Six of our eight profiled families are public schooling; two are exclusively homeschooling. And several are doing a combination of private, public, and or homeschool. I realize there weren't many private schoolers represented. This wasn't by design. However, Abbi's was the only private school story submitted. If you would like to share your private school story, please email me.