How We Do School: A Guest Post from Linds
As an Amazon Associate I earn from qualifying purchases. For more details, please see our disclosure policy.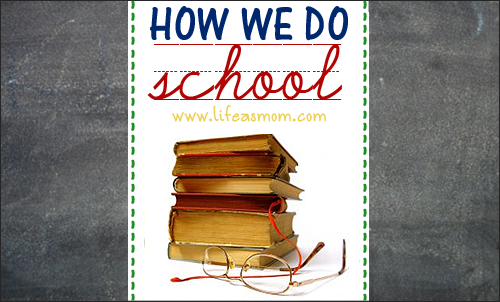 As I get ready for homeschool reentry with my own children, I am reminded of why we chose to do school the way we do. Likewise, it's been fun to hear your stories about how you came to make that all important decision for your own children.
Each family has unique personalities, needs, resources, and goals. What a blessing it is to live where we have freedom to go with our convictions about what's best for each of our families.
Here's Linds' story about how they do school at her house:
— Describe your family (# of children, boys, girls, ages, grades) 4 boys- 7, 5, 2.5, and almost 1.
— What state do you live in? Hawaii- we were both raised here and now raising our kids here too!
— What's your educational background (yours and spouse)?
My husband and I both went to high school together- from there he went on to get his contractor's license and I finished my BA in International Cultural Studies (Communications emphasis).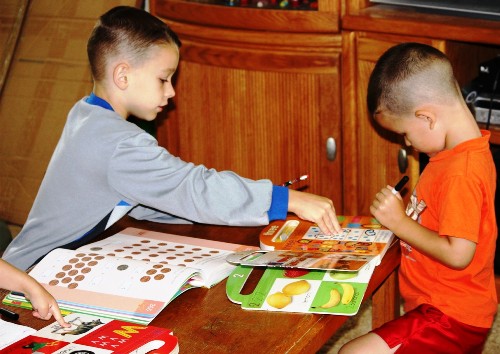 — How did you research your decision?
Before my oldest started Kindergarten (at public school), I was looking for a curriculum to supplement with at home since we disagree on homeschooling. This is when I found out about the K12 curriculum (based on "What your __ grader needs to know" books, but more in depth), but it was WAY out of my budget.
Not until school started, did I learn about the charter school using that curriculum. It is what I call a hybrid-model school, because you do most of the learning at home, but they also go in to a Learning Center once a week to meet in a classroom of up to 12 students per teacher for one of the core subjects. All materials plus computer and printer are provided and sent to our home. There is also a quarterly conference for the child, parent and teacher to make sure everyone is on task. If we homeschooled, we would have to do a write up and testing every year, so this is what we do in place of that. We also turn in work samples that they keep on file for us to show what we covered.
— How did you come to that conclusion?
We went in to Kindergarten thinking it would be fine at the public school with supplementing at home. He was already reading since preschool, but at the same level as most Kindergartners for everything else. I asked that he go to the 1st grade class during the reading period but was told, "we don't do that". When I spoke to a 1st grade teacher at the end of the year, she told me this was incorrect and had another K child coming to her class all year. He was bored to tears all year and is a good kid and just dealt with it, I was fed up – so we decided to try something new.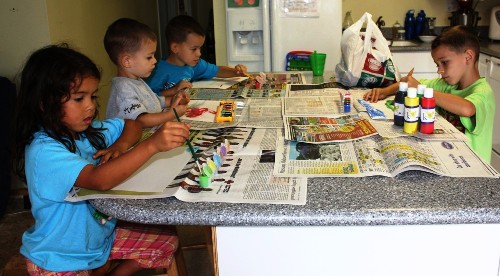 — What are "must haves" for your children's education?
A "must have" for us is our co-op. There are other families doing the same program nearby, so we give our kids some time to learn together in subjects like history, science and art while we do language arts and math separately. It also gives the kids time to learn and play together.
My other "must have" is my car- since we have to drive an hour each way to his school once a week, but we carpool so another mom and I take turns and we alternate which week to drive.
— What benefits are you now reaping from your decision?
I don't have the fight about school like we did last year- he likes his teacher and class and he's loving that we do history and science- things that the public school had cut due to budget. Art also follows some of our history lessons, so we can do all three subjects in our co-op sessions. I also like that we can work at his pace and his level and know after each lesson whether he is ready to move on to the next lesson with a quick assessment- 80% or higher is mastery. Having a more flexible schedule- traveling and taking school with us, or having a baby a month into school and taking a week off.
— What advice would you give to families considering or reconsidering this decision?
This is a great introduction to homeschooling if you aren't sure whether you can do it on your own or not. The teacher we had was very supportive and got back to us whenever we had questions. The curriculum keeps track of your progress and attendance and lets you know if you are on schedule. We finished a month ahead!
After this year, I feel more confident that we could do homeschool alone, but this isn't something my husband is on board with, so I'm staying with the charter school next year. Not all charter schools doing K12.com require the Learning Center classes, but they are all over the U.S., you just need to find out what the one in your area requires. Hawaii is the first state to do this type of model, but other ones are following and changing to this program.
— Linds is a dancing, travel-loving mom to 4 boys and wife to her high school sweetheart, John. She loves learning and seeing her kids learn. She does travel planning to anywhere but specializes in Hawaii and Disney vacations and also runs a Hawaii-based frugal blog, Aloha Deals.
Have you found a happy compromise for your child's schooling?