How We Do School
We are a participant in the Amazon Services LLC Associates Program, an affiliate advertising program designed to provide a means for us to earn fees by linking to Amazon.com and affiliated sites. We participate in other affiliate programs as well. For more details, please see our disclosure policy.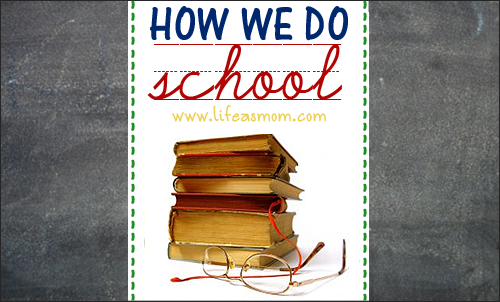 I grew up in a family of educators. Both my parents as well as close family friends and several aunts, uncles, and cousins were public school teachers. Lesson plan, students, and attendance were words I understood at a very young age. I knew the inside of a classroom before I took my first steps. I eventually went on to get my teaching credential and earn a Master's Degree in Education. I even taught high school for a few years before having children and "retiring."
Despite my own educational background, I chose something different.
FishPapa and I decided long ago that we wanted to educate our children at home. While I have much respect for my friends who are teachers, of which there are many, I chose to go against the grain. I won't say homeschooling is the only way, but I will say I think it's the best way — for our family.
And many of the tips and tricks I share here at LifeasMOM are geared for the homeschooling family because that is what we are. It's a lifestyle and a schooling choice that I love and one that has greatly blessed our family.
However, a few months ago, I polled my readers to find out how they did school. Turns out, the readership here is pretty evenly split between homeschoolers and public schoolers, with a healthy handful of private schoolers thrown into the mix.


I think that's pretty cool!
You see, I've walked in circles where it is controversial and polarized, this homeschooling vs. public school thing. I've had conversations that made my stomach turn, talking with people on both sides of the question. My feeling? Reasonable minds will disagree — and they will do it in a respectful way. And they'll still like you when it's over.
Appreciate the Differences
However the girl next door chooses to educate her children, I can still learn from her. That's the beauty of sharing our lives as MOMS. We get to learn from one another and then see what works best for our families. We can apply good parenting principles in a myriad of ways.
I'm a firm believer in a parent's right to choose and guide her child's education, even if my fellow mom chooses something different than I do.
Over the coming months, I'll be sharing different moms' stories on how they've chosen to educate their children. It's amazing to see the wealth of experiences and perspectives. I hope that reading these women's stories will help YOU find your own groove.
Stories from:
In the meantime, how do you do school?