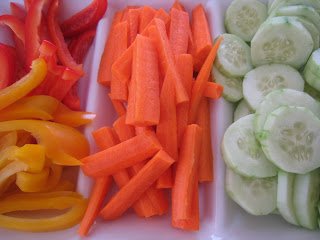 (Big yawn and stretch)
I am coming off the heels of a big week (drs, dentists, and dermatologists – oh my!) and a bigger weekend. My parents, my four siblings, my nieces, our eight, and my great aunt (on my mom's side, all the way from Winona, Minnesota) were all together this weekend to celebrate my brother's college graduation. It was a very fun, little reunion of sorts. Good, but tiring.
This week is busy – and fun-filled as well (dinner guests, dentist, and a birthday celebration), so it's imperative that I have things organized. Here are our meals for the week:
Monday
oatmeal and applesauce
chicken sandwiches
queso fundido
Tuesday
eggs, hashbrowns and toast
snacky lunch
company dinner of pasta bar, salad, breads
Wednesday
cranberry muffins and yogurt
chili dogs, veggies and dip
meatloaf, mac and cheese, salad
Thursday – My baby boy turns five so he picked the menu
cereal
hamburgers and fries
Costco pizza, veggies and dip, a "Butterfree" cake (stay tuned)
Friday
waffles
leftovers – I hope
lasagna, salad, and bread
Saturday
pancakes
burritos
grilled chicken, rice pilaf, and salad
I know that at least having a plan is one step closer to having a week that works. Check out more menu plans at I'm an Organizing Junkie.