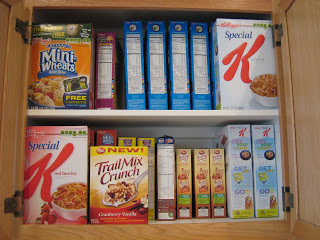 After a winter bereft of cereal, I was more than a little jazzed to see such great cereal coupons lately. Most were $1 off. Over the last month, I've slowly built up a stockpile.
We now have 30 boxes! Oh my! With five kids eating cereal, it probably won't last long. I'm hoping to limit them to 3 boxes a week, but we'll see….
Why did I do this? Well, after sales and coupons, I paid about 50 cents for each box. Three boxes were "expensive" at 88 cents, but several boxes were free. So, I know that my average was under the 50 cent rule. Used to be that I spent $2/box and bought 2 boxes a week. Now, we're getting more for less.
For me, that's what couponing is all about.